Power Ranking the Most Exciting Weeks of the 2012 College Football Season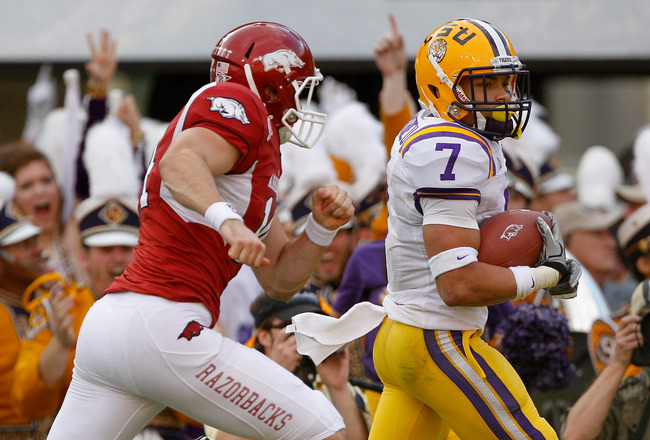 Chris Graythen/Getty Images
The season is still 14 weeks away, but this is the time to get out your calendars and make sure you have absolutely nothing to do but watch and/or attend college football on Saturdays during the fall.
Last season, many looked at that third week in September as the best weekend of the season (at least back in the preseason).
There were many dream matchups that featured a few prestigious programs, but rivalry week concluding last season stole the show (MSU-WISC was memorable).
Many fans will once again be crazed over all the fantastic matchups that will likely decide conference and national championship hopes.
Power ranking and looking at every single weekend during the regular season, here are your most exciting weeks to look forward to in the 2012 season.
Week 12 (11/14-11/17)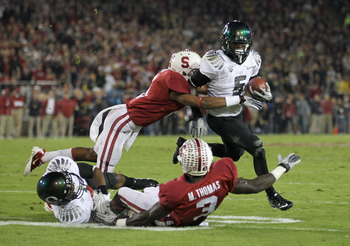 Ezra Shaw/Getty Images
Oklahoma at West Virginia (Toledo at Northern Illinois)
We should see a ton of points between the Mountaineers and Sooners, but how about some love for the MAC?
Well, at least I attempt to give love for Northern Illinois-Toledo's matchup because the two may both be looking at double-digit victories.
However, they clearly do not hold a candle to Landry Jones and Geno Smith. Their battle will have some NFL scouts drooling, and they could also have BCS representatives in the building as they may get a chance to choose the winner for one of the BCS bowls.
Ohio State at Wisconsin
Wisconsin lost consecutive games on deep passes although the first was a Hail Mary, not the second one. Still, the Badgers had a legit chance of running the table one season ago, and they could be right there once again. This is a must-win against an improved Buckeyes squad.
Stanford at Oregon
Stanford and Oregon have given us a ton of classic games through the years, although last season, Andrew Luck and the Cardinal were absolutely hammered at home, which ended their BCS title dreams.
If David Shaw continues to become one of the best coaches in the game, he will have his Cardinal remaining as a threat in the Pac-12.
Iowa at Michigan
Iowa and Michigan is a little rivalry per se that has gone unnoticed, but Denard Robinson and the Hawkeyes defense should be an underrated matchup that college football needs to pay attention to.
Excitement Level: 7.5 of 10
Week 11 (11/6-11/10)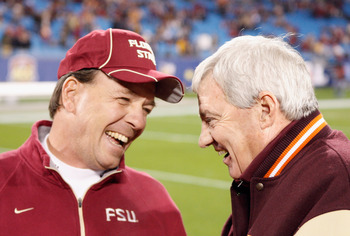 Streeter Lecka/Getty Images
Florida State at Virginia Tech (11/8)
This is one of your lesser entertaining weekends in college football on paper, but who knows where these teams may be ranked at this eventual point of the season?
The Seminoles and Hokes should steal the spotlight since this could be an ACC title preview, where the winner will likely play in the Orange Bowl (unless of course they are undefeated).
Arkansas at South Carolina
Arkansas-South Carolina got ugly last season as the Razorbacks offense became way too much for the Gamecocks, but this should be a battle that goes down to the final whistle.
Georgia at Auburn
The "Deep South's oldest rivalry" is always a joy to watch, though that was not the case for Auburn fans one season ago. In fact, Auburn was throttled by Georgia 45-7, and the Tigers allowed 528 total yards of offense (outrushed 304-51).
Kansas State at TCU
Is Kansas State for real? Can Collin Klein live up to some of the expectations that his squad will be given?
We know Gary Patterson and TCU have exceeded expectations before, and the 2012 season may be no different despite heading into the tougher Big 12 slate.
Missouri at Tennessee
How good will Mizzou become? Some are seriously expecting them to win nine games and be right there with Georgia and South Carolina.
If they have a shot, they would desperately need a victory at Knoxville. If the Vols get rolling in September, Tennessee faithful will feel as if they are right back into the thick of things.
Penn State at Nebraska
Penn State and Nebraska was not an offensive explosion last year after everything the Nittany Lions program had gone through.
This season could be a surprise year for the Nittany Lions, but they need to get by a tough Huskers squad if they are looking for an improved season. Nebraska could be dreaming big if they take care of games like these.
Texas A&M at Alabama
The Aggies' young and inexperienced offense against Nick Saban's defense is a recipe for disaster, but crazier things have happened in the SEC.
This will be a true test to see if A&M has what it takes in the gauntlet known as the SEC.
Excitement Level: eight of 10
Week 5 (9/27/-9/29)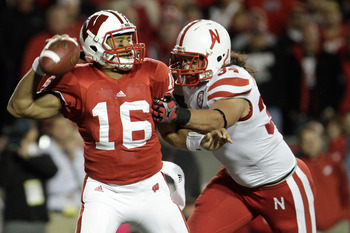 John Gress/Getty Images
Wisconsin at Nebraska
Those first two Big Ten matchups will be great to take a look at which Big Ten team is exactly the best.
The Badgers are impossible to beat at Camp Randall, but will or can they become a BCS title contender by winning in Lincoln?
Ohio State at Michigan State
The same goes for the Buckeyes albeit they are ineligible to appear in a Big Ten or BCS title, but that will not prevent Urban from getting his squad going.
Arkansas at Texas A&M
The Razorbacks and Aggies, meanwhile, gave us one of the more entertaining matchups one season ago, and this time, it has SEC implications on the line.
If A&M means business, they need to have had won a few games before this matchup, but if they were to upset Arkansas that would immediately stop the bleeding.
Tennessee at Georgia
The Vols and Dawgs could be meeting in a vital SEC East matchup, but the battle of Tyler Bray and Aaron Murray should be great to watch.
TCU at SMU
Those final two matchups have the makings of becoming absolute barn burners with a boatload of points. TCU-SMU screams first to 40 or 50 points, wins.
Texas at Oklahoma State
Also, if the Longhorns are top-10 legit, a victory in Stillwater would be a great start to prove they are back in the Big 12 and BCS title picture.
Excitement Level: 8.5 of 10
Week 2 (9/6-9/8)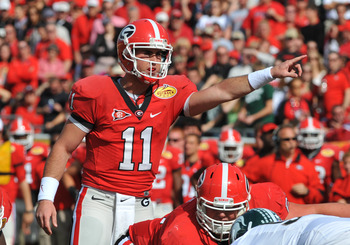 Al Messerschmidt/Getty Images
Georgia at Missouri
There are a few underrated games in the second weekend of the season as always, but how about the Bulldogs against the Tigers to kick off the SEC season?
Mizzou will be rocking and rolling as they should be primed and ready to go against the Dawgs. Bacarri Rambo and a few starters will be out, but UGA's defense ranks among the five best in the country as they have depth for days.
This is imperative for the Tigers to win if they expect to challenge for the East title in year one, but how about the other three games involving SEC squads?
Washington at LSU
LSU hosts an explosive Washington Huskies squad that features arguably one of the best passers in the nation (Keith Price).
The Bayou Bengals should be able to dominate the trenches, and this is something we should be counting on Auburn to do against a respectable Mississippi State squad.
Florida at Texas A&M
The Gators will need to win in a tough environment against an Aggies team that should be featured in several close games this season. Are both offenses going to struggle early on or will the freshly new quarterbacks get it going?
Auburn at Mississippi State
Last year gave us a photo finish in which Auburn won with a goal-line stop, so how much will their defense improve in 2012?
Purdue at Notre Dame
Lastly, the Boilermakers look to have a great chance to pick up seven or eight victories, and this is a great chance to come into South Bend by stealing one.
Excitement Level: 8.5 of 10
Week 9 (10/23-10/27)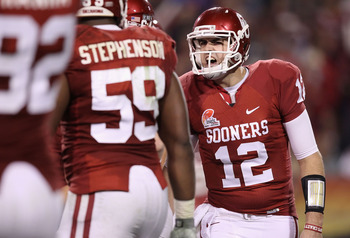 Christian Petersen/Getty Images
Notre Dame at Oklahoma
The end of October loads us up with crucial conference matchups that decide bowl destinations and more importantly bragging rights.
Notre Dame against the Boomer Sooners on the road is enticing, but overall, this weekend will be about the Big Ten.
Ohio State at Penn State
Urban Meyer and his recruits against Penn State will be a major storyline, but arguably, the top four teams will have a battle royal on this weekend.
Michigan at Nebraska, Michigan State at Wisconsin
Excluding the Buckeyes with their ineligibility, Michigan takes on what should be an improved Huskers squad, and we all remember the Hail Mary shockwaves that Michigan State-Wisconsin sent to the college football nation one season ago.
Florida at Georgia
The Gators-Dawgs is always entertaining to watch in Jacksonville despite no longer being labeled as "The World's Largest Cocktail Party," but the game in itself should be solid.
Tennessee at South Carolina
Texas A&M at Auburn
Both of these SEC games may not have a huge impact in the overall sceme of things, but do not tell that to any of these fanbases.
The Aggies will be out to prove to the nation that they are more than worthy of competing with the big boys, and the Volunteers have a favorable schedule that could put them on dream street.
Excitement Level: 9 of 10
Week 8 (10/16-10/20)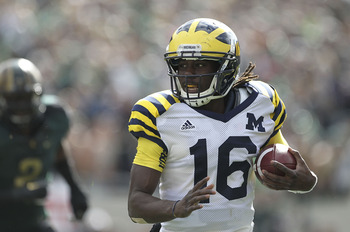 Leon Halip/Getty Images
Michigan State at Michigan
The annual battle between the Noles and Canes was once the featured game at this time of year, but Miami has not been quite the same for the last several seasons.
Instead, another rivalry has taken stage in the landscape of college football.
The big brother (Michigan) has lost four straight against the little brother (Michigan State), and many have brought up the discussion as to whether this is finally the season where Sparty gets to Pasadena.
They certainly have a top-10 defense led by William Gholston, who many Michigan fans should greet nicely at the "Big House."
Denard Robinson getting chased down by Denicos Allen will be great to watch, but "Shoelace" will likely have the last laugh as he looks to avoid a winless career against Michigan State.
South Carolina at Florida
The Gamecocks and Gators battle for positioning in the East, but this has the makings of becoming a defensive slugfest.
LSU at Texas A&M
The same can be said for LSU-A&M, which could be an ugly game for Aggie fans. Or, is this the game where everybody eats some crow in SEC land?
Alabama at Tennessee
Alabama-Tennessee is not even looked as a vital game by most experts at this time, but the Vols look to be the dark horse in the SEC that may quietly notch nine wins.
Kansas State at West Virginia
Virginia Tech at Clemson
Lastly, the final two matchups to look for have a solid impact on their respected conferences since West Virginia and Virginia Tech will be battling for either a conference championship or a top-tier bowl game.
Excitement Level: 9 of 10
Week 3 (9/13-9/15)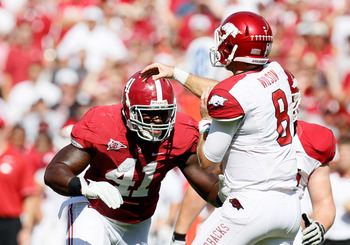 Kevin C. Cox/Getty Images
Alabama at Arkansas
There are some decent non-conference matchups between Ohio State-Cal and Virginia Tech-Pitt, but the SEC looks to dominate the weekend of college football again.
The Crimson Tide and Razorbacks may be the most anticipated game for the entire college football season in my eyes. Arkansas desperately needs to dethrone Nick Saban before another talented Arkansas team falls short.
Tyler Wilson and that offensive line were abused one season ago, and we know they will be doing everything in their power to knock off the defending BCS champs.
Alabama has a powerful running game and we know their defense will be nearly as good from one season ago, but can Knile Davis return to his All-SEC and All-American caliber of a season from 2010?
Notre Dame at Michigan State
Sparty looks to seek revenge after last season's tough loss to the Irish, and we know Notre Dame will give us a great game since we are accustomed to thrilling finishes between both of these teams.
Florida at Tennessee
The Gators and the Vols are way overdue to steal the spotlight by giving us one fine finish. Florida has dominated Tennessee lately (record-setting series seven straight wins), but Tyler Bray is eager to become an underrated superstar.
Texas A&M at SMU
SMU looks to fit the bill as a BCS busting dark horse, but the Aggies could pick up a nice road victory to gain some steam with a brutal SEC stretch of games.
USC at Stanford
Jim Harbaugh once gave USC issues, but now, David Shaw seems to be the real deal as well. This is not a cake walk for the Trojans since they will have to answer Stanford's physicality in this one.
Excitement Level: 9 of 10
Week 6 (10/4-10/6)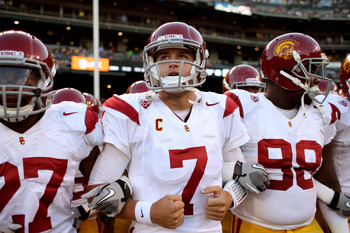 Ezra Shaw/Getty Images
USC at Utah (10/4)
The opening week of October is always highly anticipated because usually the upsets start occurring.
USC lost to Oregon State on the road in 2008. Could we see the top-ranked Trojans go down once again in October?
Utah is sneaky good on defense (Star Lotulelei), but John White IV is special on the offensive side of the ball.
West Virginia at Texas
The best offense in the nation arguably in the Mountaineers will get a crack at one of the better defenses in the nation (Texas).
Plus, this game could go a long way in determining your Big 12 winner as well as a possible second team from the Big 12 in the BCS.
Nebraska at Ohio State
Nebraska and Ohio State gave us one fine finish last year, so what else on Earth else can they give us in 2012?
Arkansas at Auburn
The Razorbacks could be in the top three or four ranked teams in the country if they were to go undefeated, but Auburn may be coming off an upset over LSU.
Georgia at South Carolina
Georgia really could use another road victory, and the Gamecocks would love nothing more than to knock off the Dawgs in consecutive seasons.
LSU at Florida
Wow, this matchup could be special if the Gators offense is primed and ready. Still, this game based on defenses alone should be nasty. A battle of lines of scrimmage should turn into a slugfest as the first to turn it over will be in big trouble.
Washington at Oregon
Do you enjoy points?
These Ducks should be among the top five most entertaining teams to watch if their defense really becomes Chip Kelly's best yet.
Florida State at North Carolina State
The Noles better be wary of the Pack, or else their BCS and ACC dreams will be over. Is Florida State's defense the best on the planet?
If so, they better get after and obliterate Mike Glennon, or else, he may go bonkers in a game that may decide the Seminoles' fate for January.
Miami (FL) at Notre Dame (Chicago)
Sure, the swagger is gone with both of these programs somewhat down in the dumps. However, Notre Dame is eager to become a BCS contender, and this is a game where they can flex some of their muscles. Miami needs to just show up and give the Irish everything they can handle in order to get some more respect.
Excitement Level: 9.5 of 10
Week 7 (10/11-10/13)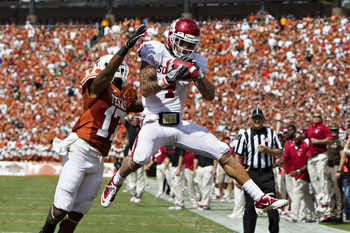 Wesley Hitt/Getty Images
Oklahoma vs. Texas (Dallas)
The Sooners and Longhorns might just be the game that separates Texas or Oklahoma from a BCS title. There's an excellent chance that both of these teams are in the top 10, but somebody has to lose this game.
With West Virginia and TCU around now, the winner of this game will immediately become the favorites in the Big 12, and the hype for an appearance in the BCS title would soon begin.
South Carolina at LSU
LSU at home against South Carolina is a heavyweight matchup as Marcus Lattimore will be running against the best front four arguably in the country.
South Carolina's defensive line is not too shabby either, but LSU features a legit offensive line to counter their relentless attack.
USC at Washington
USC-Washington has the makings of giving the nation offensive fireworks, but can Keith Price play like an All-American?
Alabama at Missouri
The Crimson Tide will look to give Missouri a rude awakening, but it really comes down to James Franklin and the passing game.
Stanford at Notre Dame
Notre Dame meanwhile seeks revenge against the Cardinal (lost three in a row) as they look to get back to becoming nationally relevant.
Iowa at Michigan State
Meanwhile, Iowa attempts for the same against Michigan State after hammering them back in 2010 (37-6).
Excitement Level: 9.5 of 10
Week 1 (8/30-9/3)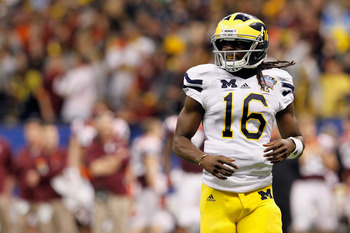 Kevin C. Cox/Getty Images
Michigan vs. Alabama (Arlington)
The game at Cowboy Stadium will feature two top-10 squads, and they both could be in the BCS title picture towards the end of the season.
At the very worst, they will be playing on New Year's in a relevant bowl, but being able to watch arguably the most electrifying player in college football against arguably the best defensive and overall program (past few years at least) should be a blast.
Notre Dame vs. Navy (Dublin)
How much of a diehard are you?
The Irish against the Midshipmen in Dublin will be exciting since it starts bright and early (9 a.m. ET).
Clemson vs. Auburn (Atlanta)
A battle of Tigers gave us a solid finish one season ago, but will Sammy Watkins be playing in the opener?
Auburn's defense should be licking its chops against Clemson's offensive line, and we know their offense will be able to put some points on the board.
Boise State at Michigan State (8/31)
Chris Petersen and his boys will be asked to pass a major test once again, and college football cannot wait. What will life be without Kellen Moore and a dominant veteran-led defensive line?
Tennessee vs. North Carolina State (8/31)
This Friday night contest will be underrated with Boise and Sparty going on as well, but these two teams both may have what it takes to win nine or more game this season (counting bowl game).
Georgia Tech at Virginia Tech
Those final four games listed above should be intriguing since they have BCS dark horses written all over them, albeit Sparty and Boise could both be ranked in the top 10 at some point in the season (MSU should be right there in preseason).
It is the opening weekend of college football, though, and more times than not, it gives us among the best collection of games for the season.
Excitement Level: 10 of 10
Week 4 (9/19-9/22)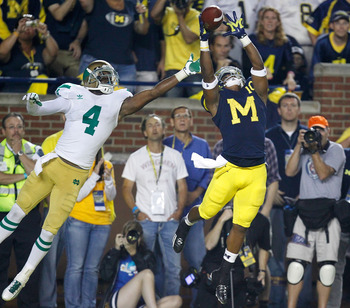 Gregory Shamus/Getty Images
Michigan at Notre Dame
There's always that special week in September in which there is no way on Earth you should plan to attend a wedding.
Well, I was in Vegas last year for a wedding, but thank goodness, my family is addicted to sports half as much as I am.
If the Maize and Blue and Fighting Irish give us even close to the finish we saw one season ago, this might just run away with the best weekend of the college football season.
Did I mention this is another night game, and it will be just the eighth ever night game at Notre Dame Stadium!?
LSU at Auburn
The battle of Tigers is great to follow as always, but this time around, LSU may have a tougher time against an improved Auburn squad. LSU could be ranked first or second, which only adds more incentive and motivation to Gene Chizik and the crew.
Clemson at Florida State
Clemson and Florida State look to not disappoint us as both teams have let us down on an occasion or two.
The ACC does not steal the spotlight too often, but the winner gets a huge advantage in this matchup.
Missouri at South Carolina (Kansas State at Oklahoma)
Throw in another critical game for Missouri in the SEC and another opportunity for Kansas State to show why they believe they are contenders in the Big 12, and this weekend is practically heaven.
Excitement Level: 10 of 10
Week 10 (11/1-11/3)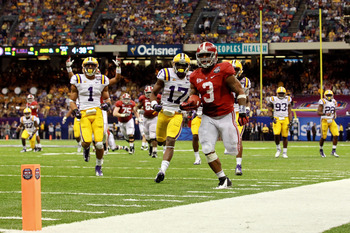 Ronald Martinez/Getty Images
Alabama at LSU
There may not be a boatload of solid to very good games, but there sure are two gigantic games to look for on the third of November.
Alabama-LSU have butted heads just a few times in recent memory, and this upcoming season should be no different. Two great coaches, defenses, programs and fanbases should enable us to enjoy another heated tussle.
Oregon at USC
If you prefer a ton of points and more electrifying scoring opportunities, then look no further than the Ducks and Trojans.
USC features the best QB-WR combo in the country with Matt Barkley and Robert Woods-Marqise Lee, but the Ducks are not too shabby in the backfield with De'Anthony Thomas and Kenjon Barner.
Whoever is the starter under center for Oregon toward the end of the season must avoid all turnover possibilities, but this game could perhaps be a BCS title play-in game if the chips fall the right way.
Nebraska at Michigan State
Nebraska spanked Michigan State at home last season, and it very well could be the other way around if Sparty has their offense rolling.
TCU at West Virginia
Missouri at Florida
Casey Pachall and Geno Smith will likely air the hell out of the pigskin when their teams meet up, but Missouri-Florida is just another opportunity for the new kids on the block to show off.
Excitement Level: 11 of 10
Week 13 (11/20-11/24)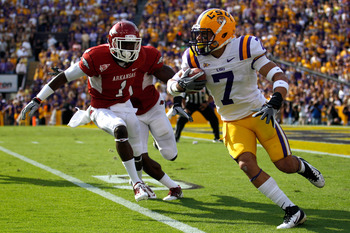 Chris Graythen/Getty Images
LSU at Arkansas (11/23)
It is the final weekend of the regular season, and there is no holding back for rivalry week. There are a bevy of vital games with conference championships on the line, and often, BCS title aspirations on the line as well.
LSU at Arkansas has the makings of becoming one of the best games of the season because there could potentially be another three-way tie atop the West standings.
TCU at Texas (Perhaps 11/22)
The TCU offense should be the one to carry the Horned Frogs in 2012, but it will be matched up against one ferocious, athletic Longhorns defense.
Michigan at Ohio State
"The Game" between Michigan at Ohio State has arguably more anticipation than ever before because Urban Meyer will pull out all stops to ruin a trip to Pasadena or perhaps more for Brady Hokes and the boys.
Plus, Michigan wants nothing more than to give Meyer and the Buckeyes a loss for a second straight season, with this one coming in Columbus.
Wisconsin at Penn State
The Nittany Lions could be your dark horse from the Big Ten, but they would have to knock off the Badgers to complete any sort of a dream season.
The Badgers should already have their division locked up, but this game will mean a lot in terms of momentum heading into their Big Ten title matchup.
Notre Dame at USC
If the Trojans were to have no more than one loss this would be quite the game regardless if the Irish are ranked or not. Matt Barkley could have a Heisman moment in this game against Notre Dame, but his Trojans should have more important things on their minds in this one.
South Carolina at Clemson
Sammy Watkins against the Gamecocks defense will be interesting, but can the Clemson defense slow down Marcus Lattimore in what could be be his final game of his Gamecocks career before their bowl game?
Oklahoma State at Oklahoma
Two seasons ago was a classic thriller, but last year was a joke. Todd Monken made some comments toward Landry Jones that were not exactly appropriate since you should build up your top competition.
So, expect Landry and the boys attempt to hang half a hundred against a Cowboys defense that is respectable, but they will be challenged.
Nebraska at Iowa (11/23)
Rex Burkhead will take on an underrated Hawkeyes defense, and Iowa could be looking for their ninth or 10th win coming into this game.
The Huskers might have a chance to play in the Big Ten title game if they were to catch a few breaks, including a victory in Iowa City.
Florida at Florida State
The Gators and Noles lost some offensive swagger last season, but the defenses are still right there with one another. They are both legit, but UF has to improve, and this should finally be the season where the Noles return to glory if E.J. Manuel can take that next step.
Auburn at Alabama
The "Iron Bowl" figures to take the landscape of college football as one of the better rivalries in the sport. A few rivalries are dying down a tad, but this one keeps on adding more spice each and every year.
The SEC has so many special rivalries, but this one takes the cake for now (LSU-Bama is heating up too).
Best Weekend of Season?
The simple rivalry games between all of the prestigious programs make the final weekend of the season the most anticipated of the 2012 season. The pageantry and the passion all of these fanbases show towards their schools is remarkable.
Many of the players will be playing in their final home games of their career, but the stakes are way too high to not make this the top projected weekend of the 2012 season.
Excitement Level: 11 of 10
Keep Reading