10 Reasons to Be Optimistic About the Detroit Lions in 2012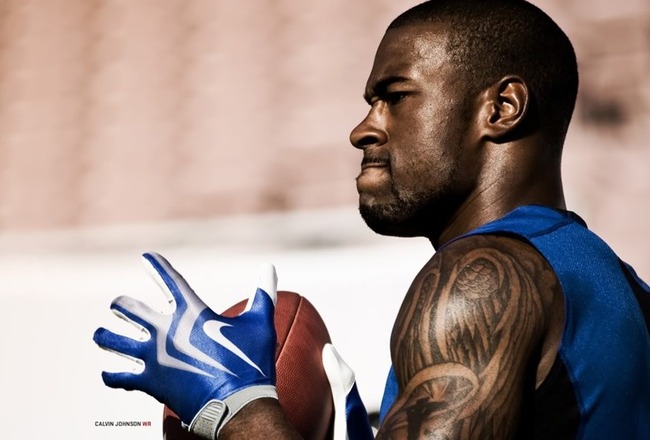 For the Detroit Lions and their fans, this offseason has been a time of unprecedented optimism about the upcoming season.
The truth is, optimism is something Lions fans always have an abundance of at this time of the year.
Despite all the losing and even through the majority of the Millen era, most fans remained hopeful. The sentiment heading into the regular season always seemed to be: This will be the year the Lions turn things around!
Granted that optimism always evaporated around Week 4, but you get my point.
This year is different. The Lions have clearly turned things around, and the franchise is heading in the right direction.
I'm not going to be the guy to predict they will reach the Superbowl, but after going 10-6 last season, there's no reason that shouldn't be a goal.
So optimism for 2012 is a given. The question is why? Why should fans believe that the Lions will continue their winning ways?
Here are 10 reasons why fans should keep the faith.
No. 10: Ford Field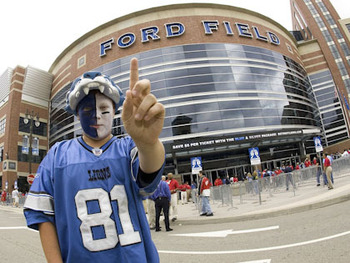 Last season, Detroit Lions fans finally took the bags off their heads and actually had a reason to support the team. In the process, Ford Field started to get a reputation as a house of horrors for opponents.
This fact was on display in Week 4 when the Chicago Bears came to town for Monday Night Football. Fans showed up in record number, and the atmosphere was absolutely electric. The crowd noise forced the Bears into nine false start penalties and—other than a spectacular run by Jahvid Best—that was the difference in the game.
Having a true home field advantage is huge, and with the Lions competitive again, there's no reason that the Ford Field faithful can't have a repeat performance in 2012.
No. 9: Success in Free Agency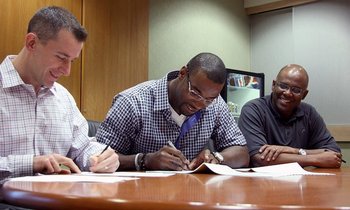 Remember when last season ended and everyone started to worry about how the Lions could possibly sign Calvin Johnson and keep all their free agents?
Team president Tom Lewand and general manager Martin Mayhew pulled it off. They signed Megatron and Stephen Tulloch and kept their core players intact. The losses were minimal. In fact, they returned 20 out of 21 starters.
Eric Wright was the lone casualty, but everyone knew someone had to go. In reality, the Lions were wise to let him walk instead of overpaying for his services.
Detroit also brought in key free-agent role players that will add depth and improve a special teams unit that underperformed.
The only caveat to this is the Cliff Avril situation. The Lions gave him the franchise tag, and he's holding out for a long-term deal, according to Carlos Monarrez of the Detroit Free Press. The outcome of this will impact the season greatly in one way or another. Everyone should keep their faith in Lewand and Mayhew, though.
They've given fans no reason to doubt them so far.
No. 8: Improved Offensive Line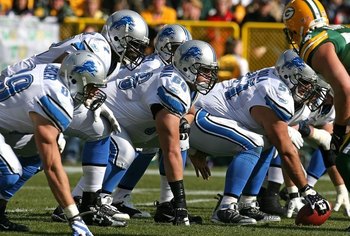 It's possible that the Lions offensive line will look significantly different when the regular season starts. That's not necessarily a bad thing, either. They are the most maligned group on the team after all, and while the criticism is not always warranted, they could be much better.
The Lions drafted left tackle Riley Reiff in the first round of the 2012 NFL draft and they didn't do that to let him sit on the bench. He'll start in place of someone. Probably Gosder Cherilus or Stephen Peterman.
Reiff isn't the only one that could challenge last year's starters, though. Jason Fox is finally healthy and has to make up for lost time, while Johnny Culbreath and Jacques McClendon are young guys who could take giant leaps forward this year.
Not to mention Rob Sims packed on the pounds, according to Dave Birkett of the Detroit Free Press. He should be a force to be reckoned with, particularly in the running game.
The point is this: Competition for starts will be intense, and the line's overall play will improve because of it.
No. 7: Defensive Backfield Depth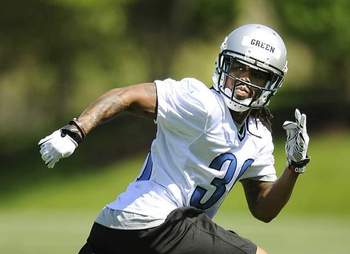 Jonte Green
In 2011, the Lions defensive backfield doubled as a M.A.S.H. unit. Cornerbacks and safeties were dropping like flies, and the lack of depth showed.
Not only were the Lions ranked 22nd in the NFL giving up 239 passing yards per game, but in the last two games of the season, Matt Flynn and Drew Brees threw for nearly 1,000 yards combined.
Detroit desperately needed to address depth in the secondary, and they did so via free agency and through the draft. Jacob Lacey, Bill Bentley and Jonte Green can contribute immediately and veteran Erik Coleman will return from injury.
Several others like Chris Greenwood and Alonzo Lawrence could end up playing key roles as well.
These days, the NFL is a pass-happy league and defenses are at a distinct disadvantage. With that said, the Lions secondary is healthy and vastly improved. They shouldn't be the Achilles' heal again.
No. 6: The Running Game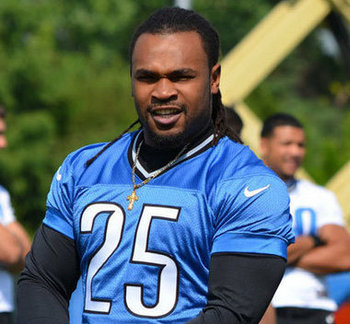 Leshoure makes his return.
Many people, myself included, have called the Lions running game a mess. Others have referred to it as a disaster waiting to happen. You really can't blame anyone for feeling that way. All hopes for a productive rushing attack have been dashed year after year by injury.
One can't ignore the talent Detroit has in their backfield, though. In fact, if Mikel Leshoure, Jahvid Best and Kevin Smith keep their health about them, the Lions could have the most potent ground attack in the NFC.
That's a big "if" given those players' histories, but injuries are a fact of life in the NFL. Lions fans don't have to look any further than their own franchise quarterback to see how one season can change everything.
Matthew Stafford's durability was once compared to that of a china doll's. Many people concluded he would never play a full NFL season.
He certainly changed that perception, and the Lions three-headed rushing attack can do the same.
Best won't be the lone featured back, so his risk for injury should not be as great. Leshoure is participating in offseason OTAs, and according to Justin Rogers of MLive.com, his rehab is going well. He is the kind of bruising every-down back the Lions need.
As for Kevin Smith: Let's just cross our fingers and hope for the best. Besides, the Lions have Joique Bell waiting in the wings, and he could be a very effective backup.
Rest assured, the Lions running game will rebound and be significantly better in 2012.
No. 5: Nick Fairley and Ndamukong Suh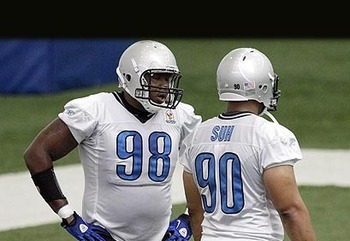 The Lions' defensive line did not live up to expectations last season. While they put up impressive sack numbers—10th in the NFL—they were vulnerable to the run all year long.
They finished the year giving up 128 yards rushing per contest, good for 23rd in the NFL.
Expectations are high again this season, and with a fully recovered Nick Fairley joining Ndamukong Suh in the middle, there's no reason the Lions can't dominate the line of scrimmage.
Fairley did play in 10 games in 2011, but he was limited with a foot injury for most of them. Lions fans got a brief taste of what he could do during the first quarter of the New Orleans Saints game, though.
He absolutely dominated in the short time he was on the field. He recorded four tackles (two for a loss) and one sack. That was against the Saints two All-Pro offensive linemen mind you. Unfortunately, he re-injured his foot and didn't play again.
He's healthy now, and fans should expect to see him take over for Corey Williams.
As for Suh, he's months removed from the controversy regarding his suspension and off the field issues, so expect him to start the season fresh. He'll also be motivated to prove that last year's unspectacular season was a fluke. He'll return to the dominant force he was during his rookie year.
This pair will form a two-man wrecking crew that will have quarterbacks routinely running for their lives. Jay Cutler is probably already having nightmares about them.
No. 4: Calvin Johnson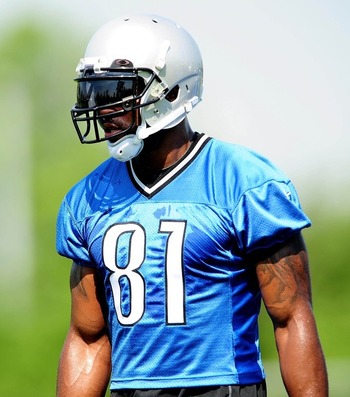 No one can argue that Calvin Johnson earned the title "Best Receiver in the NFL" after last year's dominating performance. He put up ridiculous numbers—1,681 yards, 96 receptions and 16 touchdowns—and was a red zone threat the likes of which the league has not seen in some time.
Can he possibly get any better?
Here are some reasons to believe he can:
1. He's hitting the prime of his career, and he's only suffered minor injuries.
2. The Lions running game will be better, and defenses will have to respect that. That means less double/triple teams on Johnson and more space to do what he does best.
3. With the addition of a healthy Ryan Broyles, the receiving unit will be better and more consistent, which should also open things up for Johnson.
His talent is undeniable, but fans' appreciation for Megatron should extend beyond his dominant play and highlight reel touchdowns. He goes about his business the right way—on and off the field. He sets a good example for the younger players on the team, and lord knows there are guys that need to follow his lead
That comment was meant for you Titus Young.
Now if Johnson can just overcome the dreaded Madden Curse, everything will be fine. Lions fans are crossing their fingers and throwing salt over their shoulder as we speak.
No. 3: Playoff Experience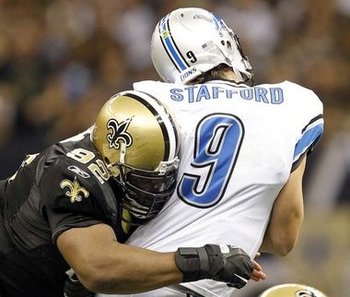 Last season, the Lions bowed out of the playoffs in the first round after losing to the New Orleans Saints 45-28. They played well enough and even hung with the Saints for three quarters. In the end, Drew Brees—and the Lions' own deficiencies in the secondary—proved to be too much to overcome.
Some fans, and probably some within the Lions organization, were ecstatic just to be in the playoffs. I guarantee that no player or coach shared that mentality, though. They were not there to simply compete. They were there to win.
Unfortunately, they failed.
Failure can be a valuable learning tool, though, and the Lions will undoubtedly take the lesson to heart. They've been to the dance and were sent home early. That will only push them harder to make it back and advance farther this time around.
Ultimately, the playoff loss was a teaching moment and a motivational tool. The Lions got a taste of what playoff football is all about. Losing that game will only clarify what it takes to win the next one.
The lessons learned will benefit them greatly as they strive for the ultimate goal: the Superbowl.
No. 2: Martin Mayhew and Jim Schwartz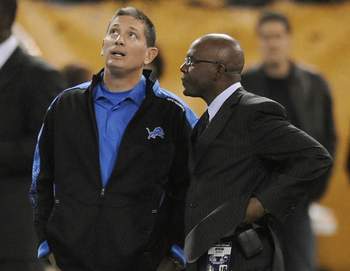 Fans of the Detroit Lions have seen their fair share of incompetent leadership over the years. They've seen coaches with pedigree and promise fail to live up to expectations. They've also seen horrible management rewarded for failure time and time again.
And that's just during Matt Millen's tenure.
With that history in mind, it is easy to understand why everyone has bought into general manager Martin Mayhew and head coach Jim Schwartz's way of doing things. They've actually backed up their words with results on the field.
It's obvious that things have changed—and changed for the better. Attitudes are different across the board, and there's a positive feeling that permeates the franchise now.
Best of all, the team is winning. They have young, talented and exciting players to watch, and those players are relevant on a national level. For that reason, the Lions are must-see TV and are playing prime-time games for once.
It's safe to say that as long as Mayhew and Schwartz are around, the Lions will be on the right track. It was a long time coming, but fans finally have leadership they can trust.
No. 1: Matthew Stafford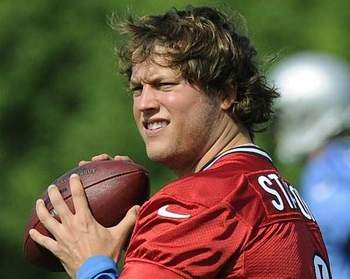 In the NFL, having a franchise quarterback is the number one indicator of success. In fact, over the past twenty years, there's only been two teams that have won the Superbowl without one: Baltimore in 2001 and Tampa Bay in 2003.
Therefore, it goes without saying that the presence of a great quarterback results in more winning. Seems like a common-sense idea, but finding a franchise quarterback is never easy. They certainly don't grow on trees. The Lions should know because they've never had one.
Until now.
Matthew Stafford has proven that he is a franchise quarterback. When the Lions had the foresight/luck to draft him three years ago, it was the best move this franchise ever made. He has all the tools to be one of the greats: smarts, confidence, courage, arm strength and accuracy.
He used those tools to put together an historic season. His numbers put him in a class of truly elite quarterbacks.
Stafford not only proved his worth last season, but he also won the respect of his team and fans by engineering multiple game-winning drives, playing through injury and leading the Lions to the playoffs. A place they hadn't been in over a decade.
He makes the team better by simply stepping on the field, and as long as he remains healthy—which everyone now knows is possible—the Lions will have a chance to win.
Actually, with him taking snaps, the Lions have a better chance than most.
Keep Reading

Detroit Lions: Like this team?