Arizona Cardinals 2012: 5 Battles to Watch in Training Camp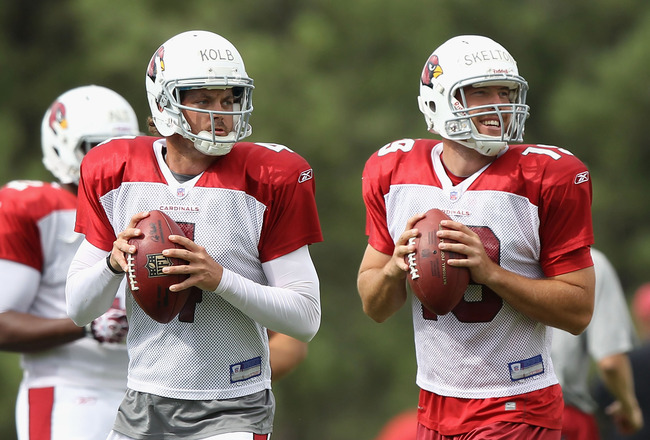 Christian Petersen/Getty Images
Since taking over as the Arizona Cardinals head coach, Ken Whisenhunt has had an open competition policy. Whether you were a first-round pick or the team's biggest free-agent acquisition, if you weren't the best player at your position, you weren't going to start.
Because of that open competition policy, there have been quite a few interesting training camp battles during Whisenhunt's tenure in Arizona.
From presumably washed up veteran Kurt Warner beating out the supposed future of the franchise in Matt Leinart in 2008, to career journeyman Paris Lenon holding off big money free agent Stewart Bradley last season, Whisenhunt has shown time and again that every job is up for grabs.
This year will be no different, as the Cardinals boast a mixture of both young talent itching to get out onto the field and savvy veterans not ready to give up their spots. Here's a look at the five training camp battles you're going to want to pay attention to this offseason.
5. Inside Linebacker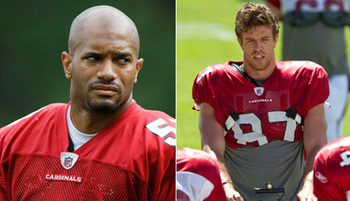 Photo courtesy of gridironfans.com
Potential starters: Stewart Bradley, Paris Lenon
When the Cardinals signed Stewart Bradley to a five-year, $30 million deal last season, not many expected him to spend most of the year sitting on the sidelines.
Then again, not many expected Paris Lenon to play at the level he did, racking up 93 tackles and recording three sacks in 2011 (via NFL.com).

This year should be different, however, as Bradley will finally have an offseason with the team, and has had time to adjust to the 3-4 defense.
Starting Bradley would give the Cardinals the big thumper in the middle they have been lacking since injuries derailed Gerald Hayes' career.
Don't expect Lenon to give his job up without a fight, though. He has quietly become one of the Cardinals best players on defense, and is one of the unquestioned leaders in the locker room.
Projected starter: Paris Lenon
4. Cornerback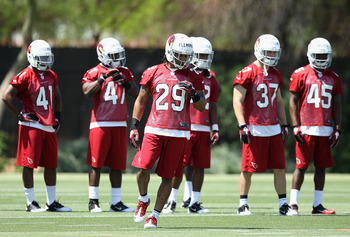 Christian Petersen/Getty Images
Potential starters: Greg Toler, Jamell Fleming, A.J. Jefferson, William Gay
When the Cardinals drafted Oklahoma standout Jamell Fleming in the third round of the 2012 NFL Draft, they created a logjam of talent at the cornerback position.
In a league that relies more and more on the passing game each year, that is considered a good problem to have.
There can only be two starting cornerbacks though, and one spot is already locked up by budding star Patrick Peterson, so this battle should be fierce. There are only a certain amount of reps to be had, so in a competition as crowded as this one, each time they step onto the field could make or break their chances.
Expect the veterans to come out on top early on, as the young guys learn on the job and make the inevitable rookie mistakes that ultimately land them on the bench.
Projected starter: Greg Toler, with William Gay in the nickel
3. Wide Receiver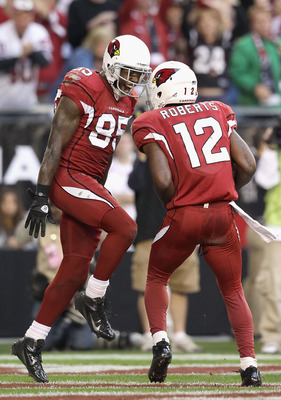 Christian Petersen/Getty Images
Potential Starters: Early Doucet, Andre Roberts, Michael Floyd
Ever since Anquan Boldin left via trade in 2010, the Cardinals have been looking for a legitimate No. 2 receiver to line up opposite of Larry Fitzgerald.
They hope that they have found one in 13th overall pick Michael Floyd, but he will hardly be handed the job.
Both Andre Roberts and Early Doucet posted career high stats across the board in 2011, putting up solid (albeit unspectacular) numbers in an attempt to entrench themselves as Fitzgerald's wingman.
While they failed in that regard, they did show that they are serviceable options should Floyd struggle early on.
Floyd will be given every chance to succeed and should win the job, but there are no guarantees in the NFL, and he will not start if he doesn't show he can handle it.
Projected starter: Michael Floyd, with Early Doucet in the slot
2. Right Tackle
Christian Petersen/Getty Images
Potential starters: Jeremy Bridges, Bobby Massie
The Cardinals front office has taken a lot of flack recently for not addressing the offensive line in the draft the past few years.
It had been a position of weakness for some time now, and they didn't really seem interested in upgrading the talent there.
When they passed up projected second-round pick Bobby Massie in the third for Jamell Fleming, fans were understandably upset.
Luck would be on the their side though, as they ended up stealing Massie in the fourth. Now Massie is one of the reported standouts in minicamp, and looks to give incumbent starter Jeremy Bridges a run for his money this season.
Coach Whisenhunt doesn't usually like starting rookies too early, but if Massie continues to impress, he may have no choice.
Projected starter: Jeremy Bridges, with Massie taking over early in the season
1. Quarterback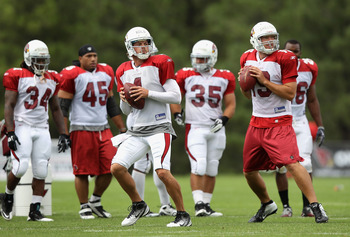 Christian Petersen/Getty Images
Potential starters: Kevin Kolb, John Skelton
When there is a quarterback competition in camp, all other battles seem to fall to the wayside. Kolb versus Skelton will be no different, as this should be one of the best battles in the NFL this year.
Kevin Kolb disappointed last year after being traded to the Cardinals in exchange for Dominique Rodgers-Cromartie and a second-round pick, and signing a six-year, $65 million contract. He sustained multiple injuries while going 2-6 as a starter and putting on an underwhelming performance throughout the year.
Back up John Skelton looked even worse in place of the injured Kolb, but did find ways to win ugly on his way to an impressive 6-2 record.
Kolb fans will say that he did not have a chance to learn the playbook or develop any chemistry with his teammates due to the lockout last season, and will point to his impressive game against the Cowboys as an indicator to how he will play given a full offseason.
They will also claim that Skelton's winning record was due to the improved play of the defense, and that Skelton himself had very little to do with the team's record later on in the year.
Skelton fans will say that Kolb had his shot and blew it, having the ball in his hands with the game on the line multiple times, but never getting the W.
They will point to Skelton's late-game heroics, and claim that Skelton has the "it" factor that all true franchise quarterbacks have.
In the end, it won't matter what either side says. All that will matter is these two young men's play on the football field, and who will give the Cardinals the best chance to win.
Projected starter: Kevin Kolb
Keep Reading

Arizona Cardinals: Like this team?