Bayern Munich vs. Chelsea: Player Ratings for Bayern in Champions League Final
May 20, 2012

Laurence Griffiths/Getty Images
For Chelsea, victory in the 2012 Champions League Final was the culmination of years and years of hard work and determination. After numerous failures and letdowns, Didier Drogba, John Terry, Frank Lampard, Roman Abramovich and others finally had their Champions League trophy.
But for Bayern Munich, the final result was heartbreaking. For the second time in three seasons, Bayern Munich were runners-up once again. This time was even more heartbreaking than the last, as Bayern Munich were easily the underdogs in 2012. Here, many expected them to lift the trophy at home.
But it wasn't to be, and despite battling hard in all competitions, Bayern Munich's season has come to an end with Bayern finishing second in all its major competitions. On a scale of 1-10, here's how Bayern's individual players performed in this year's Champions League final.
Manuel Neuer: 8.0/10
Lost the battle of the keepers with Petr Cech, but he did his reputation little harm by saving Juan Mata's first penalty and standing formidably in goal during regular time. There was little he could do to keep Didier Drogba's bullet header out of the net.
Diego Contento: 7.5/10
Didn't really have much to deal with in Salomon Kalou, but still did well to keep the Ivorian quiet for the duration of his time on the pitch. Had more trouble once Fernando Torres was on the pitch.
He was also good at attacking down the flanks, helping Bayern Munich keep possession and keep the pressure up when they were parked in Chelsea's half of the pitch.
Jerome Boateng: 7.0/10
Was solid vs. Drogba for much of the game, but lost him for the equalizing goal at the end of the game. Provided nothing on offense and hardly had to do much work until the game went into extra time.
Antoliy Tymoshchuk: 7.5/10
Was forced to play as an emergency centre-back with Daniel Van Buyten's fitness still questionable, but dealt with the responsibility well.
He was Bayern's best tackler and interceptor of the ball, and even took a couple of shots from distance. Good all-around display.
Philipp Lahm: 8.0/10
All-action display from the man considered by many to be the world's best right-back. Four tackles, five interceptions, four clearances, one blocked shot, three key passes, 80 passes with 93-percent pass success, four crosses, two aerial duels won and 112 touches is the stat line for the Bayern and Germany captain on the night.
Probably a candidate for man-of-the-match if he was on the winning side.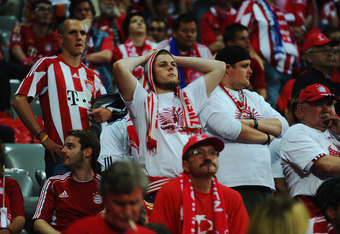 Mike Hewitt/Getty Images
Toni Kroos: 7.0/10
There were doubts about Toni Kroos' ability to handle the defensive midfielder role, and those doubts were vindicated as he struggled against Chelsea. He was decent on offense, even though his six shots all went off target, but he provided little on defense.
Like Mata for Chelsea, though, he was the one who assisted his team's goal in an otherwise subpar night.
Bastian Schweinsteiger: 6.5/10
I had predicted that Schweinsteiger vs. Lampard would be the matchup to decide the final, and even though it did not do so directly, it did have a major impact as Lampard outperformed Schweinsteiger and emerged victorious.
Schweinsteiger played four key passes, but he only took two off-target shots and otherwise remained in a fairly defensive role, cleaning up play and passing it to Bayern's more forward players. Missed the key penalty in the shootout.
Franck Ribery: 6.5/10
This was not vintage Ribery. Many expected that Ribery would have no problem slicing up Jose Bosingwa and exposing Chelsea's defense, but he struggled to do so, and didn't manage a shot on target.
He made five key passes, but they never led to anything. His biggest contribution was to earn Bayern Munich a penalty, but it was also that play that ended his game.
Thomas Mueller: 7.5/10
The one member of Bayern Munich's offense who actually looked on top of his game. Took eight shots, second only to Robben, and got two of them on target, including the header that looked to have won Bayern Munich the game.
Was also the second most-fouled Bayern player.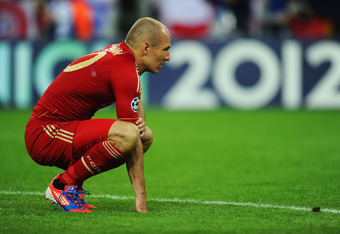 Mike Hewitt/Getty Images
Arjen Robben: 6.5/10
Robben did a lot against Chelsea. 15 shots, five shots on target, eight key passes, 14 crosses—Robben led his team in all these statistical categories.
But many of the shots Robben took were poor and wide of the target, and none of his eight key passes or 14 crosses resulted in a goal. Part of that can be put down to an awful game from Mario Gomez, but mostly it's down to Robben just not being able to put his stamp on the game.
Mario Gomez: 5.5/10
In a game where his team fed him pass after pass, cross after cross, Gomez just could not convert. He was expected to easily overpower both Gary Cahill and David Luiz, but he failed to beat them and score on even a single occasion.
He managed five shots, but they all were off target, and thus Gomez failed to trouble the keeper once in 120 minutes of play. Horribly disappointing.
Substitutes
Daniel van Buyten: 6.5/10
Brought on by Jupp Heyneckes to seal the victory and tighten Bayern's defense until the regular time clock ran out, Van Buyten must've felt awful when Drogba scored barely after he'd been brought on for Bayern.
He did his job decently in extra-time, but couldn't make a difference for Bayern on set pieces.
Ivica Olic: 6.5/10
Worked hard after replacing the injured Ribery, but didn't really get that involved in Bayern's play, which continued to flow mostly through Robben.