Derrick Rose's Knee and the 6 Biggest Concerns Facing the Bulls Next Season
Jonathan Daniel/Getty Images
Derrick Rose's knee, Luol Deng's wrist and Joakim Noah's ankle dominate the mind of every Bulls fan in this hard offseason. These concerns and others will force Chicago to make moves to secure the present without mortgaging the future.
So, what are the biggest concerns facing the Bulls next season?
Derrick Rose's Knee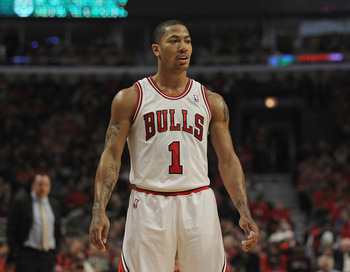 Jonathan Daniel/Getty Images
Crunch. When Derrick Rose went down clutching his knee, everyone knew the Bulls' season was over. But little did fans know that next season might be over as well.
Rose will miss eight to 12 months after knee surgery, which means that he will miss at least three quarters of next season, and perhaps, all of it. So, the Bulls need a starting-caliber replacement at point guard.
Chauncey Billups looks like the best option. He's older and coming off his own injury, but Billups is a proven playoff point guard who knows how to facilitate the offense and shoot from long range. He will also care more about winning than money. He can replicate some of Rose's production at the right price.
Raymond Felton and Andre Miller could also be great stopgap fits but only if they are willing to take a steep pay cut.
Luol Deng's Wrist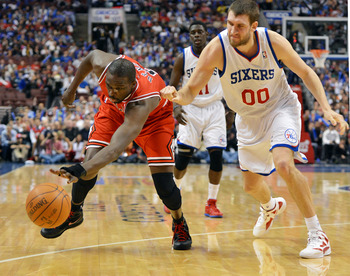 Drew Hallowell/Getty Images
Starting to sense an injury trend here? That's no accident. Deng played through pain with his mangled wrist for much of the season and playoffs. If he rests it now or opts for surgery, it will be fixed for the upcoming season. But, if he plays in the Olympics, which he wants to do, and delays rest (or more likely surgery) until September, the Bulls will miss his presence for half a season as well.
Considering the team's more urgent need at point guard and limited free-agency dollars, Chicago will likely look for Jimmy Butler, Kyle Korver and Richard Hamilton to pick up the slack in the beginning of the season.
Joakim Noah's Ankle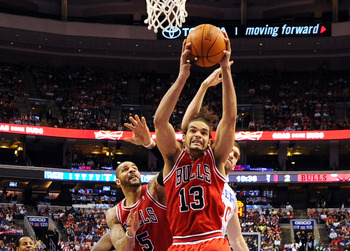 Drew Hallowell/Getty Images
Noah injured his ankle in Game 3 of the Bulls' first-round series, which killed what was left of Chicago's playoff hopes.
This specific injury will not stretch into next season. However, Noah has a history of foot and leg problems, which includes multiple sprains and planter fascitiis. The question is: will he hold up for most of next season?
In this case, the Bulls will have to hope and pray. Chicago will lock up center Omer Asik (and look to do the same with power forward Taj Gibson), but the team will not spend its limited resources on the frontcourt, which is a relative area of strength.
Finding a Good Shooting Guard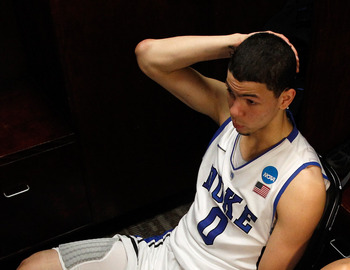 Streeter Lecka/Getty Images
The Bulls really need to find a great scorer to fill their huge need at the shooting guard position.
There are a few interesting options. Chicago could trade for former Bulls star Ben Gordon from Detroit, sending back former Pistons star Rip Hamilton and trying to restart Gordon's career.
More ambitiously, Chicago could use its significant draft assets—their own pick this year, Charlotte's future lottery pick from the Tyrus Thomas trade, and cash—to move up on draft day and acquire an impact talent. The best fit would be Austin Rivers—a natural scorer out of Duke with basketball roots and an outstanding pedigree.
Carlos Boozer's Contract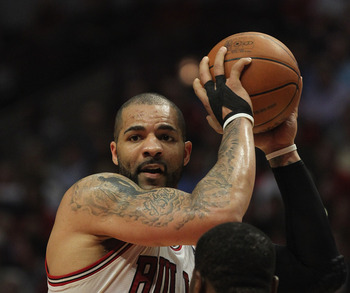 Jonathan Daniel/Getty Images
To amnesty or not to amnesty? That is the question.
Boozer's gargantuan contract hangs over the Bulls like the Sword of Damocles. He's still a decent pick and pop offensive player, but he is a complementary player not the post offense star Chicago thought it had signed.
Boozer's future replacement, Taj Gibson, is ready for a bigger role. But he fouls too often per 48 minutes to play 30-35 minutes per game, and Chicago would be devastated by injury if they amnestied Boozer without replacing him.
Chicago's best option is to try very hard to use Boozer—a much better fit with Carmelo Anthony, to acquire Amar'e Stoudemire. He's a risk, but he has the kind of in-your-face post up, create-his-own-offense game that the Bulls desperately need.
Omer Asik's Contract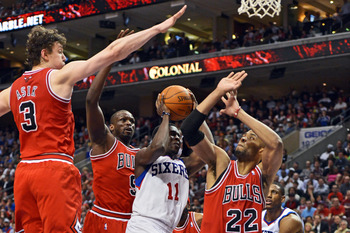 Drew Hallowell/Getty Images
The Bulls have to keep Asik. He's a monster in the paint defensively who blocks shots so teams will line up to offer him money as a restricted free agent. However, because he lacks offense, the Bulls should get away without breaking the bank.
Next year, Chicago will have to sign Taj Gibson long term, which will be more difficult. However, the Bulls can bring Nikola Mirotic, their very talented European power forward prospect, over and amnesty Carlos Boozer to find the money to pay Gibson and keep their formidable front line.
Keeping Fans Hopeful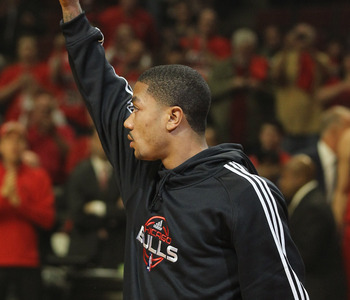 Jonathan Daniel/Getty Images
Fans really believed the Bulls had a title shot this season. Derrick Rose's injury and the subsequent end to the season crushed many fans' hopes.
Worse, next season, Rose and Deng will both be injured at the start. Carlos Boozer and Joakim Noah's health will always be question marks. So, the team's management will have to make shrewd stopgap moves to keep the team competitive while not mortgaging the future.
That is a tall task.
Keep Reading

Chicago Bulls: Like this team?