Michigan Football: Wolverines' Away Schedule Is Most Daunting in Years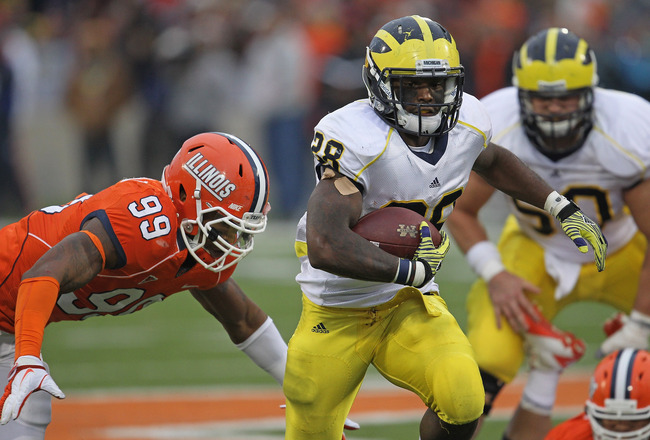 Jonathan Daniel/Getty Images
Everybody knows how brutal Michigan's 2012 schedule is, especially the road slate.
It includes both tough conference road games and extremely hard trips to out-of-conference venues as well.
But where does it rank in comparison to the last five years? Here's a look at the previous five road schedules, and where the 2012 one lands.
5. 2011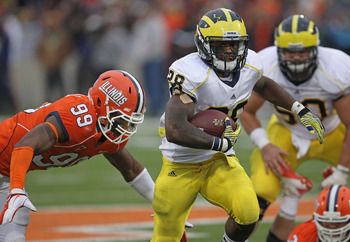 Jonathan Daniel/Getty Images
I have this past year's road slate as the easiest of the previous five years. Why? Michigan only played one solid team on the road all year: Michigan State.
Their other three road opponents all lost at least six games. Michigan went 2-2 in their four road games, losing to Iowa and Michigan State.
Their two wins came somewhat easily against Northwestern and Illinois.
4. 2009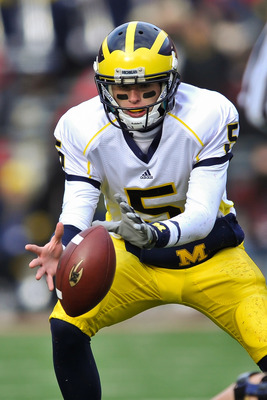 Jamie Sabau/Getty Images
The 2009 road slate was pretty mediocre. Yet the Wolverines didn't win a single road game, going 0-4.
They played two great teams on the road that year—Iowa and Wisconsin—and darn near beat Iowa.
Michigan State was somewhat bad that year, but Michigan lost to them in overtime. The real low light came when Michigan traveled to Champaign to play a bad Illinois team.
This was an absolutely horrible Illini team, yet the Illini blew out Michigan 38-13. That game is widely considered as the beginning of the end for Rich Rodriguez.
3. 2010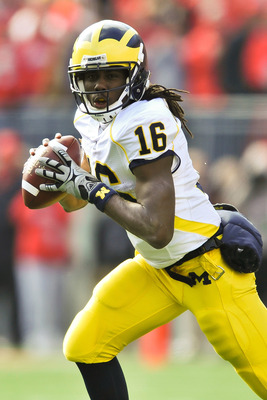 Jamie Sabau/Getty Images
Michigan's 2010 road schedule included five road contests, causing it to be higher on this list.
Even though they only played one great team on the road that year, they did play two other average teams in Notre Dame and Penn State.
They traveled to Indiana and Purdue and won in both sites, but neither game was easy. The Wolverines had a winning record on the road for the first time under Rodriguez in 2010, going 3-2.
2. 2008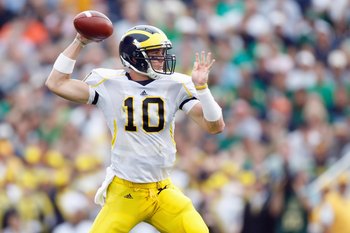 Gregory Shamus/Getty Images
The 2008 road schedule was brutal in Rich Rodriguez's first year, adding to his many troubles at Michigan.
The Wolverines faced not one, but two great teams on the road in Penn State and Ohio.
Michigan actually led Penn State at halftime in Happy Valley, but the Lions came storming back to win in a rout. The Ohio game wasn't even a contest.
Michigan was beat fairly easy by Notre Dame and lost to Purdue in a heart breaker. However, they surprisingly blew out a Minnesota team in Minneapolis that ended up playing in a bowl.
As a whole, they went 1-4 on the road.
1. 2012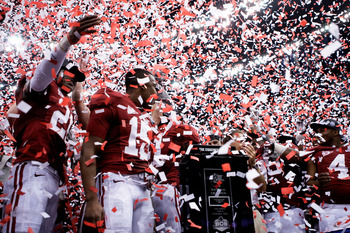 Andy Lyons/Getty Images
This is a no-brainer. Even though the Alabama game is played in a neutral site, it will still obviously be a brutally hard game.
A trip to Notre Dame on Sept. 22 won't be easy—regardless of what kind of team the Irish field this season.
As for road trips in conference, there are two extremely hard games. Trips to Nebraska and Ohio will both be very difficult, as both schools should be good this year.
Even a trip to Purdue on Oct. 6 could be tricky.
If the Wolverines come out of this brutal road schedule with less than three losses, they should be thrilled.
Keep Reading

Michigan Wolverines Football: Like this team?