Bayern Munich vs Chelsea: 25 Most Incredible Photos From Champions League Final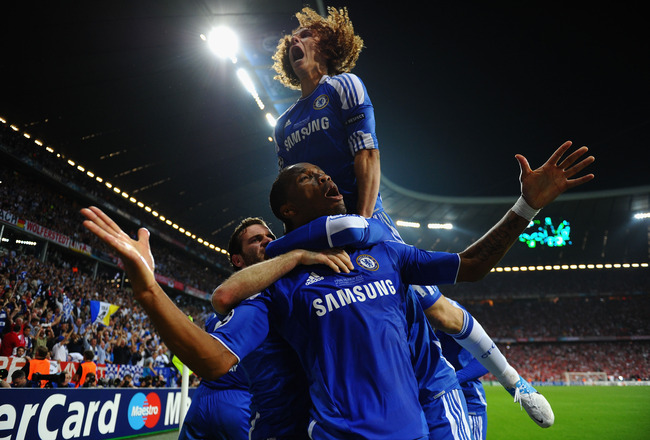 Laurence Griffiths/Getty Images
Bayern Munich versus Chelsea. It was a Champions League final for the ages.
From the relative quiet of the first half to a riveting final 10 minutes that must be seen to be believed, from certain German triumph to incredible English spirit and resolve, from the pallor of getting whistled for a penalty in extra time to stepping up for the final penalty of the night, Saturday's final saw just about everything imaginable.
And though Bayern dominated the match for long periods of time, it was the upstarts from the west side of London who would walk out the winners.
But how did it happen?
Take a look at 25 of the best images from the Champions League final, as we let the photos tell the story.
The Home Crowd
Alex Livesey/Getty Images
Prior to kickoff, the German fans were in typical form, supporting Bayern Munich in what amounted to a home match.
The Trophy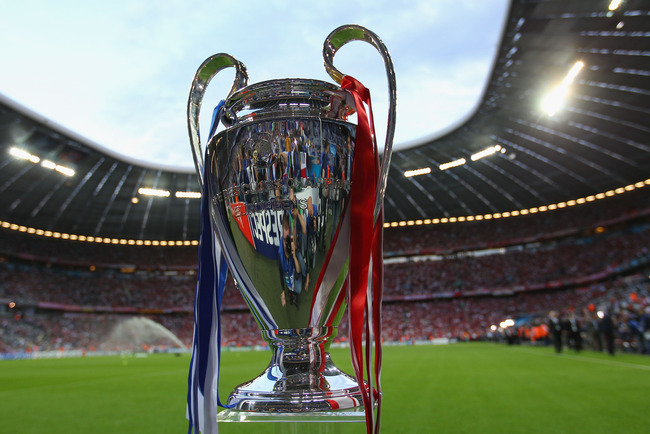 Alex Livesey/Getty Images
This UEFA Champions League winners' trophy is what the players would be fighting for.
"Our Cup"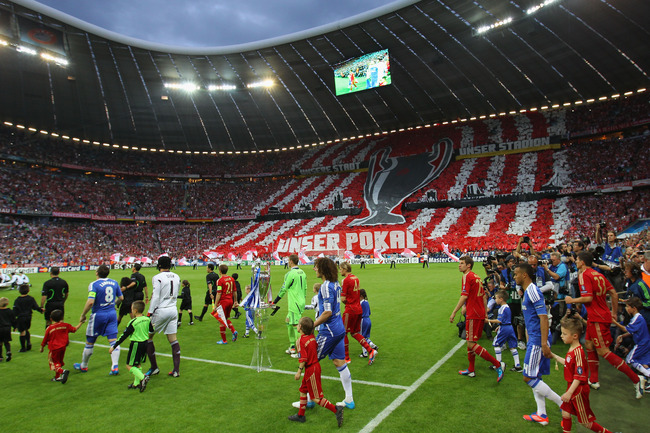 Alex Livesey/Getty Images
The clubs walk onto the pitch as a huge sign is unfurled by the Bayern fans.
The Bayern fans' mural reads, "Unser Stadt. Under Stadion. Unser Pokal" which translates as 'Our City. Our Stadium. Our Cup'

— Eric (@kijanafulani) May 19, 2012
Kalou's New 'Do
Courtesy of Sky Sports 1

Even Didier Drogba seems put off by Chelsea teammate Solomon Kalou's spider-shaped hairdo.
This, however would be better referred to as a "hairdon't."
If I'd seen that on the back of Kalou's head I'd have smacked it with a broom...

— Liam Tomkins (@liam_tomkins) May 19, 2012
Mario's Misses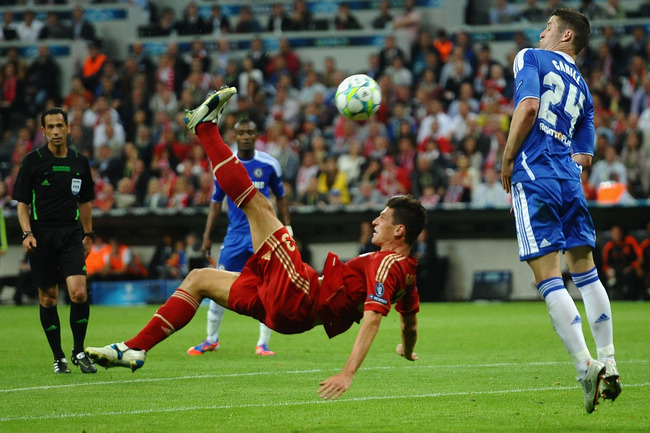 Laurence Griffiths/Getty Images
Bayern Munich's Mario Gomez had a couple of great chances in the first half, but cracked several over the bar and wasn't prepared to tip in a cross that trickled through at the corner of the net.
Mario Guhmez.

— Jason Davis (@davisjsn) May 19, 2012
Bayern Attacking Hard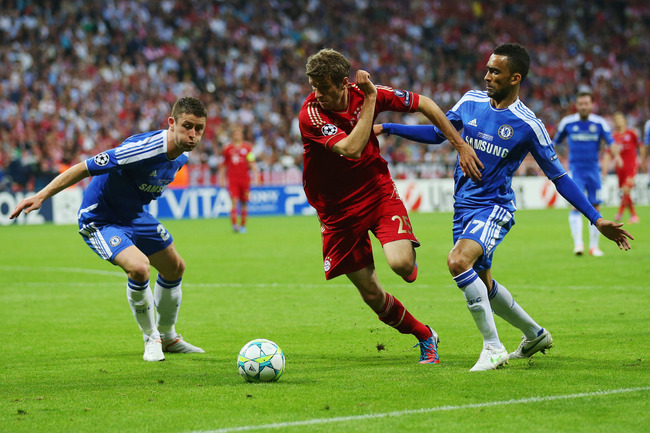 Alex Livesey/Getty Images
Thomas Muller and the Bayern attack dominated possession during the first half, holding the ball for 60 percent of the first 45 minutes.
Blues' Back Line Stands Strong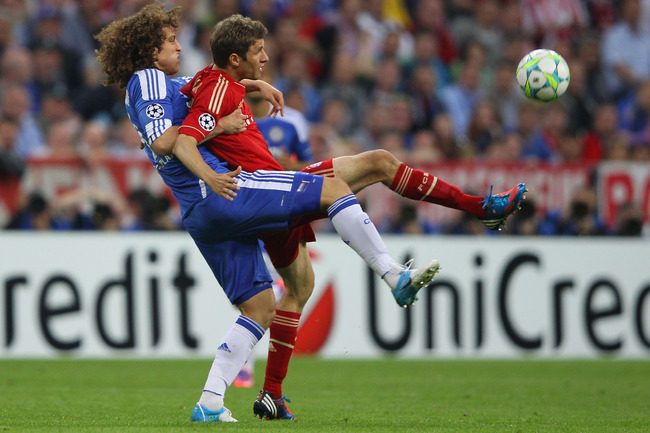 Alex Livesey/Getty Images
Much like they did everything possible to hold off Barcelona's lively attack over two legs, Chelsea's David Luiz and company were up to the task defensively in the first half against Bayern Munich.
A Lack of Attack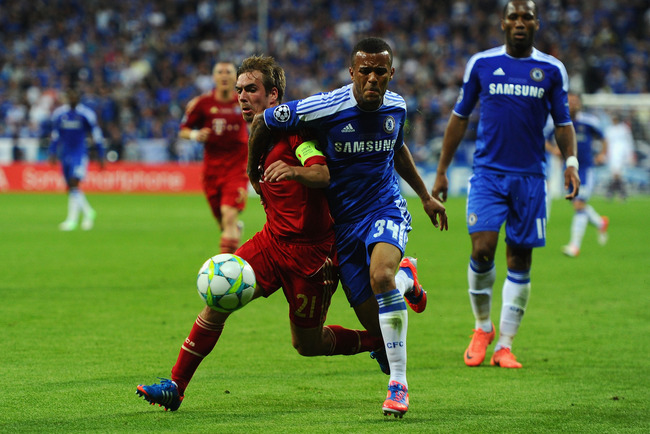 Mike Hewitt/Getty Images
Meanwhile, Chelsea did little to generate any offense.
Shock starter Ryan Bertrand did little on the wing for the Blues.
The arachnid-coiffed Solomon Kalou had their best chance of the first 45, ripping a shot from the wing that Bayern goalkeeper Manuel Neuer easily stopped by getting down to his left.
The only thing I'm wondering about for the first half of the Champions League final is if the Bayern goalkeeper broke a sweat. My vote is no

— Jimmy Conrad (@JimmyConrad_com) May 19, 2012
Ribery Roberry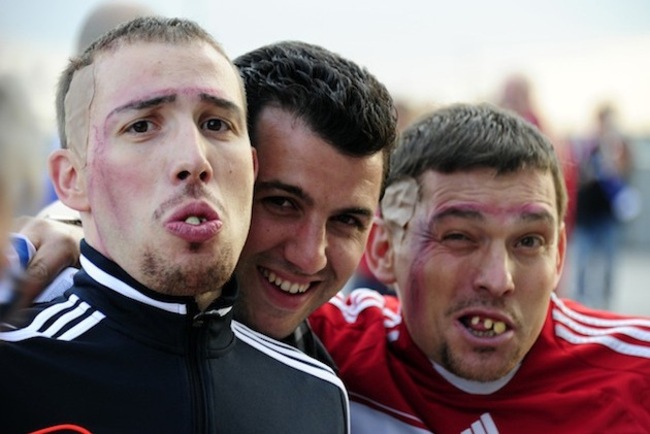 Getty Images

In the 54th minute, an 18-yard blast from Bayern's Arjen Robben ricocheted off a Chelsea defender right to a wide-open Franck Ribery, who put the ball in the back of the net.
Unfortunately for the Frankensteinian Frenchman, he was a step offside, and the linesman rightly had his flag raised.
RIBERY!!! GOAL!!! Oh no... it's offside. Looked a close one.

— Goal UK (@GoalUK) May 19, 2012
Allianz Stadium on Fire!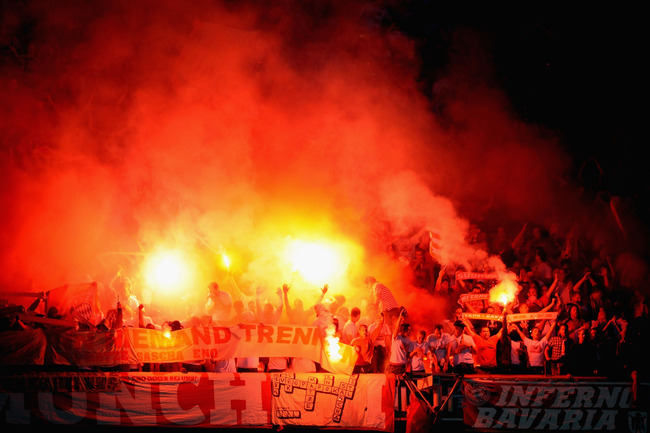 Laurence Griffiths/Getty Images
OK, not really.
But with these flares keeping the stadium alive during the second half, it continued to light a fire under the rear ends of the Bayern Munich players.
Bit of a Yawner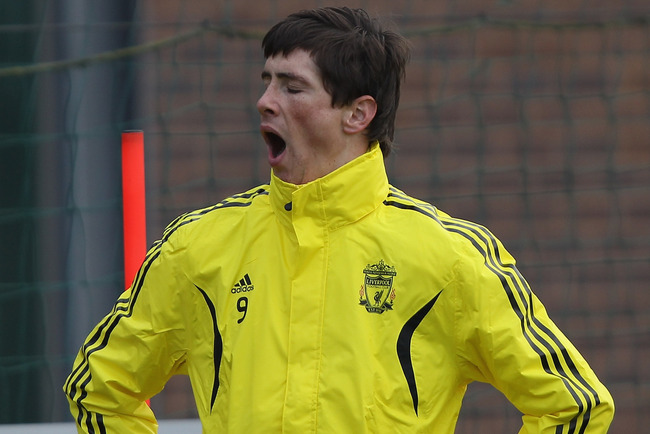 Clive Brunskill/Getty Images
But not everyone was as into it, were they, Fernando Torres?
60 minutes into this match, my official analysis is that nobody has scored yet.

— Matt King (@TheRealMattKing) May 19, 2012
Obviously this image isn't from Saturday (or even this year), but this is probably about what Torres was doing for the first 80-some-odd minutes, right?
Miss From Muller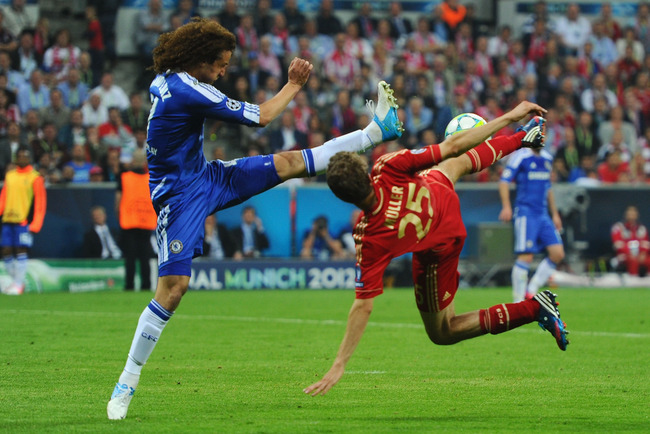 Mike Hewitt/Getty Images
Like his teammate Mario Gomez in the first half, Bayern's Thomas Muller had several golden chances in the second 45...
Terrific Thomas!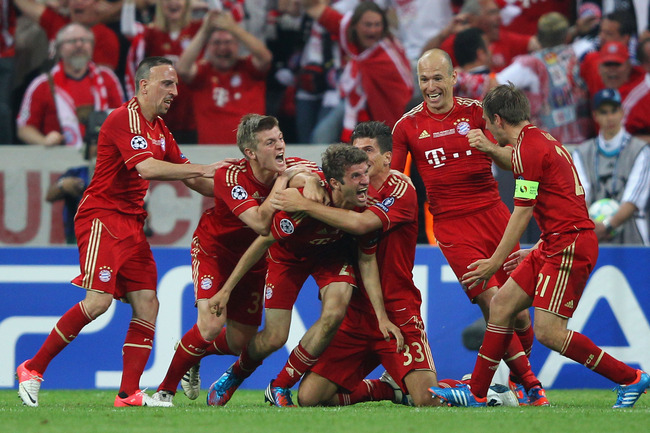 Alex Livesey/Getty Images
...and moments later, in the 83rd minute, Bayern's Bastian Schweinsteiger floats in a beautiful, curling cross from the edge of the box.
And Muller is there to head the ball down into the ground, past Chelsea netminder Petr Cech on the bounce and in off the underside of the bar.
Bayern finally has its well-deserved lead.
Drogba Equalizes
Laurence Griffiths/Getty Images
But the lead wouldn't last long.
Less than five minutes later, Didier Drogba latches onto a corner kick—the Blues' first corner of the match—and his header beats Neuer to the near post.
It's 1-1. Shockingly. Could Chelsea come back again?
"Who is writing these scripts?" asks the inimitable Martin Tyler.
Corner kicks: Bayern 17, Chelsea 1. Goals off corners: Chelsea 1, Bayern 0.

— Paul Carr (@PCarrESPN) May 19, 2012
Headed to Extra Time
Alex Livesey/Getty Images
Following the heroics of the last 10 minutes, the match heads to extra time.
Here, interim Chelsea manager Roberto Di Matteo implores his players to get ready for the extra periods.
Drogba Disaster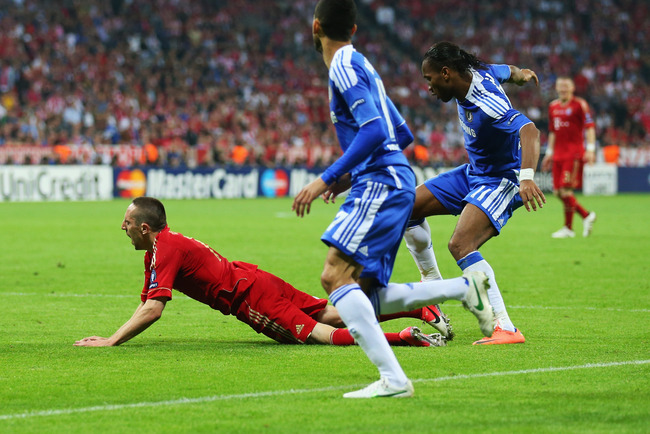 Alex Livesey/Getty Images
"From hero to zero!" proclaims Martin Tyler as Didier Drogba catches Ribery from behind in the Bayern box, and the referee points to the spot.
A penalty for the Germans just three minutes into the extra session!
Dutchman's Disaster
Laurence Griffiths/Getty Images
Talk about "From hero to zero"...
Arjen Robben steps up confidently for the penalty, as the crowd is convinced Bayern will finally have its winner.
And the Dutchman's poorly taken spot kick is stopped by clutch Chelsea goalkeeper Petr Cech.
Olic Agonizes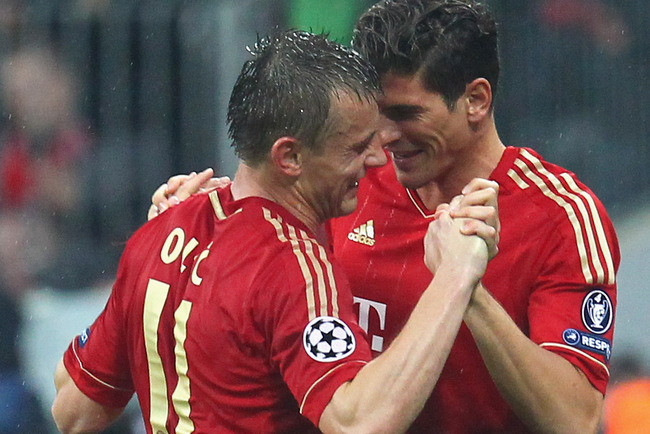 Martin Rose/Getty Images
Early in the second half of extra time, Bayern's Ivica Olic—on for the injured Ribery—has a wonderful opportunity as Philipp Lahm floats in a beautiful ball to his feet at the corner of the six-yard box.
But instead of taking a touch or putting a shot on frame, he lightly passes the ball back across the goalmouth toward teammate Mario Gomez. Gomez, however, doesn't see the pass coming and is two steps behind.
A great chance to go back up for the Germans, but it's squandered.
Penalty Time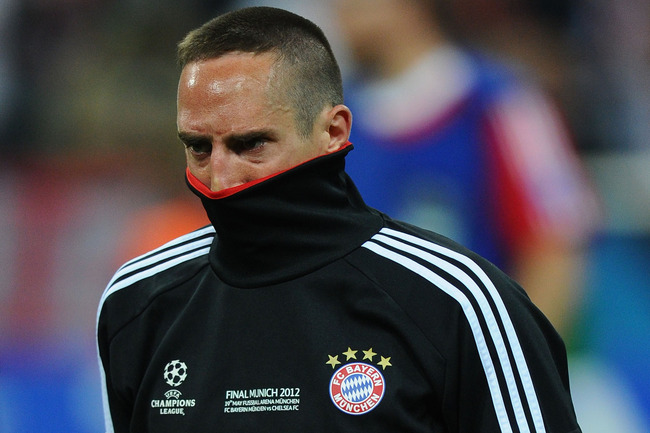 Mike Hewitt/Getty Images
And after a quiet second half of extra time, we're headed to penalty kicks.
Some seemed ready, but for some, like subbed-out Bayern winger Franck Ribery, nerves were clearly getting the better of them.
Charismatic Cole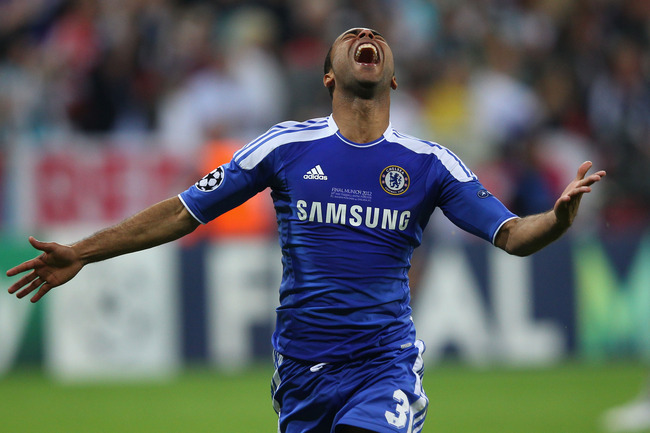 Alex Livesey/Getty Images
Bayern got out to an early lead in the penalty shootout thanks to makes from Philipp Lahm, Mario Gomez and—interestingly—goalkeeper Manuel Neuer coupled with a good save from Neuer on Juan Mata.
But with Chelsea PK makes from Frank Lampard and Ashley Cole (pictured) sandwiched around an excellent save from Petr Cech on Ivica Olic, the Blues had again clawed back into a tie at 3-3.
Shame for Schweinsteiger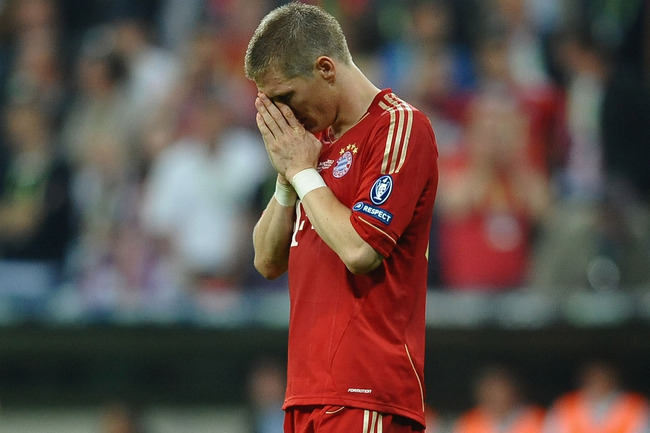 Laurence Griffiths/Getty Images
Longtime Bayern Munich star Bastian Schweinsteiger steps up to take his side's final kick. He stutters... and beats Cech to the keeper's left, but it's off the post and ricochets back out into the goalmouth!
Wow. Chelsea has a chance to finish it with the final kick.
Drogba Does It for Chelsea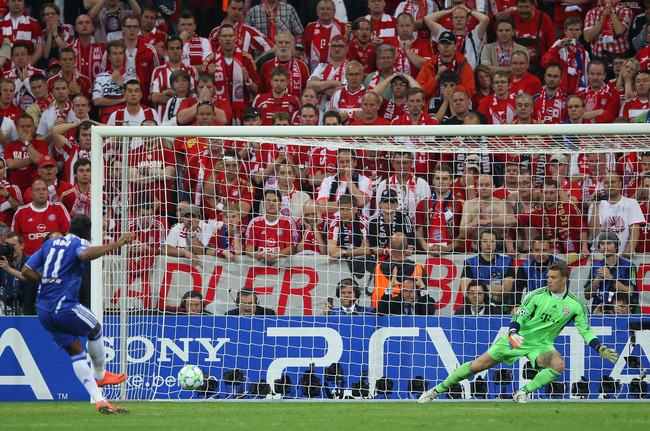 Alex Livesey/Getty Images
And, of course, with the drama to end all dramas, it's Didier Drogba who steps up to take the final kick for Chelsea. Sure, the Ivorian talisman may be leaving Stamford Bridge this summer, but Di Matteo has saved his striker for last.
Sure, Drogba had an up and down match with the late goal and the extra-time penalty he caused. But there is no mistake in his penalty, as he calmly puts it home in the Bayern end of the stadium.
Chelsea are champions of Europe!
Blues Bonanza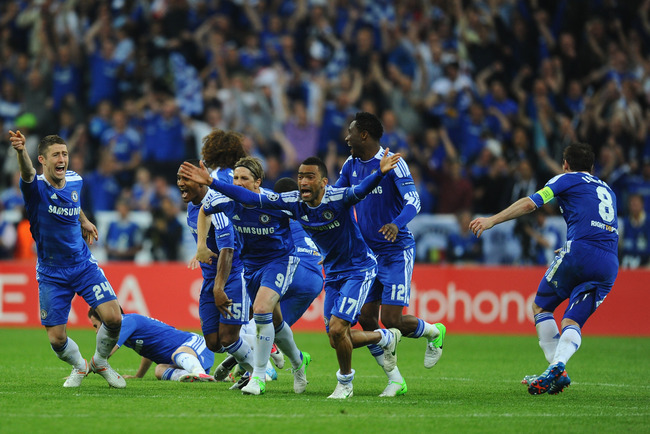 Mike Hewitt/Getty Images
"This is the greatest night in the history of Chelsea Football Club," exclaims Martin Tyler.
"It can never get better than this for English football!" Gary Neville screams.
Really, Gary? You sure? Don't you remember a Champions League win with Manchester United in 1999?
Cup Check for Chelsea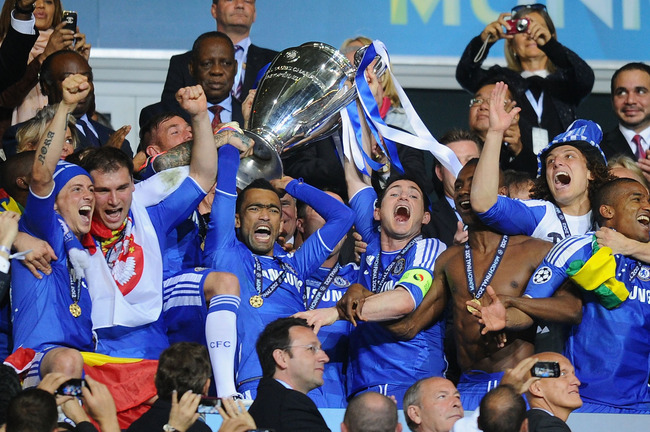 Mike Hewitt/Getty Images
Frank Lampard and his Chelsea mates lift the Champions League winners' trophy in celebration.
The Champions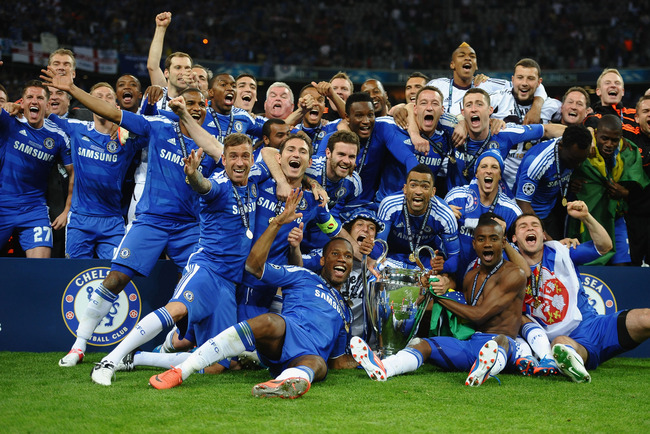 Laurence Griffiths/Getty Images
The Blues celebrate an amazing Champions League campaign with their triumph Saturday in Munich.
Keep Reading

Chelsea: Like this team?