Bayern Munich vs. Chelsea: Players to Watch and Final Predictions
May 19, 2012

Jasper Juinen/Getty Images
The UEFA Final between Munich Bayern and Chelsea is finally here, and I couldn't be more excited for this epic match.
Both teams enter the match as improbable finalists, as they are both playing at less-than-100 percent due to multiple suspensions.
That being said, this match features some of the world's best footballers and I will highlight the key players for both sides and make my final prediction for what is sure to be an exciting match at Allianz Arena on Saturday afternoon.
Frank Lampard, Chelsea
Lampard is one of the most diverse midfielders in the world. His proficiency in both the passing game and as a goalscorer makes him the top player to watch on both sides of this match.
He is also relishing the role as a leader for the Blues, according to the Telegraph, and his guidance and determination earlier this year when the team struggled is one of the biggest keys to their current success.
I have been back in playing more regularly and I am enjoying my football more...The turnaround from Napoli onwards has been a huge achievement by everybody. We were pretty unfancied to get this far...I was probably more vocal than ever in Barcelona because it was such a backs-to-the-wall thing. I was trying to direct people around. I feel the pride of taking on the responsibility to lead.
Lampard is going to be all over the place this Saturday vs. Bayern, and if the Blues have any hope of continuing their Cinderella season, the onus lies on him to lead them to glory.
Franck Ribery, Bayern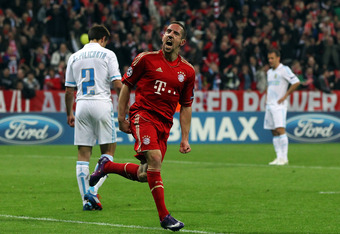 Martin Rose/Getty Images
The Independent reports that Ribery considers this upcoming UEFA Final to be as big a match as his appearance at the 2006 World Cup final he was a part of. If that doesn't show you how much these player are invested into this match, I don't know what will.
Ribery has the full support of Philipp Lahm, according to thesportreview.com, who says that Ribery could be the deciding player of the match.
Ribery is an excellent winger for Bayern, and his ability to outpace his opponents on the left side will make him tough for Chelsea to defend. His mastery of ball control on the pitch is fun to watch and he is the key for Bayern's offense.
Didier Drogba, Chelsea
Drogba is one of the world's top centre forwards. He is incredibly strong and his ability to score while the ball is in the air makes him one of the most exciting players to watch on any given match.
At 34 years old, Drogba is entering the twilight of his career and he won't likely have many more opportunities to make an impact on such an important match. He will be keen to show his team and the world his best effort in this upcoming final.
Look for Drogba to take a multitude of shots in this match. He will be looking to make a big impact in the match, but the most important thing for him to focus on has nothing to do with his goal scoring; rather Drogba needs to stay out of trouble. 
Chelsea can't afford for Drogba to get into penalty troubles in this match against Bayern. 
Mario Gomez, Bayern
Gomez is a big, strong centre forward who was one of the most dangerous scorers in the Champions League this year. His 12 goals was second only to Lionel Messi's 14 goals, according to Yahoo! Sports.
It would be tough for Chelsea to stop Gomez in this upcoming match on the best of days, but without red-carded captain John Terry around to stop him, it may prove to be darn-near-impossible.
Gomez will put constant pressure on Chelsea's defenders and the combination of him and Ribery will ultimately be too much for the Blues to overcome.
Prediction
As I mentioned above, Ribery and Gomez are going to be too much for the Chelsea defenders to handle. The loss of Terry will prove to be the key in this match, and I expect Bayern to come away with a victory today.
Final score: Bayern over Chelsea 3-1