One Tell-All Stat About All 25 Philadelphia Phillies Players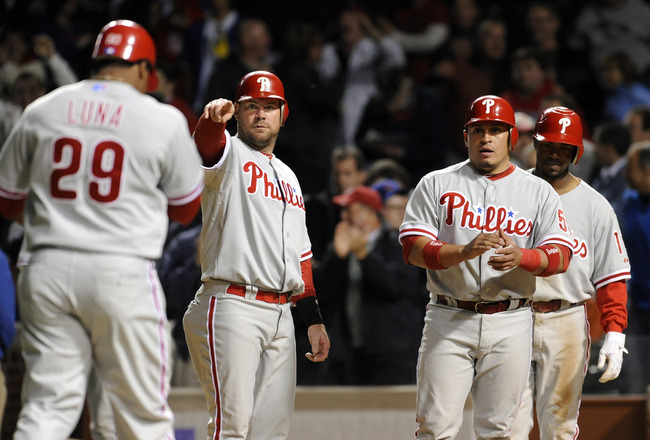 David Banks/Getty Images
The Philadelphia Phillies' season has had more twists and turns and ups and downs than a roller coaster built into the side of a mountain range this season, and the truth of the matter is that, with some of their big names still out of the lineup, we haven't seen anything yet.
So while the Phillies have been anything but predictable this season, the one thing they have been is interesting, and we all knew that was going to be the case.
After all, they have the pitching. Cliff Lee and Cole Hamels have been stellar, but did anyone expect to have to keep an eye on Roy Halladay? How about Joe Blanton's hot start or Jonathan Papelbon's saves streak?
We knew that the absence of Chase Utley and Ryan Howard would hurt the Phillies' lineup, but who expected Hunter Pence's streaky year or Carlos Ruiz's MVP-like campaign?
To say that the early part of the season was a struggle for the Phillies would be a drastic understatement, but now, right in the thick of the month of May, it sure seems as though this club is starting to fire on all cylinders as they wait for the return of their All-Star, right side of the infield.
But baseball is a funny sport, and sometimes, words don't tell the entire story. Stats do. So if you're looking for one tell-tale stat for each Phillies' player currently on the 25-man roster, look no further.
Here's why certain guys are on fire and others are still struggling.
Antonio Bastardo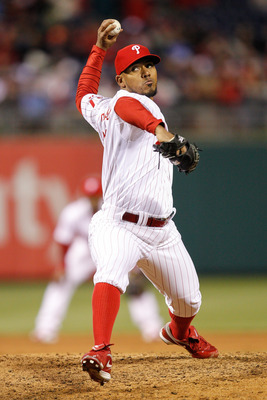 Brian Garfinkel/Getty Images
Telling Stat: 1.46 ERA
Earned run average isn't the best statistic used to evaluate pitching any more, so this slide comes with a bit of a caveat—take it for what it's worth.
Antonio Bastardo's ERA comes as a bit of a surprise, however, because he's kicked up a bit of a concern throughout the season. He had arm issues in spring training, reduced velocity, and came into the season ineffective.
Quietly, all of that has changed. Though his walk rate is a bit of a concern, Bastardo has kept the runs off of the board, and that's all you can ask of him.
Joe Blanton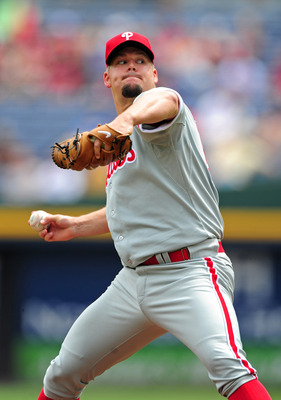 Scott Cunningham/Getty Images
Telling Stat: 1.15 WHIP
Even after his rough start against the Boston Red Sox, Joe Blanton still looks like a different pitcher this season, and that shows in the results. So what's the difference?
Well, it doesn't exactly take a rocket scientist to figure out that when a pitcher doesn't give up many hits or walks, he usually has more success on the mound, and that's been the case for Blanton.
His 1.15 WHIP this season is a much better rate than he posted last season—1.48.
Jose Contreras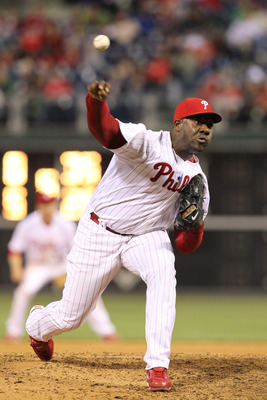 Hunter Martin/Getty Images
Telling Stat: 3.27 FIP, (3.07 xFIP)
A lot of traditionalists will look at Jose Contreras' stat sheet this season and evaluate him as an absolute nightmare for the Phillies' bullpen after posting an ERA of 7.20 in 10 innings pitched.
That's not entirely inaccurate, as Contreras hasn't been great for the Phillies this season. Keep in mind, however, that the right-handed reliever missed almost all of the 2011 season and is still shaking off the rust.
Some of his more predicative statistics, like xFIP, suggest that he's getting better.
Jake Diekman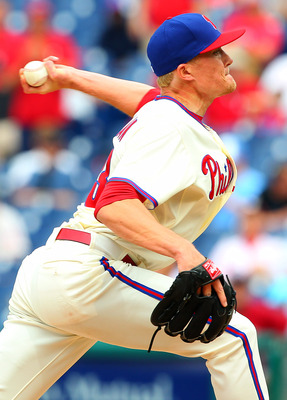 Rich Schultz/Getty Images
Telling Stat: Strikeouts
Jake Diekman has made just two appearances for the Phillies this season, but anyone who has been watching should know that this guy is going to strike out a lot of batters.
He's a power lefty with a mid 90s fastball, a change-up that's about 15mph slower and a developing slider. He has "back end of the bullpen" written all over his future.
He already has six strikeouts in the MLB, and before getting the call, Diekman punched out 22 Triple-A batters in 15.1 innings.
Roy Halladay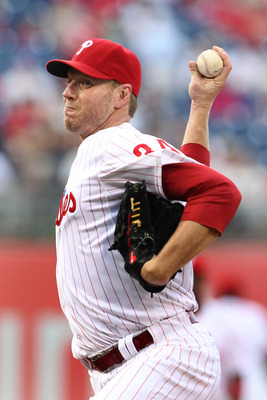 Hunter Martin/Getty Images
Telling Stat: 89.0 vFC
It has been the story of the season all year long for Roy Halladay—fastball velocity.
There's no denying that the velocity of his devastating cutter is down this season—to 89mph—but Halladay insists that there's nothing physically wrong with him.
It's time to face the music: Halladay isn't getting any younger. He'll be 35 years old this season, and these are the type of things that happen.
But this is also a chance for Halladay to show just how good of a pitcher he is. He doesn't have to blow a cutter by guys because he gets so much movement on his pitches. That's why he can still be successful, even without the extra boost on his fastball.
Cole Hamels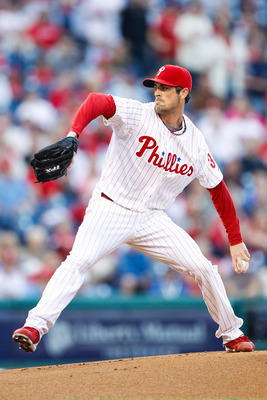 Brian Garfinkel/Getty Images
Telling Stat: 5.80 K/BB
There's a strong case to be made that Cole Hamels has been the Phillies' best pitcher this season, but what has made him so successful?
Well, the correct answer is that a lot of things have made Hamels successful, but in my opinion, it's the fact that he's missing a lot of bats inside of the strike zone.
Hamels has utilized that fastball / cutter / change-up repertoire to perfection this season, making really good hitters look really foolish—and often.
To put the cherry on top, he's not walking hitters, which reduces his workload and helps him to avoid stressful innings.
Kyle Kendrick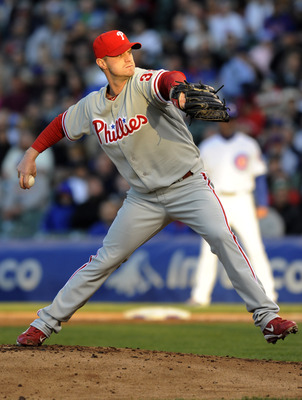 David Banks/Getty Images
Telling Stat: 3.16 BB/9
Kyle Kendrick is really struggling this season and an increase in his walks per nine innings pitched ration has a lot to do with it. If he was striking out a lot of batters, it wouldn't be as much of a problem, but since Kendrick is one of the worst pitchers in baseball in that area of the game, it's a huge problem.
Kendrick's BB/9 has climbed to 3.16 this season, almost a full walk higher than his rate a year ago. Combine that with the fact that he's getting shelled by the opposition (.315 batting average against) and you can see why he's struggling.
Cliff Lee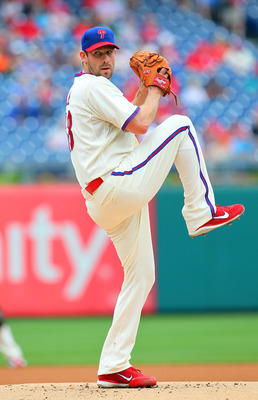 Rich Schultz/Getty Images
Telling Stat: 0 W
Like ERA, you shouldn't put much stock in how many wins a pitcher has, but the wins statistic is not only a tell-tale stat for Cliff Lee, but for the Phillies as a team.
It's late May and Lee has zero wins. Zero.
And it's not like Lee has been getting crushed by opposing hitters, though, he has had a few shaky starts. The Phillies just haven't been able to score runs for the man and get him into the win column.
This is a club that needs to score runs for their starting pitching, or they're in trouble.
Jonathan Papelbon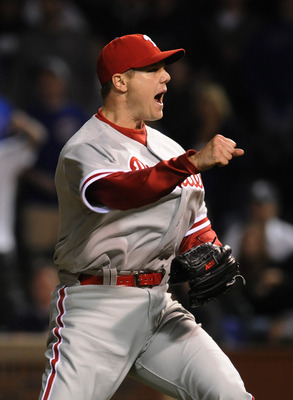 David Banks/Getty Images
Telling Stat: 12/12 SV/OPP
Jonathan Papelbon's tell-tale stat is an easy one.
The Phillies made him the highest paid reliever of all time for one reason and one reason alone: To convert save opportunities into saves, and few closers have done that like Papelbon has this season.
Though the club has come under fire for the management of their closer, when handed the ball in the ninth inning, Papelbon has delivered, converting all 12 of his save opportunities into saves.
Chad Qualls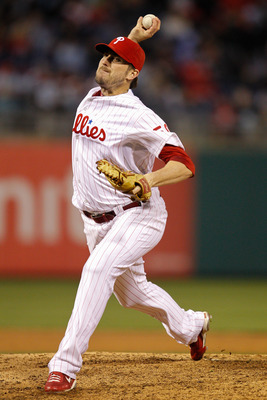 Brian Garfinkel/Getty Images
Telling Stat: 1.93 HR/9
What in the world happened to Chad Qualls?
The Phillies' reliever came out of the starting gates on fire this season but was quickly doused with a cold dose of reality. One of the problems has been luck. His batting average on balls in play has climbed to .340, and as that comes down, he'll improve.
But I'm not willing to chalk Qualls' struggles up to luck. He needs to keep the ball in the ballpark. Qualls' 1.93 HR/9 rate is the highest on the club—unacceptable for a man who is supposed to be pitching in the late innings of ball games.
Joe Savery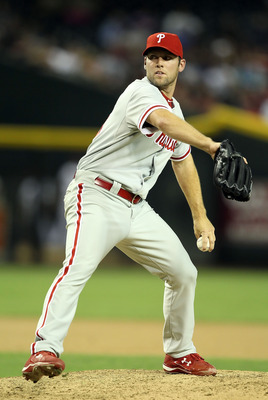 Christian Petersen/Getty Images
Telling Stat: 2.70 K/9
Joe Savery hasn't had much of an impact out of the Phillies' bullpen this season, pitching in low-leverage roles.
Though he's thrown just 10 innings, one of the most surprising things about Savery this season, at least for me, is the fact that he's having a terrible time striking out batters.
His mark of 2.70 per nine innings pitched is the lowest of any pitcher on the club.
Raul Valdes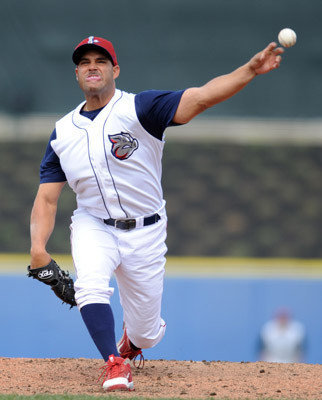 http://www.trbimg.com/img-4f8b710a/turbine/mc-pictures-ironpigs-host-the-red-wings-201204-010/600
Telling Stat: 2.2 IP
Raul Valdes just joined the team recently, and 2.2 innings pitched isn't nearly enough time to make an accurate assessment of what he can contribute to the club, but he has been pretty good through those 2.2 innings.
Valdes has faced nine batters, allowing just one hit and striking out four of them.
Carlos Ruiz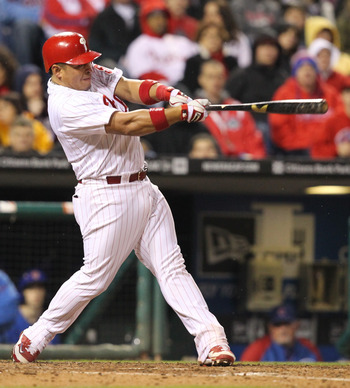 Hunter Martin/Getty Images
Telling Stat: 1.007 OPS
Carlos Ruiz has been so good this season that one stat hardly tells the whole story, but in the name of fairness, I'll point you to his incredible 1.007 OPS, which should give you an idea of just how good he has been offensively.
Coming into the season, the Phillies would have been happy with Ruiz as long as he was playing his standard of defense, and to think that he has been the best offensive player on this club is nothing short of stunning.
But hey, the Phillies will take anything they can get offensively right now.
Brian Schneider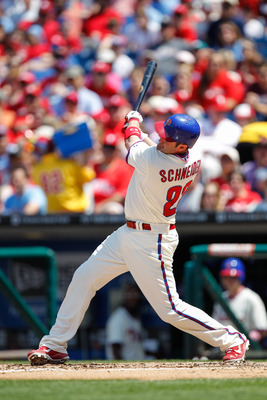 Brian Garfinkel/Getty Images
Telling Stat: 0 PB
In regards to Brian Schneider, the narrative has always been that as long as he plays defense, the Phillies will be happy. Well, he has played solid defense this season, yet to allow a passed ball and having caught four of 15 runners stealing.
He's not the best defensive catcher in the game, but the Phillies will take his solid effort.
The fact that he's posted an OPS of right around .750 early in the season is also a promising sign.
Mike Fontenot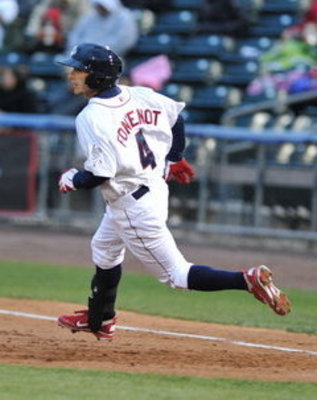 http://media.lehighvalleylive.com/lvironpigs_impact/photo/10878177-large.jpg
Telling Stat: 4 PA
Mike Fontenot has four plate appearances with the Phillies.
There are small sample sizes, and then, there are small sample sizes.
I think Fontenot can be a solid left-handed bat and part-time infielder for the Phillies off the bench, but I'll reserve judgement until he's played a little bit.

Freddy Galvis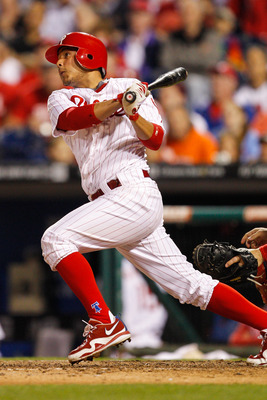 Brian Garfinkel/Getty Images
Telling Stat: 15 XBH
For all of the heat that Freddy Galvis has taken this season for his lack of offensive prowess, one of the Phillies' best power sources has come from an unlikely man.
Yes, that man has been Galvis, who is among the club's leader in extra-base hits with 15, including 11 doubles, a triple and three home runs.
I'm sure the Phillies would rather see him play more to his skill set and keep the ball out of the air, but beggars can't be choosers right now. They'll take some pop from wherever they can get it—no matter how unlikely the source.
Hector Luna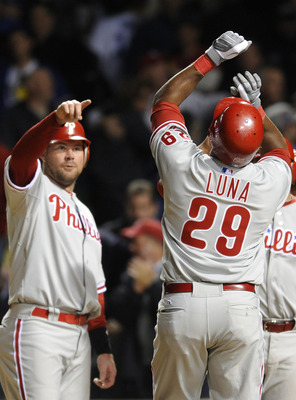 David Banks/Getty Images
Telling Stat: 5 RBI
Hector Luna has been on the Phillies' roster for less than two weeks and has already collected five RBI.
To compare, Jimmy Rollins and John Mayberry Jr. have seven. Placido Polanco has eight.
It may be a little too early to tell, and four of those RBI did come on one swing—a grand slam in Chicago—but Luna could become the right-handed bat off the bench that the Phillies have needed for quite a while now.
Pete Orr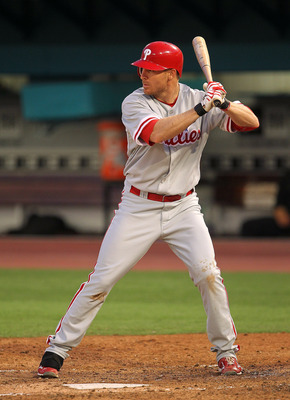 Mike Ehrmann/Getty Images
Telling Stat: 27.0 K%
Believe it or not, Pete Orr has been on the Phillies' bench for the entire season.
Personally, I find that kind of surprising, seeing as how the Phillies have hardly used him outside of the occasional (and I mean occasional) pinch hit appearance or spot start at second base.
Perhaps, part of the reason is that Orr hasn't been great at the plate. His approach this season has been interesting, as he has a fair share of quality at-bats and a fair share of strikeouts.
You'd like to see a guy like Orr work the count a little more, but that hasn't been the case.
Placido Polanco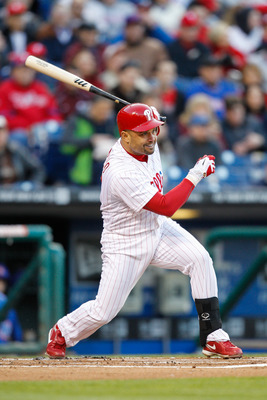 Brian Garfinkel/Getty Images
Telling Stat: .668 OPS
It's time to accept that this is the type of hitter that Placido Polanco has become.
Ideally, you'd like your third baseman to be a hitter who can provide you with some pop at the plate, but Polanco hasn't been able to do that. Once upon a time, that wasn't a big deal because the Phillies got power from another position—second base.
With Chase Utley on the shelf, Polanco's offense has been exposed more than ever, and now that his batting average is falling in decline, the Phillies find themselves looking for offensive help at the hot corner.
Jimmy Rollins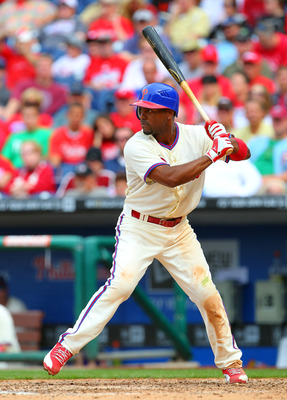 Rich Schultz/Getty Images
Telling Stat: 64 wRC+
The Phillies moved Jimmy Rollins back into the leadoff spot hoping to get him going, and as the leadoff hitter, it became his job to set the table for the rest of the offense. Rollins hasn't been able to do anything since his return to the top of the order, however.
The weighted runs created (+) statistic attempts to measure a hitter's value to the club's offense by measuring the amount of runs he helps to create. In this particular stat, 100 is average.
Rollins' mark of 64 wRC+ is therefore well below average—not something you want at the top of a lineup.
Truthfully, it's not a mark you'd prefer to have in your lineup at all.
Ty Wigginton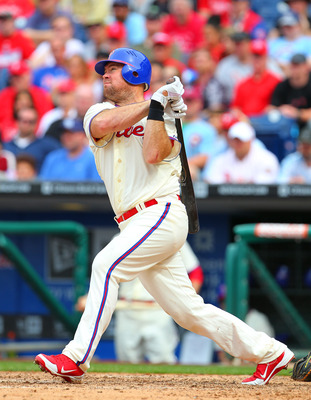 Rich Schultz/Getty Images
Telling Stat: .087 ISO
The Phillies brought Ty Wigginton aboard with the plan being that he would provide some right-handed pop off the bench, and while injuries to major players have changed that plan slightly, the power aspect of it never changed.
The problem with that plan is the simple fact that Wigginton hasn't hit for much power this season. With just three doubles and two home runs, Wigginton has just five extra-base hits. For comparison's sake, Freddy Galvis has 15 extra-base hits!
Wigginton is going through a bit of a power outage, and that may or may not be linked to an upper body injury. His isolated power of .087 this season is down from .175 a year ago.
John Mayberry Jr.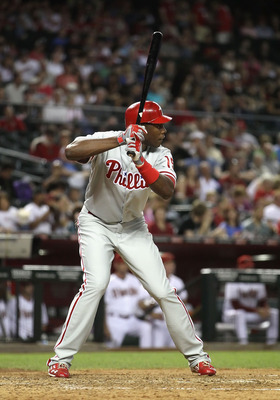 Christian Petersen/Getty Images
Telling Stat: .636 OPS
John Mayberry Jr. has been nothing short of a disappointment at the plate this season, and there are several statistics that show just how disappointing he has been, but none show the overall level of disappointment in his bat early in the season quite like a .636 OPS.
The Phillies thought that Mayberry was going to be a difference maker coming into the season, but he has been much closer to an automatic out on that spectrum.
His power numbers are down. His contact numbers are down. The only constant that remains is his defense.
Are we looking at a similar situation this season in left field as we were last season in right field, when the Phillies ended the Ben Francisco experiment and brought Hunter Pence aboard?
How long before the Phillies give up on Mayberry?
Hunter Pence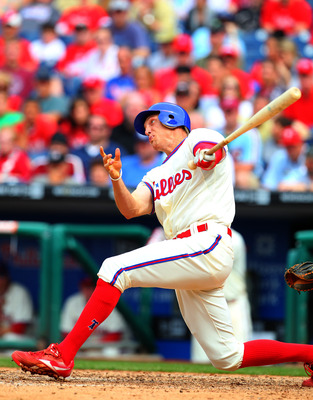 Rich Schultz/Getty Images
Telling Stat: .283 BABip
With Ryan Howard and Chase Utley on the shelf, the Phillies really needed Hunter Pence to come into the season ready to pick up the slack, and in a lot of ways, he has. But there have also been plenty of ways in which he hasn't.
The 10 home runs look nice. The .261 batting average doesn't. The 28 RBI look nice. The 20.0 K% doesn't.
That's the kind of season it's been for Pence, who hasn't been able to maintain any kind of consistency. You can chalk that up to a low batting average on balls in play—just .283 right now.
As that climbs, I think you can expect to see more of the Pence that helped propel the Phillies through the second half of the regular season in 2011.
Juan Pierre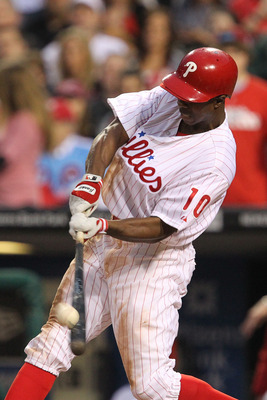 Hunter Martin/Getty Images
Telling Stat: 109 wRC+
Juan Pierre may not be an All-Star for the Phillies, but he's helping this ballclub in a lot of ways right now.
First and foremost, he's the last man standing in left field. With John Mayberry Jr. doing his best disappearing act at the plate and Laynce Nix on the disabled list, the Phillies needed to play Pierre out there, and he has answered the call of duty, hitting .319 and post an on-base percentage of .360.
All things considered, he's been much more valuable at the top of the order than Jimmy Rollins and has posted a wRC+ of 109.
That's just above average, but something the Phillies will definitely take out of a guy they signed to a minor league deal over the winter.
Shane Victorino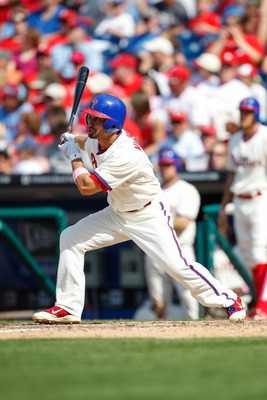 Brian Garfinkel/Getty Images
Telling Stat: .251 BABip
Shane Victorino is having an interesting season, statistically speaking, and I'm not sure you can attribute it to any one area of his game.
He's been stellar defensively, so let's get that out of the way.
At the plate, the Phillies have asked him to do a lot of things, the most difficult of which is adapting his skill set to hit in the middle of the order. He has hit five home runs and posted an ISO of .150, but I think anyone with a shred of baseball knowledge knows that it's not a position that suits Victorino.
Desperate times call for desperate measures.
That doesn't mean that hitting in the middle of the order isn't hurting Victorino, however. He's hitting just .251 and his on-base percentage is way down. Even still, his wRC+ of 103, and even though that's about as average as you can get, it is still a better mark than his peripheral stats would indicate.
So what's the deal?
Victorino has been very unlucky this season, having posted a BABip of just .251. Though a rise in this number is not indicative of success, you can bet that things will get better for Victorino.
That's an unsustainable number, and he'll be more comfortable with the eventual returns of Ryan Howard and Chase Utley.
Keep Reading

Philadelphia Phillies: Like this team?