Strikeforce World Grand Prix: Why Josh Barnett vs. Daniel Cormier Moves Me
May 19, 2012

Sometimes, a fight just speaks to you. It comes out of the mind of UFC matchmakers Joe Silva and Sean Shelby and implants itself immediately in your heart. It can happen in any art form—music, movies, you name it. Occasionally it disappoints in unspeakable ways (looking at you, Under Siege 2. Suck it, Chinese Democracy). Other times? You can find yourself moved in ways a sporting event should never move a grown man.
For me, Josh Barnett's fight with Daniel Cormier is one of those bouts that connects with my soul as a fan. I'm not sure exactly what it is that has tickled my fancy. More than anything, though, it's the not knowing.
Usually, we have a pretty good idea what's going to happen in a fight. Sure, we are often completely, embarrassingly and bafflingly wrong. But the important point is that we think we know. With this fight, will it be the the final bout of Strikeforce's epic Heavyweight Grand Prix? I can't even begin to guess.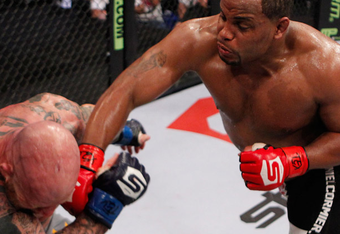 We know Daniel Cormier is an amazing wrestler. But beyond those talents, ones developed under the watchful eye of the best American wrestler of the modern era, John Smith, and honed on the world level, a fighter of diverse skill is emerging.
Cormier could have easily padded his record with ground-and-pound smashings of lesser lights. That's the normal progression for a superior wrestler making his way in MMA. Instead, he made it a point to stand and trade with opponents, putting his reputation at risk to prepare himself to be a complete fighter. It's paid off. He's battle tested and ready now, in all areas, having confronted his weaknesses instead of running from them.
But what can you say about Josh Barnett? He's only one of the top five heavyweights of all time, a man who's stared across the cage at the great ones. The last time he was in the cage with an Olympic-class wrestler? That man's name was Randy Couture, and Barnett wrecked him (there's the small matter of a subsequent failed steroid test; who wants to bring up ancient dirty laundry?).
Barnett may have a decided disadvantage in wrestling pedigree. What he does have is more than a decade of bending other men, and their appendages, to his will. He will test Cormier is ways no one has before. Can he, at 34 years of age, muster up what it takes to beat the sport's top heavyweight prospect?
I really, truly, have no idea. And that's what makes this fight so troubling. And so damn appealing. When they close the cage door, we'll finally know. That's worth all the anticipation. All the wondering. It's worth everything. It's why we watch.