Champions League Final: Preview, Start Time, Betting Odds, Live Stream and More
May 19, 2012

Martin Rose/Getty Images
The European season comes to an end tonight as Chelsea face off against Bayern Munich in the Champions League final at the Allianz Arena. It is the first time since 1984 that a participating team will be playing in their home stadium and also the first time both sides have met each other in the final.
Chelsea overturned a turbulent start to the season to defy the odds and make it to their second Champions League final. The aging veterans were cast off by many not more than three months ago as being too old and stubborn to adapt to the modern game.
However, their heroic performance in the semifinals against Barcelona stands as one of the all-time great upsets. The Blues valiantly defended their goal against the attack minded Catalans with near perfection.
Bayern as a club has been to eight European finals in their history and won four. Many of these players were on the team that made it this far in 2010, when they were unable to beat the defensive pressure of Inter Milan and fell 2-0. You can be certain that those ghosts will still be echoing in their minds in the build up to tonight.
Here is everything you need to know for the match.
Where: Allianz Arena, Munich, Germany
When: Saturday May 19th, 2:45 p.m. EDT
Watch: US-FOX, UK-Sky Sports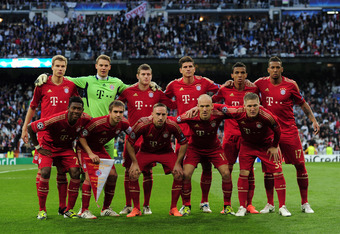 Shaun Botterill/Getty Images
Live Stream: Sopcast
Betting Odds:
Most betting sites have Bayern as the heavy favorites with an average of 4/5 payout. Mario Gomez is also favored to score first at 5/1, but Frank Lampard at 12/1 could be the smartest bet to place in terms of likelihood to payout.
Key Player: Franck Ribery
Most are seeing Didier Drogba to be the key player in this matchup, expecting the Ivorian to have to create chances on his own with little midfield support. However, with a depleted backline I see them coming more easily for the striker. For me the game will either be won or loss on the left side of the pitch.
Franck Ribery has been an enigma this campaign. On the one hand he has been an impressive offensive threat netting 17 goals and adding another 29 assists. But in the biggest games he tends to disappear or be shut down. According to whoscored.com, in games Bayern loss or tied Ribery has had a player rating of roughly 6.5 out of ten. Compare that to his overall season average of 7.74 and you can see how his play directly affects results.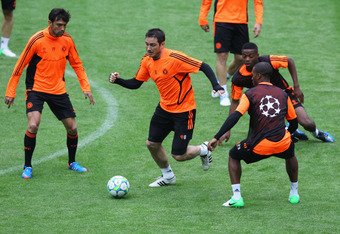 Alex Livesey/Getty Images
Ribery will likely be up against Jose Bosingwa in the one on one battle tonight. Bosingwa is probably the only player more inconsistent than Ribery who will be out on the pitch tonight giving the Frenchman the upper hand.
If he plays like everyone knows he can, than the dual wing threat of Bayern should spread the Chelsea defense too thin and give them their fifth European title. But if he has one of his of nights, the odds turn in the Blues favor.
Stats Tell the Story
Mario Gomez has scored 48% of Bayern's goals this Champions League season and 58% of their goals at home. On the other side Chelsea's last seven Champions League goals have been scored by seven different players.
Interesting/Pointless Trivia
Roberto Di Matteo has hinted that left-back Ryan Bertrand could get the start in the midfield today given the injuries and suspensions. If he does, he will become the first ever player to make their Champions League debut starting in the final.
What They are Saying
Both sides are rather reserved in their approaches to the game with neither having mouthy egos or look-at-me type players. But there has been bit of sparring of words coming from an unlikely source. Bayern manager Jupp Heynckes took a shot at Chelsea's alpha dog this past week.
When asked about the play of Didier Drogba he suggested, "Drogba, for many years, has been one of the top strikers in the Premier League and is definitely dangerous - he can score at any moment." But when asked about him being fouled: "Sometimes he overdoes it a bit. Sometimes he's an outstanding actor on the pitch."
Drogba answered back with the political tongue we are all accustomed to:
As far as I know, no. They (Bayern) have a great manager with a lot of experience. I have a lot of respect for him and that's all I can say. Oh, no, I don't think so. No, no, no.
It was petty at best for both sides and a poor translation is now being blamed for the slight insult in the first place. But it does go to show the characters of these two teams will play out on the pitch and not the press.
For all my articles, follow me on Twitter: @thecriterionman