Manchester United Beat City 2-0 at the Etihad
May 19, 2012

Dan Istitene/Getty Images
Yes you read that headline correctly. Manchester City 0 Manchester United 2.
For all those who have been carried away by the 'City to dominate for a Decade' bandwagon, this match was a reality check. Fittingly it was the last of an otherwise disappointing season.
So to be precise, Manchester United Reserves beat City Reserves 2-0 in the Manchester Senior Cup on Thursday evening at the Etihad. What was almost as significant were the performances of key players and the fact that Paul Pogba played.
The blue side of Manchester did all they could to intimidate their cross-city rivals, by playing the QPR triumph on big screens over and over before the match started. Despite this, over 1,000 United supporters dominated the chanting and singing throughout. By the end they had plenty to crow about.
Spending billions or grooming youngsters?
So. The Manchester City project commenced with a plan to build a team and squad strong enough to win one trophy, qualify for Europe, win the Premier League and eventually Europe. Money was no object. The project is ahead of target.
The other main plank was to build a world class training facility and Academy that would produce a steady stream of players for the first team. This saves money and is the way United have done things since Sir Matt Busby. The model works.
The trouble is that Thursday's match suggests City still have much to do to catch up with United.
I've said elsewhere that there are more young United players queuing up for the First Team squad than at any time since 1995. To be completely honest, however, I also believe they need to be integrated with the few remaining experienced players and at least three top signings.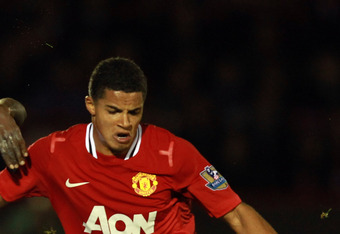 Ian Walton/Getty Images
There are always plenty of people who suggest that United don't have much money to spend because of the Glazers and that they will have to rely on homegrown players. 
The truth is that Fergie would love to be able to build another dynasty with 'kids' like the one that won a unique Treble in 1999.
He has also regularly gone on record saying there is no value in the market, even going so far as to suggest that City 'spend fortunes, pay stupid money and silly salaries'.
"We invest in players who will be with the club for a long time, who will create the character of the club and the excitement for our fans. We are good at that and we are going to continue that way."
And that statement was very much backed up by the result on Thursday.
Manchester City 0 Manchester United 2
This was the last match of the season at any level for either team. No doubt there will be plenty of City supporters already claiming that the result means nothing and the real significance was in the win over QPR on Sunday.
Fair dues. City deserved to win the title. Anyone getting 89 points in a season, finishing 19 points ahead of Arsenal, 25 ahead of Chelsea and 37 in front of Liverpool deserves to win the title....
But try telling the City players that the result means nothing. It has been played 77 times; United have won 31 and City 15. In the last 80 years the score stands at 17-5 to United.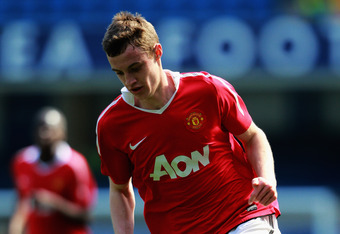 Dean Mouhtaropoulos/Getty Images
Since 1999 it has been contested by the Reserve teams of the six Professional sides in the Manchester area, with the score between United and City being a more even 8-4.
Manchester United Reserves have won just about everything this season. They won the Premier League North and then beat Aston Villa in the National play-off Final.
They have also reached the Final of the Lancashire Senior Cup, where they are expected to prevail over Accrington Stanley in early August. This latter trophy includes Everton and Liverpool Reserves and in total United have won it 13 times to City's six (only once in the last 60 years).
To be fair to City, their Reserves have not participated in the Premier Reserves League, preferring to play in the 'NextGen Series' a sort of junior Champions League. This competition is by invitation and only open to the 16 clubs considered to have the best Academies in Europe.
Manchester United declined the invitation because, although their Reserves have been highly successful, the philosophy below the First Team is about learning to play the Manchester United way, rather than simply winning things.
Time will tell which team has the better strategy for its youngsters, but for now United seem to be doing better than City.
The City team was packed with talented youngsters such as Abdul Razak, Denis Suarez and Gai Assulin. Jeremy Helan particularly caught the eye, looking like a young Patrice Evra, beating player after player and sending over a stream of left wing crosses.
The trouble was that either there was no City player to convert them or the United defence gobbled them up.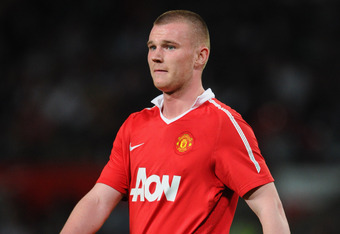 Michael Regan/Getty Images
As with the first team, the United defence was its strongest feature; very well organised but comfortable playing the ball out with feet. Michael Keane and Scott Wootton were very strong in the air and Ben Amos was rock solid behind them.
Zeki Fryers and Davide Petrucci look nailed on for first team places in the next year or two, but the players that particularly caught the eye were Will Keane, Ryan Tunnicliffe and Robbie Brady.
The latter two were strongly combative and both got booked for robust tackles, but they showed what United have missed since Roy Keane retired and Owen Hargreaves was injured. That is not to say that they weren't highly engaged in the attacking play also.
While City pegged United back much more in the second half, they had no real answer to the goal threat of Will Keane, who looks more and more a Premiership player. It would be no surprise if Michael Owen was released to make way for Keane in the Matchday squad next season.
He and his brother look very comfortable on the ball and are surely England stars of the future. Will played as a lone target man and, like his elders, Dimitar Berbatov and Danny Welbeck, frequently won the ball in the air, or received it to feet to start yet another attack.
Keane's goal was highly competent and he should have had at least one more from a right wing cross by the excellent Brady.
It was nerve-wracking stuff and United held on until the 90th minute when Luke Giverin scored a solo goal. 
Luke is Salford born and has shot into prominence recently, having been given a substitute role in a strong United side that turned out against the Irish FA on Tuesday for Harry Gregg's Testimonial.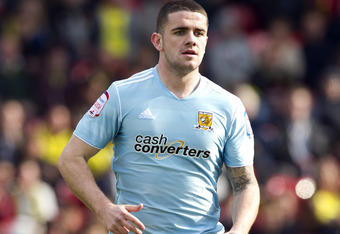 Ben Hoskins/Getty Images
Put through just inside his own half, he outpaced the City defence and, pressed all the way, slid the ball under the excellent keeper Eirik Johansen, to put the result beyond doubt.
Paul Pogba
While Calciomercato News continue to report the imminent arrival of Paul Pogba at Juventus, United fans were stunned to see that not only was he listed to play, but started and played the entire 90 minutes.
He decorated the pitch with his silky skills. Is he lazy, or has he always got at least two gears in reserve? He didn't misplace a single pass and created an excellent partnership with Petrucci that could surely be reproduced at First Team level?
But why was he playing? Warren Joyce would certainly have needed Sir Alex's permission to field the French under-19 captain. Maybe United wanted a last 90 minutes of value out of their investment? Or maybe they were doing the decent thing and giving him one last outing with the colleagues he has grown up with.
At the end of the match Pogba seemed just as engaged and buoyed up by the result as anyone in the team, unlike the sulking Tevez who slunk around in the background in his last match for United on the day they won the Premier League title.
If the Italian news services can be relied on, we should know on Monday at the latest. In the meantime, the Frenchman's cameo allowed a flickering ray of hope to remain. Sir Alex is the master of brinkmanship and any final deal may still come down to United's willingness to pay his agent a fat fee.
The future is still red
Even if United lose Pogba, Thursday night showed that City still have much to do to fulfil their supporters' most optimistic projections of a decade of dominance.
It wasn't just that United won the match, nor that they had players on view ready to step into the first team. It was the manner of the win; dour in defence; uncompromising in midfield; well coached and well-organised throughout; and clinical in finishing.
When you think that five of the players on view have already played in the First Team and Robbie Brady for example played 41 times for Hull City this season, the future continues to look bright red.