WWE Smackdown: Top 5 Superstars Missing Right Now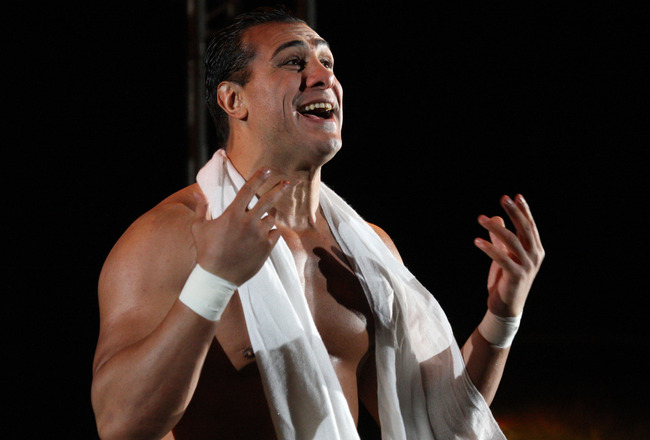 Gallo Images/Getty Images
Smackdown was an enjoyable show last night. It featured a great main event between Sheamus and Randy Orton. Also, Over the Limit was given a nice amount of hype.

Even with that, there were a few wrestlers missing last night. I am the most positive person in the world (except anything with TNA), but the Blue Brand needed a few more stars to appear.

Who are they? Let's find out!
5. Ryback
It was fun while it lasted.

Ryback had appeared every single week since debuting. He always found a way to get onto the show. One way or another, he won in decisive fashion.

Last night, he was nowhere to be seen.

I noticed it. I am sure others noticed it. It was very obvious when it became clear we would get no Ryback this week.


4. Antonio Cesaro
Did I miss something?

Antonio Cesaro is another talent WWE showed some attention to for the past month. We saw nothing last night from him or Aksana. Trust me, that stood out as well.

Either way, I really hope Antonio and Ryback are back on television next week. Both bring a certain "something" to the show that needs to be seen.
3. Dolph Ziggler and Jack Swagger
Yes, I am including two wrestlers here.

They are all in the same these days anyways. Dolph Ziggler and Jack Swagger are going for the tag straps on Sunday. The champions had a match on Smackdown.

The challengers were nowhere to be found. Even if they were not in a pay-per-view match at Over the Limit, these two are great.

Disappointing!
2. AJ
AJ was a huge miss last night.

She has been on and off again with Daniel Bryan over the past month. On Monday, she even wished CM Punk luck for this Sunday.

Last week on Smackdown, AJ and Kaitlyn furthered their feud.

There was no divas match last night. More importantly, AJ was nowhere to be seen. Just like at Extreme Rules, she was teased to do "something" but did nothing.

I am intrigued by her story right now, but let's not just ignore it on some shows...
1. Alberto Del Rio
Alberto Del Rio was not at Raw.

That is fine. He seemed to be busy with a few other work responsibilities. I can give WWE a pass for that one. However, they did promise some sort of Del Rio message for Friday night.

Unless I missed it, there was nothing from Alberto.

I really do not like bait-and-switches.

If you advertise something, you deliver it. Good or bad, it doesn't matter. Alberto was set to give the WWE universe a few words, but we were given nothing.

Normally, I wouldn't care. The only problem is he is going after the World Title this weekend. If he was to ever miss time, this was the absolutely worst week to do so.

He is in one of the main event matches for Sunday's pay-per-view but didn't appear all week? He is, by far, the biggest missing superstar from the Blue Brand last night.

Follow Justin Watry on Twitter!
Keep Reading