St. Louis Cardinals: Tyler Greene and 3 Players Who Need to Go
May 19, 2012

Dilip Vishwanat/Getty Images
The St. Louis Cardinals have one of the most talented rosters in all of Major League Baseball.
Stars like Matt Holliday, Lance Berkman and Carlos Beltran fill the batting order and pitchers like Adam Wainwright and Chris Carpenter are the anchors of the rotation.
But, that doesn't mean this team is perfect. Like all teams, there are some holes on the St. Louis roster.
With that being said, let's take a look at three players currently on the roster that need to be cut, traded or sent to the minors.
Tyler Greene 
When Mike Matheny took over for Tony La Russa as manager of the Cardinals, it was thought that Greene would start performing better since he was out of La Russa's doghouse.
That's ridiculous.
Greene was never in La Russa's doghouse. If he was, he'd have been traded or cut several times.
La Russa, and now Matheny, have given Greene, a career .221 hitter whose only asset is his speed, way too many chances.
He should either be cut or traded before this year's trade deadline. A change of scenery might be just what he needs.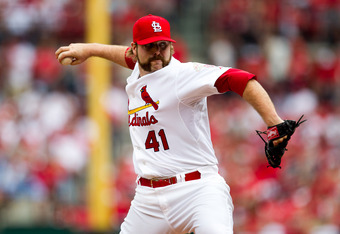 David Welker/Getty Images
Mitchell Boggs
Much like Greene, Boggs has been given more chances to succeed than he should have been.
The problem with Boggs is that he has a tantalizing fastball. It's definitely a MLB-quality pitch.
But, he relies on it too much. Big-league hitters will hit a 98 mph fastball if they see it enough.
He's had plenty of time to develop a secondary pitch, but he hasn't done it. It's time for the Cardinals to cut ties with him and move on.
Fernando Salas
The problem with Salas is that he doesn't have MLB-caliber pitches.
His fastball isn't that fast and his secondary pitches are so-so at best.
And, with his recent command problems, he's become highly ineffective as a pitcher.
I'm not as ready to give up on Salas as I am with the first two players on this list, but a stint in the minors might do him so good.