Los Angeles Dodgers: Can They Win Division If Matt Kemp Can't Sustain MVP Pace?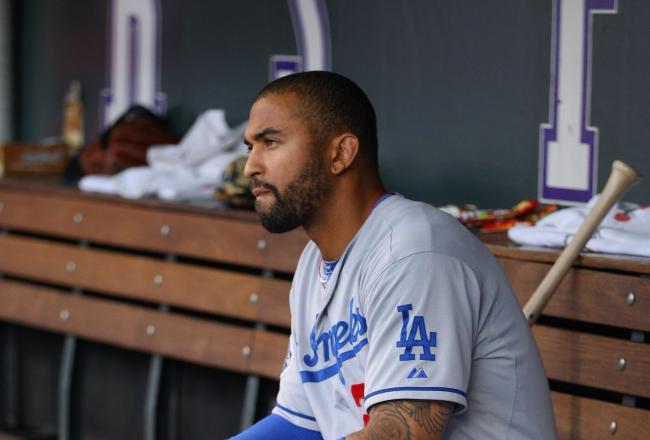 Doug Pensinger/Getty Images
When Los Angeles Dodgers superstar center fielder Matt Kemp went on the DL last week, he was on track for another MVP-like season and the Dodgers were leading their division.
His early numbers were eye-popping: a .359 batting average, 12 homers, 28 RBI and 29 Runs. His homers and runs scored led the majors at the time of his departure, according to CBS Sports. More importantly, he had led his team to the top of the NL West and the second best record in the majors.
It was apparent that his bum hamstring was holding him back as he showed less speed and daring on the bases with only four stolen bases to date.
A shudder went through Dodger Blue fans who wondered how the team everyone had ranked to finish behind the San Francisco Giants and the Arizona Diamondbacks before the season would be able to hold their lead without their top offensive player.
It is possible Kemp could return to the team at the beginning of June, but will he play at the same level? A hamstring strain can be lingering, and depending upon the severity of the injury could be a cause for concern throughout the season if he does not rest it and go through a complete rehabilitation.
Since Kemp left, the Dodgers have won two out of four games, but playing at a .500 clip will not win the division.
They have inserted Tony Gwynn, Jr. in the center field position to replace Kemp, and so far the son of the Hall of Famer has acquitted himself nicely—batting .293 and showing some clutch hitting in key situations.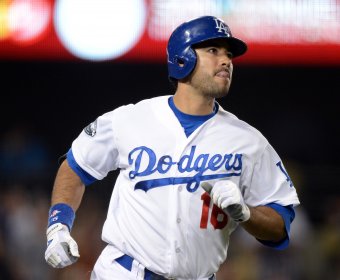 Harry How/Getty Images
Looking forward, there are many reasons to believe the Dodgers will sustain their level of play whether Kemp returns in top form or not.
At the top of the list is their pitching. Aside from Cy Young Award winning ace Clayton Kershaw having another stellar year, the rest of the starting staff has been playing out of their minds with a combined ERA of under 3.00 (via ESPN).
Sometimes a team is golden. They replaced fallen star Javy Guerra, who had achieved eight quick saves in early April, with strikeout artist Kenley Jansen, who had virtually no experience as a closer. Jansen immediately recorded three saves while maintaining a very stingy .87 ERA.
The Dodger bullpen seems stocked with a group of solid relievers who pitching coach Rick Honeycutt manages to perfection.
Yet, it seemed really strange that Kemp and Andre Ethier were the top two run producers in the league. Who were they driving in?
The Dodgers thought that Dee Gordon—their fleet-footed lead-off hitting shortstop—would lead the way this season, but he is batting a measly .207. Rather, it has been Mark Ellis, who bats in the second spot, who has found a way to get on base and be driven in by Kemp and Ethier.
Second baseman Ellis, who played for the Oakland Athletics and the Colorado Rockies, is recording solid numbers in runs scored (27) and walks (18). He is a strong veteran presence who understands how to get on base, an obvious key to the team's ability to score.
Will Dodgers continue their winning ways without a healthy Kemp?
Ethier has also been somewhat of a surprise as he leads the NL in RBIs (37) as he has regained his sweet stroke from years past. There is little doubt that the left-handed left fielder is a solid candidate for the All-Star team and has the power and the experience to continue his strong hitting throughout the season.
For the most part, the Dodgers are playing typical Dodger ball: They score a few runs and let their pitching and defense do the rest. They score early and average five runs a game, which allows the pitchers to manage the game from there.
Yet, why—with such stalwart pitching and obvious strength in the middle of their lineup—were the Dodgers picked to finish in third place? And, why should we doubt their ability to sustain themselves going forward?
In a two words: everyone else.
That is, everyone else on the team, which means a bunch of guys you never heard of like A.J. Ellis, the catcher who is batting .327 with 22 walks and 19 RBI.
This also includes vets like Adam Kennedy, who has been spent time on six other teams and now fills in a third base; Bobby Abreu, who may have Hall of Fame numbers but was recently dropped by the Los Angeles Angels; and long-time Dodger James Loney, a first baseman who hits for neither average nor power.
The Dodgers have brought up a couple of players who may be able to make an impact while Kemp is on the DL. Elian Herrera, Scott Van Slyke and Jerry Sands will all get a chance to show their stuff during the hiatus. That may be good for the team going forward as these young guys get a chance to play early in the season.

Have the Dodgers been lucky that both the Diamondbacks and the Giants have been hurt by injuries, bad pitching and weak hitting and are thus well behind the Dodgers?
Or, are the Dodgers just that much better than them?
Time will tell, as they say. Yet, it appears that even if Kemp is unable to pick up where he left off, the Dodgers are building a solid base for success.
This article is
What is the duplicate article?
Why is this article offensive?
Where is this article plagiarized from?
Why is this article poorly edited?

Los Angeles Dodgers: Like this team?