Euro 2012 Players to Watch: Robin van Persie of Netherlands
May 21, 2012

David Rogers/Getty Images
The Netherlands enter the European Championships this summer knowing they're in for a tough time. They wound up in this year's "Group of Death"—a phrase commonly use to identify the hardest group to qualify from.
"Oranje" will be looking for some huge performances from key players and Robin van Persie, Arsenal's goalscoring machine, is no exception. Here's the rundown on him as we build up to this summer's excitement.
In Numbers
Van Persie was far from consistent during the qualifying phases, and whilst he may have hit six goals in six games, four were against lowly San Marino.
He drew blanks against Sweden, Moldova and Finland whilst failing to net in any of the five international friendlies Netherlands played.
Over the course of the domestic season, he's been a beast for Arsenal Football Club and looks 50-50 to leave in a high-profile transfer after the tournament.
In 42 total appearances for the Gunners, the Dutchman bagged 32 goals and nine assists during the only injury-free season he's played for the last eight years.
He's certainly got the experience at big tournaments, having lost in the 2010 World Cup final to Spain and featuring in the 2006 World Cup and 2008 European Championships.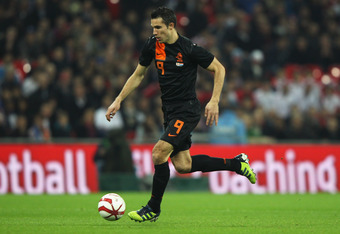 David Rogers/Getty Images
What to Expect
While Van Persie's domestic form has been simply imperious, his international form has been stuttering. He wasn't what you'd consider a regular during qualifying.
With Klaas-Jan Huntelaar doubling the goal tally of his striking counterpart during the preliminary rounds, it seems clear who the first-choice central striker for the competition will be.
With Van Persie, although not completely effective, but able to take up a wide role instead, coach Bert van Marwijk could have a big decision to make.
The midfield isn't easy to slot into either though, as Wesley Sneijder, Arjen Robben and Rafael van der Vaart all represent world-class options.
What They Say About Him
Right now, Van Persie isn't saying much due to the press embargo placed upon him whilst on duty with the Netherlands national team.
With regards to his selection, national coach Van Marwijk simply isn't sure how his team will line up and had this to say on the striking dilemma:
"Of course Huntelaar and Van Persie can play together, but I'm also happy that Wesley Sneijder is fit again and Arjen Robben is doing great things at Bayern Munich,

However, I'm not sure if [Huntelaar and Van Persie] will play together at the Euros. Robin is an all-round attacker, but he showed he is also a killer in the box. Klaas-Jan is a goalgetter and is always getting better with the squad."
Unfortunately for Van Persie, none of the pundits are remotely interested in how he'll fair during the tournament this summer due to their obsession over his next permanent home.
Finally, here's a video of every single domestic goal the Dutchman bagged this season.
Could a player this prolific really be a bit-part player on the biggest of stages?