Preakness Post Positions: 4 Horses That Got Screwed in Draw
May 18, 2012

Typically, you want your horse to draw a post position in the middle of the track. The closer a horse is to the rail, the more limited his space.  This leaves less room for the jockey to maneuver the horse. More dirt will end up in the horse's face as a result.
The outside is the farthest way around the racetrack, which means the horse will have to run a greater distance. Since the Preakness is the shortest of the Triple Crown races, you do not want to waste a horse's speed on the outside. 
The favorites Bodemeister and I'll Have Another will be right where they want to be. If there is to be an upset from an unknown horse, it will be difficult. If some of those horses had drawn better post positions, they would not have much to worry about. The following are the horses whose race will be a little more difficult because of their post position.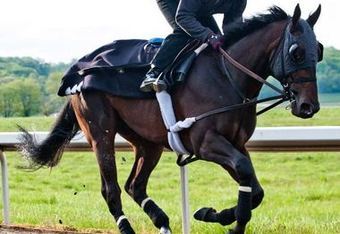 1. Tiger Walk—30/1
Naturally, post position one is not where any horse wants to be. There is not a lot of space next to the rail. The local favorite will have some different surroundings as far as the draw. 
According to AL.com, Tiger Walk's co-owner Tom Mullikin likes that he drew the rail. 
"He's usually drawn on the outside, and he's had these wide trips. But the other night on the draw for the Preakness, he draws the rail," Mullikin said.  "He's had some adversity, but he's a hard-trying horse. He always runs his race."  
It will be a completely different scenario then what Tiger Walk is used to. It will be interesting to see how he handles it. 
Trainer Ignacio Correas: "Somebody had to start from the rail, and it looks like it's going to be us. I just read that 15 percent won from there. Most likely, Bodemeister is going to set the pace, and somebody is going to be out there, but it's not going to be us. That's not our style."
2. Teeth of the Dog—15/1
He has not raced since April 7. He is well rested but finished behind Alpha and Gemologist. Finishing behind Alpha doesn't help his odds. Given that he is rested, he should come out with some speed if he can break free of the heavy traffic caused by his post position. 
Owner Jose Singer: "It's a long stretch at Pimlico, so I'm OK with post position 2. I want to win. We went into the race thinking that perhaps the two top finishers in the Derby might be off the edge a little bit and bounce a little bit. I've got a lightly raced horse that is fresh, and I'm hoping he comes in to collect the spoils."
3. Pretension—30/1
Like Teeth of the Dog, Pretension has not run a race since April 7. He is the freshest horse in the Preakness and would have had better odds if he was more towards the middle of the pack. By no means is he out of the race. He is well rested. His position just means he will have to run the race a little differently.
As Bleacher Report's Adam Wells pointed out, Pretention's odds have been all over the place. Being in post position three doesn't help him. 
Trainer Chris Grove: "I don't think the post position will matter to him. It only matters if there's a problem and they're not standing well and don't break well. With 11 instead of 20 in this race, I think it will shape up differently. I won't be too far back as the race shapes up."
11. Cozetti—30/1
Being the last horse to draw a post is not the greatest position that can be drawn. Cozetti was flown in from Louisville on Wednesday which does not help him either. According to Blood Horse, he was feisty and ran 1 1/2 miles Thursday morning at Pimlico. He will also be missing his trainer until Thursday night. 
Assistant trainer Blake Doser told Blood Horse that Cozetti is still a little feisty.
"He's doing good; he ate everything last night," said Doser, who is acting as assistant trainer until Dale Romans arrives Thursday night. "He tried to bite everybody, so I guess he's all right."
His trainer is happy with the draw but it may not be the best position for him. 
Trainer Dale Romans: "I think it's a good spot for him. We can let things materialize inside of him and figure out where we want him to be placed."
Unless noted otherwise quotes were via HorseRacingNation.com. 
Odds via VegasInsider.com.