What Does Safety Yeremiah Bell Add to the New York Jets Defense?
May 18, 2012

Marc Serota/Getty Images
There aren't usually many high-quality free-agent signings going down in May, but the New York Jets made a very wise decision adding former Dolphins safety Yeremiah Bell.
Per NFL.com, the one-year deal is worth $1.4 million, which doesn't seem like too steep a price to pay for a backup safety with starting NFL experience, especially considering the situation the Jets are in.
For starters, there are plenty of questions at safety. Jim Leonhard, the team's starting free safety of the past three seasons, remains unsigned and coming off injuries. Who knows what he'll bring to the table in 2012?
Brodney Pool, Leonhard's replacement in 2011, was scooped up by Rob Ryan and the Dallas Cowboys earlier this offseason.
LaRon Landry, signed by the Jets earlier this offseason, hasn't stayed healthy for a full season since 2008 and has missed 15 games in the past two seasons combined. If he can stay healthy, he could be a solid presence as an in-the-box safety, but nothing more.
And that's only if he stays healthy.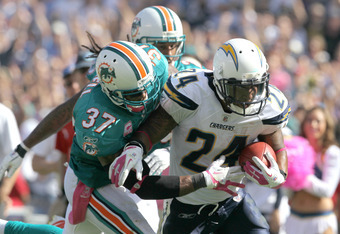 Stephen Dunn/Getty Images
That's also where Bell comes into the equation. He's not much of a cover safety but is a solid presence in the box and led the Dolphins in tackles in each of the past four years, logging 355 solo tackles and 86 assisted tackles in that span.
If Landry goes down, Bell is a nice fallback option for his abilities in that regard, and also for his starting experience.
Which brings me to my next point. Having drafted two safeties in late rounds in the 2012 draft, the Jets are likely searching for someone to impart some wisdom on the depth they've acquired. Antonio Allen, specifically, is a safety in a similar mold to Bell and could benefit from Bell's eight years of NFL experience.
From NFL.com's scouting report on Allen:
Strengths: Allen is a superior run defender who played in close to the box often at South Carolina. ...He is a very firm and reliable tackler in space, which gives great added value to teams as a safety. He can blanket-cover tight ends out of press which was his specialty at South Carolina.

Weaknesses: The fact that Allen didn't start at a true safety position in college hurts his value. He struggles at times in transition and in a traditional backpedal and will need work here as he adapts to safety in the pros.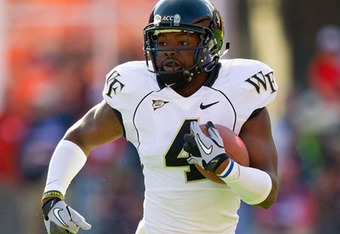 As Allen gets acquainted with the NFL, he'll be glad to have someone with Bell's veteran experience to lean on. Unfortunately, he won't be able to glean much in terms of pass coverage from Bell.
Perhaps Josh Bush will benefit more from Bell's presence in the secondary as a mentor. Bush is more of a coverage-type safety and could use to polish his skills in run support.
From CBS Sports' Dane Brugler:
Strengths: Flexible athlete with good foot quickness and rangy speed to cover a lot of ground. ...Has versatile experience with experience at both free safety and cornerback—27 career starts in the secondary. Had a productive senior season, finishing second in the ACC in interceptions with six—totaled 115 return yards on interceptions, averaging almost 20 yards per return.

Weaknesses: Bush has only average size and strength, lacking ideal muscle tone throughout his frame. ...Needs to do a better job breaking down in space and tackling through the ballcarrier in order to finish.
In addition to some additional bulk, it looks like Bush could use a tip or two on how to be a solid tackling safety, and Bell looks like just the right guy to do it.
Bell's presence will be felt on the field if injuries and rotation in the secondary dictate it to be so, but his impact can be felt in the growth and maturation of the younger safeties on the roster regardless.