Chael Sonnen, Jim Rome and the Non-Submission at UFC 117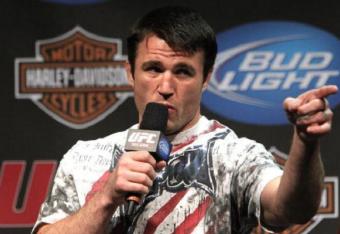 Photo courtesy UFC.com

You remember UFC 117, don't you? The main event between Anderson Silva and Chael Sonnen was one of the greatest fights in UFC history, and it was certainly among the greatest comebacks in the history of the sport. Hell, in my mind, it was the absolute greatest come-from-behind win of all time. There's no doubt in my mind.
Prior to that first fight, Sonnen spent months creating a character that ignited public interest in him for, well, the first time in his career. And much of that legend was created during appearances on radio personality Jim Rome's nationally syndicated radio program.
The highlight of those early radio appearances consisted of Rome confronting Sonnen about comments he made regarding Lance Armstrong. If you missed it, Sonnen said that Armstrong had given himself cancer by taking performance-enhancing drugs. But when he appeared on Rome's radio show, Sonnen denied ever making the comments—shortly after Rome played him the comments, mind you—and concluded by saying that the fake Sonnen actually sounded Hispanic.
Hilarious stuff, to be sure. To most people anyway.
Ever since that day, Sonnen has been a favored guest of both Rome and his millions of listeners. Rome invites Sonnen back on the show every few months, whether he has a fight to promote or not, and earlier this week, Sonnen appeared on Rome's new CBS Sports network television show to promote his new book, The Voice of Reason.
Rome and Sonnen talked about the book only briefly, instead focusing on Sonnen's upcoming rematch with Silva. Rome essentially gave Sonnen a chance to say wacky things and shine in the public eye like he does so well, and Sonnen more than lived up to the task when describing his loss to Silva in the first fight.
Sonnen: It was an absolute misunderstanding and misapplication of the rules by me. We're in the fifth and final round and he locks on a submission. I acknowledge that he has it on tight by slapping my hand on his leg.

Rome: You tapped.

Sonnen: I tapped. So what I thought is that we go to the cards and he'd win that round. Apparently, if you tap, it ends the entire contest, which I was not made privy to.

Rome: Isn't that what a tap is? You tap and you're done?

Sonnen: Apparently, it is.

Rome: C'mon. You don't know what it means to tap?

Sonnen: I do now.

Rome: Chael, that's a crazier thing than the noise you were running to me on my radio show.
This one goes in the Chael P. Sonnen Hall of Awesome Quotes, folks. It has all the hallmarks of a great Sonnen piece of work, and by that I mean it's complete and utter nonsense, it's creative and Sonnen delivered it with a straight face. I don't know how he keeps himself from laughing while saying it, but it's an incredible talent.
I understand that there are those of you who don't like Sonnen's game. But honestly, if you're so stuck up that you can't enjoy what is quite obviously a complete farce done for entertainment purposes, you probably need to find a new hobby.
This article is
What is the duplicate article?
Why is this article offensive?
Where is this article plagiarized from?
Why is this article poorly edited?