Pinfalls from Grace: How Jack Swagger Lost His Stripes in WWE
May 18, 2012

Hello Bleachers and welcome to the second edition of Pinfalls from Grace. The first article covering Dolph Ziggler's rise and fall in WWE went over very well. Hopefully this one generates as much reader interest.
If you didn't check out the last article, let me give you the skivvy: In each edition of this column, I relay a wrestler's rise within the WWE, his subsequent fall to mediocrity (at levels relative to each wrestler, of course) and his outlook, whether positive or negative.
And it's appropriate I chose Dolph Ziggler's de facto tag team partner for the second article in the series. But enough prefacing. Let's dig into the jobber pit.
The Rise of Kurt Angle—I Mean, Jack Swagger
Yeah, I used the same joke from last week. I'll try not to make a habit of it.
People who didn't see his beginnings on ECW might be surprised to hear he was a dominant force on the brand. He "AMERICA'D!" his way through Tommy Dreamer in his first feud, moving on to defeat Matt Hardy for the ECW Championship in his first challenge, retaining successfully at Armageddon the same night Matt's brother won his first WWE Championship.
I know that's irrelevant; I'm just supplying context.
Anyway, after a 104-day reign (not bad), Swagger dropped the title to a returning Christian. Keep in mind, this was around the time ECW was the very solid wrestling show providing a weekly medium for new superstars to hone their craft and familiarize themselves with the WWE audience.
To think, a year later they dropped it for 12 months of keg-carrying races and obstacle courses.
After failing to regain the ECW Championship, Swagger was drafted to RAW, where he took part in a mediocre program for the U.S. Championship that was eventually overtaken by The Miz's ascension.
Swagger would remain in mid-card purgatory until WrestleMania 26, where he surprisingly won the last Money in the Bank match to be hosted at WrestleMania. Only a few weeks later on SmackDown, he cashed in his world title opportunity on a taped-up Chris Jericho to become the World Heavyweight Champion.
At this point, things were looking pretty good for Jack Swagger. It was around this time he began utilizing the Ankle Lock, a hold in which he became highly proficient. He also had solid matches, though he unfortunately also had an adversely boring program with The Big Show.
Ultimately he lost the title to Rey Mysterio and before he even had the opportunity to regain some momentum, the world title scene was swept up by a newly-heeled Kane, leaving Swagger to once again tread water in the mid-card.
The Fall of Swagger's Soaring Eagle
Did you guys know Chavo Guerrero actually played the Swagger Soaring Eagle? And people called him arrogant for complaining about misuse.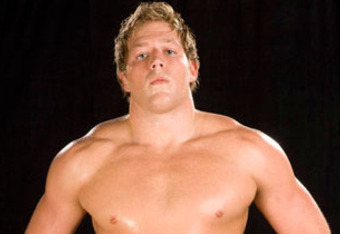 I know it's my job, but do you guys really need me to explain how drastically Swagger fell after his world title reign? He's become the stereotypical example of a wrestler who looked like a fresh tissue, only for creative to hock a loogie into him and throw him into a wastebasket.
I might as well bite the bullet and relive all the gritty details.
I already mentioned the Swagger Soaring Eagle nonsense. Around WrestleMania 27, however, he regained a bit of prominence, only in the worst way: as Michael Cole's trainer heading into his WrestleMania match with Jerry Lawler.
Actually, I take it back. I don't want to relive those memories.
After months of sporadic television rivalries, including matches with Evan Bourne that were actually quite good, Swagger joined Dolph Ziggler as clients of Vickie Guerrero, albeit with some resistance from Mr. Ass Jr.
In the January after Ziggler dropped the United States Championship to Zack Ryder, Swagger regained the title for their stable in a very unceremonious match that sent the IWC into an uproar. Before he could make it to WrestleMania, Swagger lost the title to another comedy wrestler, Santino Marella.
Since then, Swagger and Mr. Ziggles have been utilized more consistently as a tag team and this Sunday they're challenging the newly-crowned WWE Tag Team Champions, Kofi Kingston and R-Truth.
Could Jack Get His Swagger Back?
Are the section headings too campy? Oh well, they're staying.
Despite the perception of Swagger seeming to degrade in accordance with his recurring burials, I still believe the man possesses a lot of talent. He is the most technically sound big man in the WWE today and has a good look that probably prompted Vince McMahon to strap him with a world title in the first place.
He's also one of the few wrestlers who regularly surprises me with the counters and holds he utilizes. I particularly like this one leg-pick he uses to set up the Ankle Lock. To be frank, it's super spifftastic.
And I appreciate that even though Swagger's taken a nosedive down the WWE ladder, he has still put the effort into adjusting his appearance (the new haircut is also quite spifftastic) and slimmed down.
Despite all of these upsides, I have serious doubts Swagger will ever soar again. Right now the WWE has at least three other mid-carders they're looking to break into the world title scene in Dolph Ziggler, Cody Rhodes and Wade Barrett. Considering even those first two are probably in a long line of challengers with so many other prominent guys on the roster, even their challenges might be a way off.
Perhaps the mid-card is the best for which we can hope at this time, though even that position could be in jeopardy in the next couple years as the phenomenal talent banging on their cages in FCW are already trickling into the main roster.
The WWE's toyed around with Swagger as a prospective main eventer enough. They're ready to move onto better toys—toys that don't have lisps.
It might suck to admit it, but Swagger has probably lived out his best years with the WWE.
Well, that's a wrap! Phew, what a mountain to climb. I'll be back again next week. For now, why not check out my website, Nicholas LeVack Fiction? I just relocated to WordPress after exhausting the limitations of Weebly. Now my website has exclusive free content, in addition to easy access to all my online publications. Seriously, check it out. There's a neato poem on there. You'll feel … mildly intrigued.
And isn't that what life's all about?