Chicago Bears Moving Chris Williams to Left Tackle Is the Wrong Move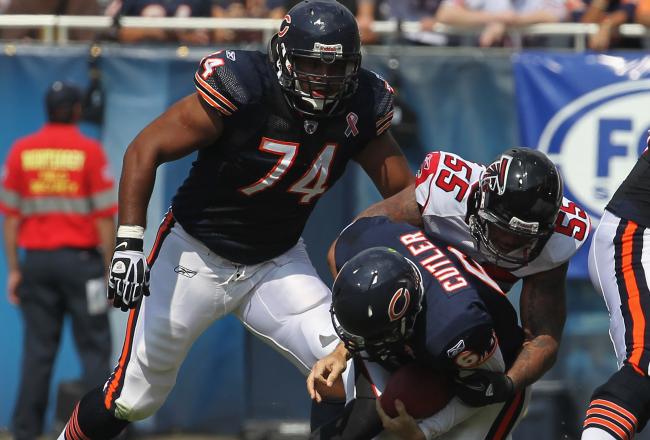 Ummm... my bad Jay.
Jonathan Daniel/Getty Images
When I first heard the Bears were considering moving guard Chris Williams to left tackle, I have to say I liked it.
After all, this was a guy drafted in the first round to play tackle, not guard. Plus, as I have said previously, J'Marcus Webb is not ready to be a starting left tackle.
The move—on the surface—seems to be the right one.
Dig deeper though, and you'll discover what I did—that moving Chris Williams is a mistake.
When we look at why, let's get on the same page regarding a few things. We know the Bears love to run the ball and they lean on it heavily. They are looking to open things up this year but will still run the ball.
It's not ground and pound by any means but important.
Second, the Bears have had issues on the line for some time now. Some talent related, some scheme related. The scheme is being adjusted—the talent is a question mark.
By my count, they have two tackles currently better off at guard (Williams and Webb) and one whose injury set him back a year (Gabe Carimi).
I won't argue that Webb needs to be moved. He hasn't played well—or rather, he's played okay at times for a seventh-round draft pick—which isn't good enough for the critical position of left tackle.
Williams isn't the answer though.
We start with his run blocking which as of Week 10, Pro Football Focus had pegged as one of the worst in the league. Williams has a tendency to get overpowered, mostly because of technique rather than power from what I can tell looking at games (admittedly, the offensive line gets shown very little so this is a limited methodology).
He doesn't clear the run lane effectively, has a hard time moving a defender out of the back's way and can't get to the second level when a back hits a lane.
This is not something I want happening at my left tackle spot. Granted, Webb isn't an All-Pro, but moving Williams is a lateral shift, not an improvement.
His pass blocking isn't any better. As I looked over Williams' work last night, I saw similar issues as I did in his ground attack, only worse in some ways.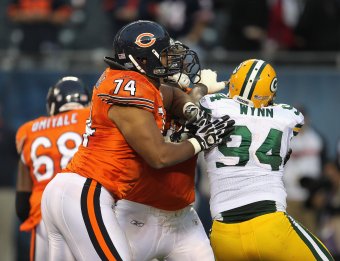 Up too high, Williams is being directed here, not directing the defender
Jonathan Daniel/Getty Images
Defending the run can be very reactive—you read the play and then go to where you believe the runner to be. You have momentum, but not as much as on a pass play where you're trying to get into the backfield from jump before the pass is thrown.
So Williams, who struggles with leverage on run plays, gets worse on a full-speed pass play. Forget about a blitzing end or linebacker. Any defensive player running at a full head of steam trying to get to Cutler is going to have too much momentum to stop without solid technique, leverage and strength.
Williams has strength, but gets up too high too quickly, losing leverage and often getting blown up because of it.
Again, not what I want in a left tackle.
J'Marcus Webb isn't the answer right now. He might become an answer, but he's not there. So I applaud the notion of moving him from the left tackle spot.
You can't stick in someone who has struggled as badly as Williams though—that isn't an improvement.
It's disappointing because Williams was drafted 14th overall in 2008 to be the franchise left tackle. That didn't work out, as will sometimes happen, but he couldn't hack it at right tackle either.
Honestly, he's barely surviving at guard.
The Bears have very little room for error on the line—moving Williams back to left tackle could eat that margin up on the very first snap.
Check out the new B/R NFC North Facebook page—like us and keep up with everything NFC North on Bleacher Report!
This article is
What is the duplicate article?
Why is this article offensive?
Where is this article plagiarized from?
Why is this article poorly edited?