NHL Playoffs 2012: Why the Los Angeles Kings Will Cruise to Stanley Cup Title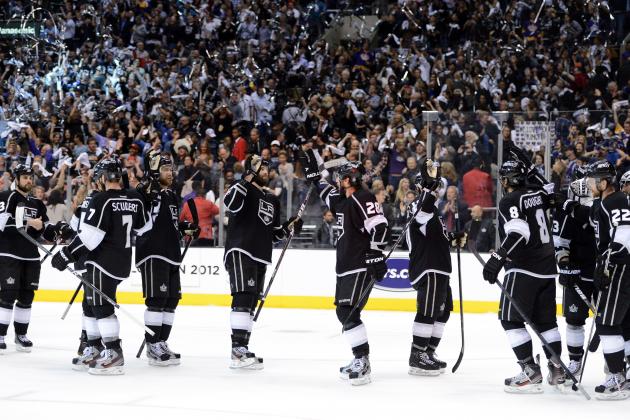 Harry How/Getty Images
The red-hot Los Angeles Kings appear ready to to win the franchise's first Stanley Cup since entering the NHL in 1967.
The Kings won a league-high 11th postseason game last night, beating the Phoenix Coyotes 2-1 and taking a commanding 3-0 lead in the Western Conference final series.
Virtually no team has been able slow down the Kings, who entered the 2012 playoffs on a bit of a roll and with something to prove after losing the third seed in the West to their current opponent.
The eighth-seeded Kings eliminated the Presidents' Trophy-winning and defending Western Conference champion Vancouver Canucks in a quick five-game series in Round 1 and embarrassed the seemingly impenetrable defense of the St. Louis Blues in a four-game sweep.
Currently, Los Angeles holds a 3-0 series lead over their Pacific Division rivals, the third-seeded Coyotes.
While the Kings failed to live up to their potential during the regular season, the organization shook things up with a head coaching change and a blockbuster trade with the Columbus Blue Jackets. So far, both have contributed to the Kings' dominance this postseason.
Now only five wins away from lifting the Stanley Cup for the first time in the franchise's 44 seasons, it doesn't look like anyone can slow down the cruising Kings.
Begin Slideshow

»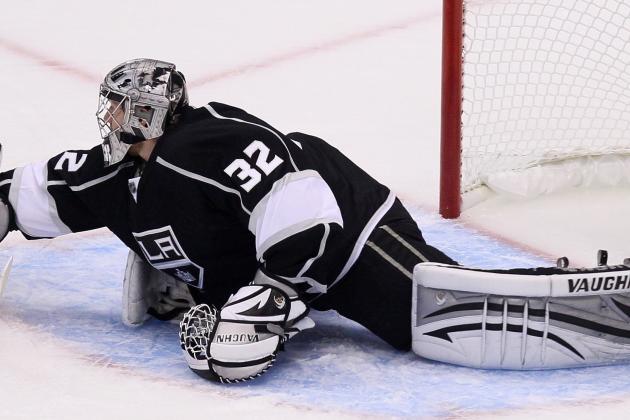 Jeff Gross/Getty Images
Kings goaltender Jonathan Quick leads goaltenders in every statistical category this postseason.
Jonathan Quick has been nearly impossible to score on this postseason.
The 26-year-old leads all goaltenders this postseason with 11 wins, a ridiculous 1.41 goals-against average, a .951 save percentage and is tied with the Coyotes' Mike Smith and the Rangers' Henrik Lundqvist for the league lead with two shutouts.
Quick, a Vezina Candidate for his stellar play during the regular season, is a huge reason his Kings even made the playoffs, as the team lacked offensive outbursts for the majority of the season until the playoffs rolled around.
Defying basic statistics and possibly even some laws of physics along the way, Quick has made highlight reel-worthy save after save, losing only one contest this season, which came against the No. 1-ranked Vancouver Canucks in Round 1.
With his team playing so well in front of him, Quick's dominance in net has transformed the eighth-seeded Kings into a favorite to win it all this year.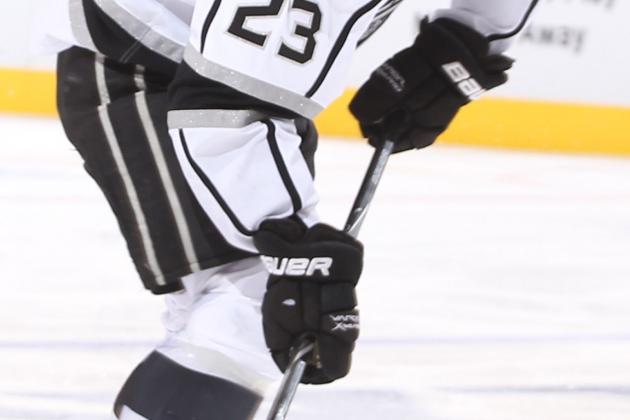 Christian Petersen/Getty Images
Kings captain Dustin Brown looks determined to lead his team to a Stanley Cup.
There's a reason Kings captain Dustin Brown earned the "C" on his left shoulder in 2008, and the 27-year-old is showing why in these playoffs.
Brown erupted for four goals and five points in the opening-round series against the Vancouver Canucks, added six more points in Round 2 against the St. Louis Blues and has scored at least a point, including the game-winning goal in Game 1, against the Phoenix Coyotes through three games in the Western Conference finals.
Brown is first among active postseason players with 15 points and seven goals.
However, the Guelph Storm product has done more than contribute offensively. His plus-12 rating is tied with teammate Anze Kopitar for the league lead this postseason, and he's dished out 60 hits in 12 games, including 21 in three games against the Coyotes.
Emerging as a true leader for the Kings this postseason, Dustin Brown should be considered a legitimate front-runner for the Conn Smythe Trophy if he can take his Kings all the way.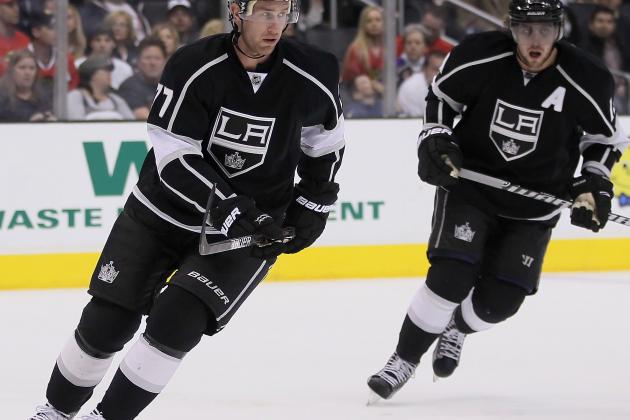 Jeff Gross/Getty Images
Kings forwards Jeff Carter (left) and Anze Kopitar (right) provide Los Angeles with more scoring threats.
The Kings' lack of scoring during the regular season was so disappointing because their roster was absolutely loaded with scoring talent.
Forwards Anze Kopitar, Mike Richards, Jeff Carter, Dustin Penner and Justin Williams have all had 30-plus goal seasons, and defenseman Drew Doughty failed to match his 16-goal, 59-point season in 2009-2010 after holding out this offseason for a bigger contract.
However, the Kings' scorers started clicking at just the right time, getting goals from 11 different forwards and having four players with 10 or more points in 12 games this postseason after posting an 11-4-3 record in March and April in which many players increased their point totals.
The Kings boast tremendous talent on their top three lines, capable of producing even more offense as the postseason continues.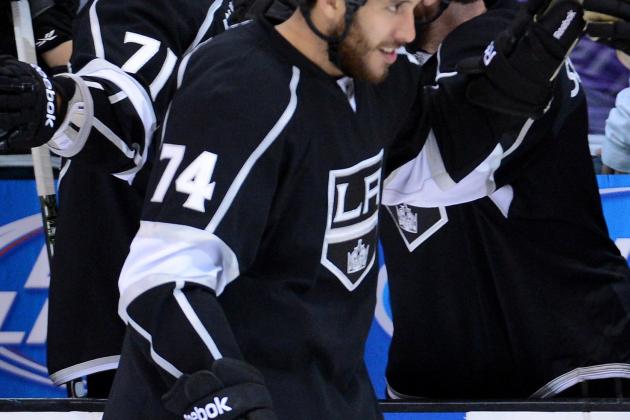 Harry How/Getty Images
Kings grinder Dwight King emerged as a playoff hero in the Western Conference final.
Ever heard of Dwight King before the 2012 playoffs?
You're not alone. However, the "King of Kings" has established his legacy in Los Angeles hockey history after an offensive outburst in the Western Conference finals.
The 22-year-old managed 14 points in 27 games with the Kings this season after becoming a force in the American Hockey League last year.
In 12 postseason games this season, the Saskatchewan native has scored five goals, including four in in the Western Conference finals.
Joining the power forward are centers Jarret Stoll, with two goals and four points, and Trevor Lewis, with a goal and six points.
Supporting the Kings' big-time scorers, role players like King, Stoll and Lewis add just enough offense to give the edge to Los Angeles this postseason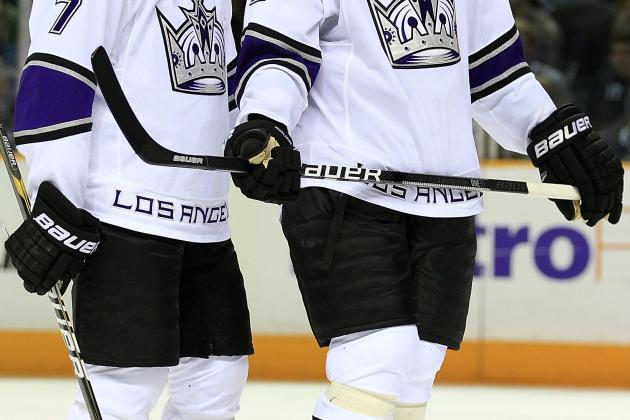 Ezra Shaw/Getty Images
Kings defensemen Rob Scuderi (left) and Matt Greene (right) have found a way to shut down the opposition this postseason.
Kings defenseman Rob Scuderi has scored only six goals in his 537 regular-season games, but he's paid over $3 million a season to shut down the opposition's top scorers.
He helped the Pittsburgh Penguins to a Stanley Cup in 2009, and averaging over 20 minutes of ice time a night and registering a plus-eight rating this postseason, the 33-year-old has the Kings ready to make a run at the 2012 title.
Scuderi's defensive partner, Drew Doughty, usually known for his offensive ability, is a plus-10 this postseason while contributing eight points and quarterbacking the Kings' first power-play unit.
Heavy-hitting Matt Greene has thrown 43 hits this postseason and managed to take only four penalties. For a laugh and some tips on what it takes to be a professional hockey player, check out this video featuring Matt "Hawk" Greene.
Joining the aforementioned D-men are Willie Mitchell, plus-eight, Slava Voynov and Alce Martinez.
The Kings' defense has been slightly underrated this postseason, as goaltender Jonathan Quick hasn't done it all by himself.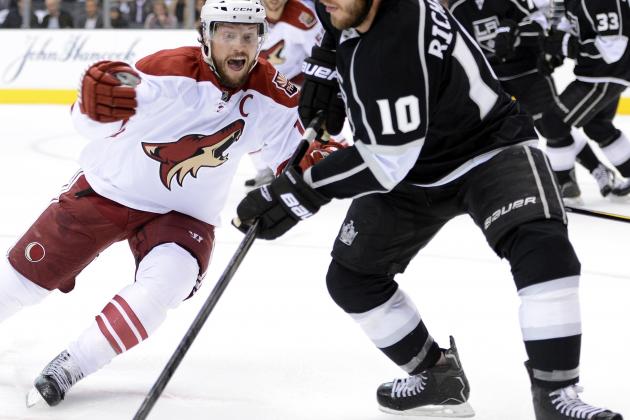 Harry How/Getty Images
Mike Richards led his former team in Philadelphia to the Stanley Cup finals in 2010.
Kings forward Mike Richards has quietly amassed three goals and 10 points this postseason after arriving in Los Angeles at the start of the year from Philadelphia in a blockbuster offseason trade.
The former Flyers captain hasn't been as consistent as previous seasons, but there's another level of Mike Richards that he still has the potential to access.
In 2010, he led his Flyers to a Stanley Cup final, losing to the Chicago Blackhawks in seven games. He finished the postseason with seven goals and 16 points, good for fourth on the top-scorers list.
Richards has the ability and the drive to be a difference-maker on this Kings team, and he's playing with the intention to show the Flyers they were wrong for dealing him after failing to bring a Cup to The City of Brotherly Love."
Look for Richards to start bolstering his numbers as the postseason progresses.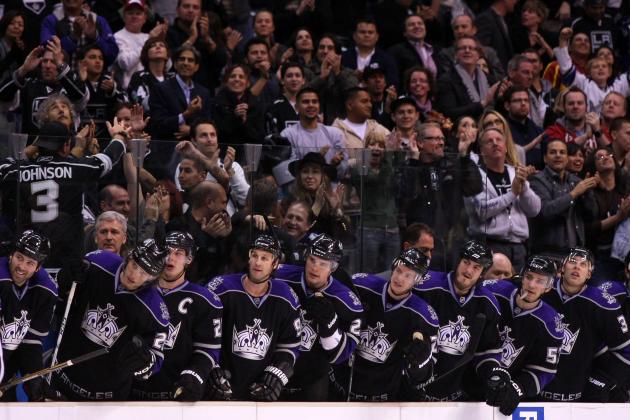 Victor Decolongon/Getty Images
When you're hot, you're hot. And the Kings are hotter than a SoCal beach in the middle of July.
The Kings have taken down the first-seeded Vancouver Canucks, second-seeded St. Louis Blues and currently have the third-seeded Phoenix Coyotes a game away from a postseason exit.
Even more surprising is the fact that the Kings have beat the best of the West in seemingly effortless fashion, losing only once in 12 tries this postseason.
The Kings found a way to turn a plethora of one-goal losses during the regular season into bunches of one-goal wins this postseason.
While either the New York Rangers or the New Jersey Devils should give the Kings a series, when you're hot, you're hot, and the Kings are hotter than Kate Upton on a Los Angeles beach in the middle of July.
The Kings have shown determination and an unmatched will to win that will be tough to compete against for either Eastern Conference contender.