Kenny Stills Must Step Up to an Elite Level for Oklahoma Football
May 24, 2012

Jamie Squire/Getty Images
I think we can all agree that Kenny Stills must step up in a big way in 2012 for the University of Oklahoma Sooners football team to be successful.
If the indefinite suspensions to Jaz Reynolds, Trey Franks and Kameel Jackson aren't repealed by the season opener, then Stills will be the only returning wide receiver that recorded a catch in 2011. Freshman Trey Metoyer has shown great promise during spring practice but has yet to see any real game time to see how he fits in.
Needless to say, there are a number of question marks at the receiver position heading into 2012. To quote ESPN's Jake Trotter:
Will Courtney Gardner make it to campus? Will Durron Neal or Sterling Shepard be ready to play as incoming freshmen? Does LaColtan Bester really fit in anywhere? Among all of OU's receivers, the talent is there. After that, who knows?
Trotter makes a great point. The potential for breakout talent is there, but there are so many unknowns. The one known commodity is Kenny Stills, and he must elevate his game.
Stills had a fantastic freshman season, pulling down 61 balls for 786 yards and five touchdowns. He made an immediate impact at receiver and looked poised to become a dual threat with Ryan Broyles heading into 2011.
After Broyles went down with a season-ending injury, many expected Stills to fill the hole and take over as the clear-cut No. 1 WR. Stills never turned the corner and finished 2011 with only slightly better stats than his freshman campaign the year before.
Stills has the potential to be a dominant force in a pass-heavy offense like Oklahoma. He has shown that he thrives as the No. 2 guy, but the Sooners need him to make the leap to the clear-cut leader now more than ever.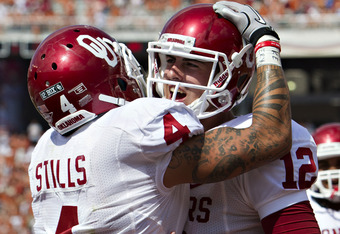 Wesley Hitt/Getty Images
With Landry Jones returning for one last go at it, there are no excuses for the Jones-Stills connection not to be one of the best in the nation. They have had two years to figure each other out and learn the other's tendencies. Now is the time for Jones to put his full trust in Stills—and trust he will come up with the big plays.
Kenny Stills must lead by example if he expects the incoming corps of receivers to look up to him.
College football expert Phil Steele dished on his pre-season All-Big 12 squad, and Kenny Stills found himself ranked among the best in the conference. Will he be able to live up to the expectations?
The pressure is on for Stills to take his game to the next level and all eyes will be on him to see how he responds.