Kellen Moore Is a Ridiculous Long Shot to Make the Detroit Lions Active Roster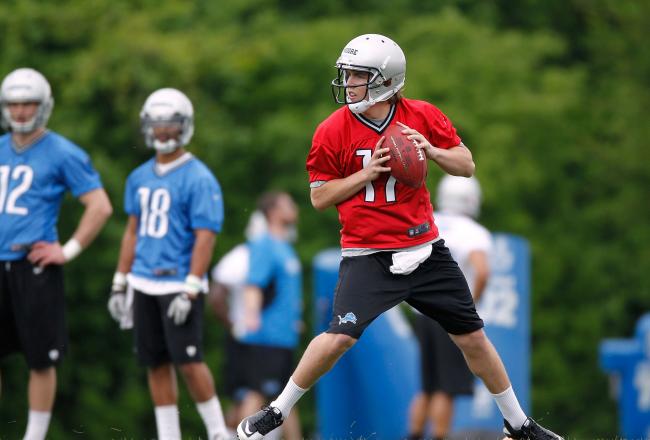 Gregory Shamus/Getty Images
Kellen Moore may be the winningest quarterback in college football history, but this year he's going to be in a dog fight just to make the Detroit Lions' active roster.
If you've spent the last four years reading Boise State press clippings, this article may not be for you.
Yes, Broncos fans have a hard time separating college production from NFL projection, but they're not the only ones. Following the 2012 NFL draft, Sports Illustrated's Peter King called Moore going undrafted patently absurd.
However, 32 personnel departments disagreed with Mr. King and Boise State fans everywhere, so their must be something not absurd about it.
Matt Miller of Bleacher Report took a look at Moore's pro projection back in September and came away with little positive to say.
His conclusion was this:
Many successful college quarterbacks over the years were deemed unfit for NFL duty before they even put on a pro-level helmet. Guys like Eric Crouch, Jason White and Jared Zabransky knew when they left their respective colleges that their days of playing at a high-level were over.

Kellen Moore falls into this group of college quarterbacks who do not have the qualities of an NFL quarterback.
Wins and statistics are the two most misused and faulty measures of a quarterback's potential and Moore has both in spades, but physically, Moore doesn't have a lot to offer an NFL team.
At a shade under 6', Moore falls into a category of short quarterbacks that tend not to make it in the pros. While it's easy to point out guys like Drew Brees and Doug Flutie who bucked the trend, it's just as easy to mention the hundreds of other fantastic college quarterbacks who "went pro in something other than sports" because they didn't have prototypical size.
But size isn't everything.
Russell Wilson is actually shorter than Moore and was drafted in the third round by the Seattle Seahawks. Now, Wilson is being mentioned in contention for the Seahawks' starting spot (along with Tarvaris Jackson and Matt Flynn.)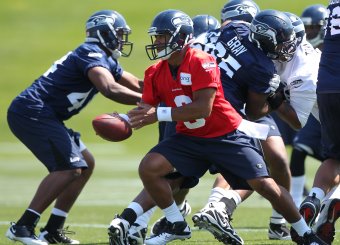 Otto Greule Jr/Getty Images
So what does Wilson have that Moore doesn't?
Just about everything.
Wilson has phenomenal arm strength, spinning the football as well as anyone in this draft class and accurate on short, intermediate and long throws. Moreover, Wilson has mobility, allowing the Seahawks to move the pocket in order to minimize his (literal) shortcomings.
Last season, Wilson played behind one of the tallest lines in all of football as the Wisconsin Badgers' offensive line dwarfed NFL and collegiate teams alike.
One last negative on Moore's scouting report—as a left-hander, he's facing an uphill battle to NFL success. It seems silly, but the list of successful modern left-handed quarterbacks is almost as sparse as the list of short quarterbacks that Moore is also on.
Moore being a lefty means Detroit will need to flip their playbook, messing with precious muscle memory for every other position and, as Moore works on his mechanics, he'll be (mostly) alone as coaches are often left puzzled by the quirks of left-handers.
What does Moore have going for him besides being "a winner?" Well, Moore is extremely intelligent. I've often said Moore's best path to the NFL would be as a coach, similar to former Texas quarterback Major Applewhite.
Because of that football intelligence, Moore should have no problem picking up Scott Linehan's playbook. Also, with the pressure of winning (or even starting) taken away, Moore should be able to focus on the mechanical flaws that are holding him back even further than his physical limitations.
The Lions have a special appreciation for third quarterbacks, as Drew Stanton held that position for many years and was pressed often into duty. In 2011, Stanton was paid more than the minimum salary and was the only emergency QB able to say that.
With Matthew Stafford's injury history, Moore could be called into action and become just as valuable as Stanton was.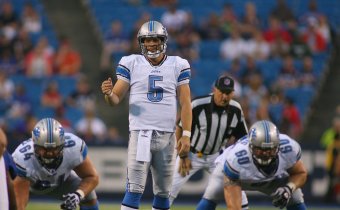 Rick Stewart/Getty Images
That means the Lions need to be comfortable—eventually—with Moore being able to keep a team in games as much as they are comfortable with him being a long-term project.
Because of that, it's hard to imagine Moore making the Lions' active roster this year.
He simply isn't ready for the NFL, no matter how much Boise State fans, Peter King and others want to root for him. The work Moore needs to do between now and being a capable NFL player should be done on a practice squad.
Lions coach Jim Schwartz isn't interested in handing Moore a spot and said as much following rookie minicamp where Moore didn't exactly look like he would be earning one. Moore misfired on numerous throws and (at times) was outplayed by Arena League-tryout R.J. Archer.
A team going into a season with only two quarterbacks on the active roster isn't far-fetched—a third of all NFL teams did so last season. With the "emergency quarterback" rule a thing of the past, teams have less wiggle room at the position.
On top of that, plenty of veterans and rookies will become available in the coming weeks as rosters shrink from their current 90-man limit.
It's likely to think a few of those quarterbacks will be more NFL-ready than Moore and just as likely to think that some of them may be just as promising from a long-term perspective.
Still, the Lions liked Moore enough to sign him almost immediately following the NFL draft and he will be given every opportunity to succeed, but will need to be at his best at all times for a team that made the playoffs in 2011 and has every intention of doing so again in 2012.
The Detroit Lions will need every active roster spot to contribute to that goal and, right now, Kellen Moore is a ridiculous long shot to make that kind of contribution.
Michael Schottey is an NFL Associate Editor for Bleacher Report and an award-winning member of the Pro Football Writers of America. He has professionally covered both the Minnesota Vikings and the Detroit Lions, as well as NFL events like the scouting combine and the Senior Bowl.
This article is
What is the duplicate article?
Why is this article offensive?
Where is this article plagiarized from?
Why is this article poorly edited?

Detroit Lions: Like this team?