Los Angeles Dodgers: 4 LA Dodgers Who Deserve to Make the All-Star Game
Doug Pensinger/Getty Images
Matt Kemp and Andre Ethier
The Los Angeles Dodgers, nearly one quarter of the way through the season, are riding high atop the NL West, sporting a National League's best 25-13 record.
With Major League Baseball's 2012 All-Star game less than two months away, it's time to start thinking about which Dodgers should be representing the National League at the Midsummer Classic in Kansas City.
Begin Slideshow

»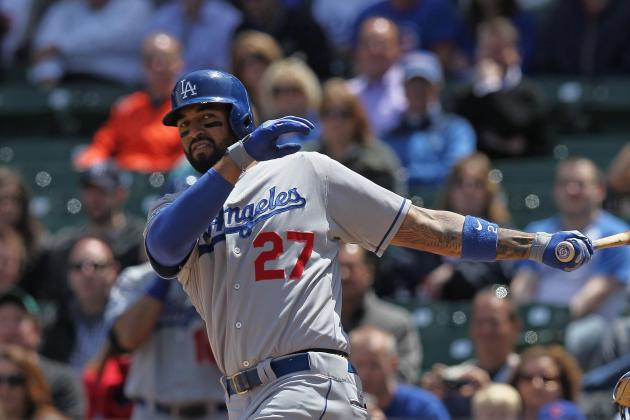 Jonathan Daniel/Getty Images

Matt Kemp had a historic start to the 2012 season. He set a franchise record with 12 home runs in the month of April, while also leading the National League in batting average (.417), runs scored (24), and RBI (25).
Kemp cooled down in the first half of May, slowed by a strained hamstring that finally landed him on the disabled list on Monday. If the injury doesn't continue to be a problem once he returns, expect him to make his second consecutive All-Star game appearance, and resume his quest to be the NL's first Triple Crown winner since Joe Medwick in 1937.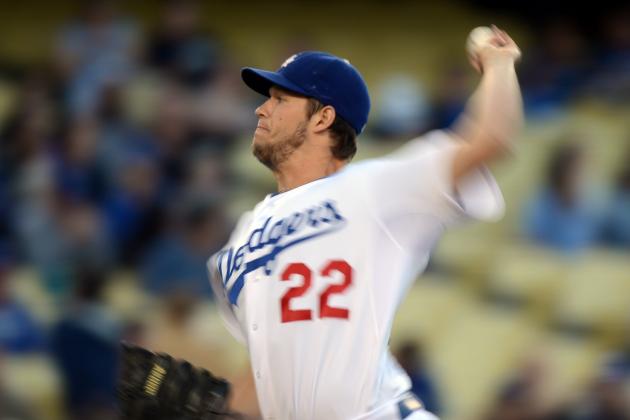 Harry How/Getty Images

Coming off his first NL Cy Young award in 2011, Dodgers' ace Clayton Kershaw has showed no signs of regressing in 2012. He is currently ninth in the NL in ERA (2.22), third in WHIP (0.91), fifth in IP (52.2), and ninth in strikeouts, while leading the league's second best starting rotation.
Kershaw only has three wins on the year, but that number doesn't begin to reflect how well he's pitched.
Now in his fifth full season in the Majors, Kershaw has established himself as arguably the best pitcher in all of baseball, certainly in the National League. There's no reason to believe that he won't be joining his teammate Kemp as a two-time All-Star come July.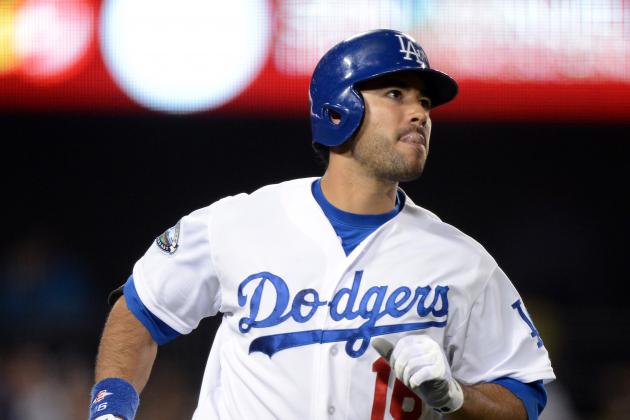 Harry How/Getty Images

No one knew what to expect from Andre Ethier entering the 2012 season. He battled injuries during much of 2011, which drastically effected his offensive production. But he still managed to win his first Gold Glove, joining Kemp as a recipient of the 2011 award.
Scheduled to be a free agent at the end of the 2012 season, Ethier's first-half performance was expected to determine his future with the Dodgers. A strong start could lead the team to extend his current contract, while early struggles might earn him a one-way ticket out of Los Angeles before the July 31st trade deadline.
Kemp's tremendous start has gotten all the attention, but all Ethier has done is lead the National League in RBI, with 35 through the team's first 38 games. He's also delivered a solid .301 average with eight home runs, giving every indication that he is on his way to becoming the star that many thought he would be after a breakout 2009 campaign.
As long as his strong play continues, Ethier will be making his third straight All-Star game appearance in just a few weeks.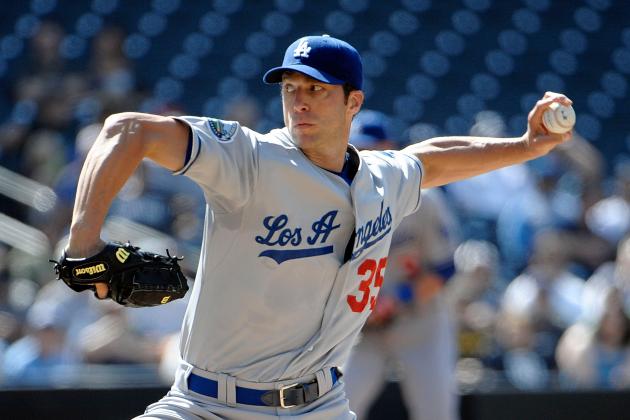 Denis Poroy/Getty Images

If the All-Star campaigns of Kemp, Kershaw and Ethier are somewhat predictable, Chris Capuano's bid to turn The Three Amigos into The Four Horsemen is anything but.
The Dodgers' starting rotation was arguably the team's biggest question mark coming into this season behind Kershaw. As the team's fifth starter, Capuano has not only been a terrific bookend to the NL's reigning Cy Young winner, but a virtual mirror image.
Capuano ranks 14th in the NL in ERA (2.34), T-19th in WHIP (1.08), 12th in strikeouts (45), and T-13th in IP (50), while tying for second in wins (5).
On the surface, those numbers don't scream All-Star. But for a 33-year-old entering only his second full season as a starter following a second Tommy John surgery, the results couldn't be more spectacular.
He proved in 2011 that his arm could handle the workload of a full-time starter by pitching 186 innings over 31 starts. If the early 2012 results prove to be sustainable, that arm could earn a couple more innings of work in Kansas City this summer.