New York Yankees: Andy Pettitte Needs to Be Stopper for Bombers Against the Reds
May 18, 2012

Jim McIsaac/Getty Images
When the Yankees come home from their four-game road trip, they are looking for a little help.
They just dropped three in a row, two of which came at the hands of the Toronto Blue Jays at the Rogers Centre, and currently sit in fourth place in the A.L. East.
The Yankees need a little pick-me-up when they arrive in the Bronx on Friday night.
Hopefully, an old veteran will be able to put a stop to the losing streak when they begin their three-game series against the Cincinnati Reds.
Andy Pettitte will make his second start of the 2012 season for the Yankees against the younger Cincinnati team.
He made his debut for the Yankees this past Sunday against the Seattle Mariners, and he pitched well, but not well enough to get the win.
Pettitte went 6.1 innings, allowed seven hits, four runs, walked three and struck out two in his first appearance of the season. He also got no run support from his offense in the 6-2 loss to Seattle.
In his next start, the Yankees aren't just looking for encouraging signs from their 39-year-old starter.
This time around, they need Pettitte to be vintage Andy Pettitte. They need him to be the stopper of the losing streak.
The Yankees always felt comfortable in the past of sending Pettitte to the hill after a losing streak because he would get the Yankees out of it.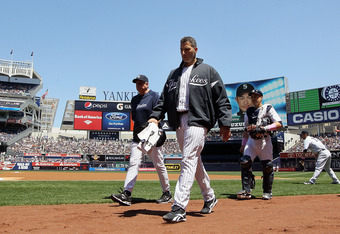 Jim McIsaac/Getty Images
These kinds of games are why the Yankees brought Pettitte out of retirement back in March. They are relying on his experience and his competitiveness to get them through the 2012 campaign.
Lifetime against the Reds, Pettitte is 4-3 with a 3.64 ERA in 10 starts.
The last time Pettitte faced the Reds was back on June 22, 2008. Pettitte threw six shutout innings and got the win in a 4-1 Yankees victory at the old Yankee Stadium.
The Yankees were on a two-game losing streak when they turned the ball over to Pettitte in that game, just like they are on a three-game skid when they hand the ball to Andy on Friday night.
Countering Pettitte will be the Reds' 35-year old veteran Bronson Arroyo, who, in six career starts against the Yankees, is 0-0 with a 5.45 ERA.
The Yankees don't want to fall any father into a hole in the middle of May. With the Orioles and now Blue Jays giving the Yankees and Rays some competition in the A.L. East, each series is becoming more critical to win.
All eyes will be on Pettitte Friday night in the Bronx.
Can he be the vintage Pettitte that halts a losing streak and gets the Bombers jump started in the right direction?
Stay tuned, Yankees Universe.