New York Yankees Free Agents: Why Nick Swisher Should Take a "Hometown Discount"
May 18, 2012

Elsa/Getty Images
2014. That's the year Hal Steinbrenner said the New York Yankees payroll will drop to $189 million, and unless Nick Swisher takes a pay cut, he's not going to figure into their plans for the future.
Some fans might not want him to return, but others do.  I'm of the opinion that we might as well bring him back if there are no other options.  And really, are there many better options out there that fit into the Yankees' plans?
Since coming to New York and playing for the Yankees, Swisher's career has turned around for the better.  He went from being a utility guy on the Oakland Athletics to an abysmal hitter for the Chicago White Sox to an everyday starter in right field for the Yankees.
His numbers might not show it, but he's a better player for the Yankees than he was for those other teams.  Swisher is just having a good time in New York.  He's a clubhouse personality that the guys can rally around when things are down.
Swisher simply fits in New York, and there's no reason as to why he wouldn't want to come back.  He just needs to take a "hometown discount" to stay with the team.
As for his stats, they don't exactly wow, but they get the job done.  
He hasn't hit 30 homers as a Yankee yet, but the good news is that he hasn't reached 150 strikeouts again.  To the fans who say he strikes out too much, which he does, at least he's not striking out 152 times like he did in 2006 with the Athletics.
His batting average hasn't dropped like it did in Chicago.  Swisher also has had his highest batting average as a member of the New York Yankees.  He's found success here in New York and there's no reason to leave it behind.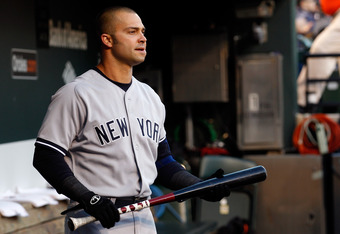 Rob Carr/Getty Images
Steinbrenner is doing the unthinkable by reducing the Yankees payroll.  "Reducing" and "Yankees payroll" haven't been in the same sentence and in that order prior to this year.
The Yankees reducing their payroll isn't exactly common thought.  They always seem to be adding to it—a la Rafael Soriano's contract and Alex Rodriguez's baby mammoth, I mean contract.
If Swisher wants to stay, and I'm sure he does, then he'll need to take a pay cut.  He's making over $10 million now, which would be justified if half of the Yankees' payroll didn't just go to A-Rod, CC Sabathia and Derek Jeter.
Why wouldn't he want to stay anyway?  There's that short porch in right where he can smash home runs to.  He's also a New York personality and most fans love him here.  Those who don't only gripe he strikes out a bit too much and that he isn't Justin Upton or Andre Ethier.
Those fans certainly love him now since he's leading the team in RBI.  Swisher is picking up the slack for A-Rod, Robinson Cano and Mark Teixeira.  If it weren't for him, the Yankees would have to rely on Curtis Granderson, which everyone wouldn't mind, and Raul Ibanez, which everyone would mind.
As long as Swisher takes a pay cut and the Yankees meet their payroll plans, I don't mind Swisher coming back.