Oakland Athletics: It's Time for the A's to Give Up on Daric Barton
May 21, 2012

Christian Petersen/Getty Images
Eight years after being traded to the Oakland Athletics, it's time for the franchise to give up on Daric Barton.
In 2004, the A's shipped Mark Mulder to the St. Louis Cardinals for several young, talented prospects. Barton—a 19-year-old converted catcher—was the centerpiece of the deal. He was supposed to be the power hitting first baseman of the future.
He's had nearly a decade, and fans are still waiting to see any resemblance of the production that was enticing enough to split up the Big Three.
In fact, in six seasons in the majors, Barton has only had one good season. The rest have been filled with injuries, options to Triple-A and inconsistency.
This year Barton is making just over $1 million.
It's easy to recognize that he's being kept around because he's cheap. His ability to draw walks mixed with the near non-existent hit in payroll makes Barton the perfect Moneyball-type player.
But other than that, he's offering nothing.
While patience at the plate is a fantastic virtue to possess, it doesn't help the team when no one is on base and the A's are down six.
There are a couple of reasons A's fans have gotten so excited about the prospect of Chris Carter, Brandon Allen and Kila Ka'aihue taking over first base.
Daric Barton's Lack of Five-Tools
The five tools of baseball are: hitting for average, hitting for power, speed, defense and throwing ability.
He's gained over 100 hits just twice. The other four seasons, he acquired less than 50 hits. Likewise, he's hit over .250 three times, including his first season in which he only played in 18 games. The other three seasons, Barton could not hit better than .230.
Finding his most success in 2010, Barton hit .273. Unfortunately, he still only knocked in 57 runs on 152 hits.
In 2012, he's hitting below .200 with runners in scoring position and when the team is losing.
Upon his arrival, Barton was touted as a power-threat in the near future.
So far, he's averaging under five home runs per season. The most he's ever hit is 10. I will give him credit for 89 doubles and 11 triples. Of his 11 triples, Barton hit five in one season twice.
Still, he's not a threat on the base-paths.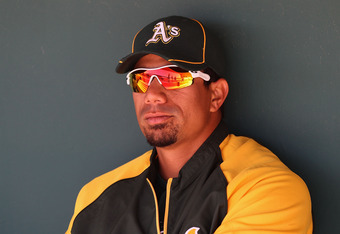 Christian Petersen/Getty Images
Barton has stolen 12 bases in his career and has been caught seven times.
Fielding-wise, Barton is very serviceable. The league average for fielding is .994, and Barton's career fielding percentage lies at .992.
Playing at first base, he doesn't have many opportunities to showcase arm strength.
Barton is Inconsistent and Unhealthy
One.
That is the number of full seasons Daric Barton has remained healthy in the majors during his six-year career.
There are 162 games in a regular baseball season. In six years, that is 972 games.
Even if Barton could play in 145 of them, times that by six and it's 870. Barton has played in just 470 games total for an average of 78 games a season.
Let's throw out the first year in which he received a late call up and this year because we are only two months in. Still, the average rises to just 105.
After arriving in Oakland late in 2007, he's spent a considerable amount of time back in the minors.
In 2009, Barton was sent down for 70 games.
Last season as well, Barton was relegated back to Triple-A where he only hit .197.
Injuries have plagued him too.
Barton missed time in 2008 and 2009. He also opened the 2012 season with an injury.
He turns 26-years-old this year. Most guys enter their prime around this time, but Barton has been in a Major League system since he was 17. He's been in the big leagues since he was 21. If he hasn't caught on by now, the chances of future success aren't great.
Rather, what you see is what you get.
There's a Replacement in Place
Kila Ka'aihue may be two years older than Daric Barton, but he's a great stop gap until the A's can find and groom another young, talented first baseman.
Ka'aihue has performed well enough at the plate this season, and the A's are looking for creative ways to get him in the game. He's played 14 games at first and nine at DH.
In five less at-bats, Ka'aihue is nearly 60 ticks higher in batting average with more hits, doubles and twice the RBI.
Ka'aihue has committed one error this season, but his career average matches Barton's.
Sure, he doesn't walk nearly as much.
Instead he hits for better average, hits for more power, produces more runs, plays equal defense and—oh yeah—he only makes $482,500.
While Barton continues to lose fans with each watched third strike in hopes of a walk, Ka'aihue earns them with every runner he plates.