Grading the Atlanta Braves Hitters After a Quarter of the Season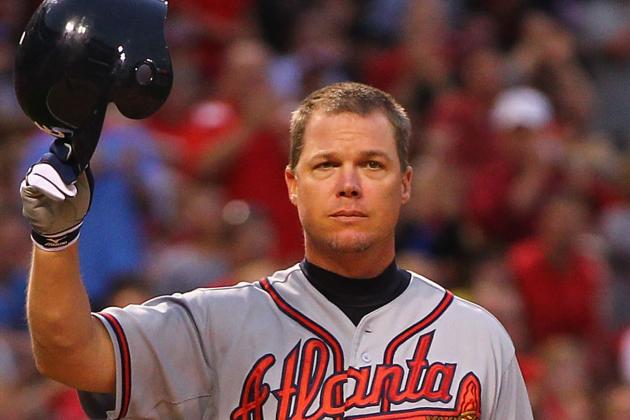 Dilip Vishwanat/Getty Images
Chipper Jones has continued to be a leader despite turning 40 earlier this season.
After winning a 5-3 game against the Tampa Bay Rays on Friday evening, the Atlanta Braves have played 40 games this year, which puts them at a quarter of the season. The team has gone 25-15, in part because the offense has been such a pleasant surprise.
Heading into the year, the offense was expected to struggle a bit and the pitching staff was expected to carry the club. However, once the season started, it was the offense that emerged and the pitching staff that has been up and down.
This article takes a look at the 13 position players who have played a significant role in the Braves season, and grades them based on their contributions at the plate, on the bases and with the glove.
Begin Slideshow

»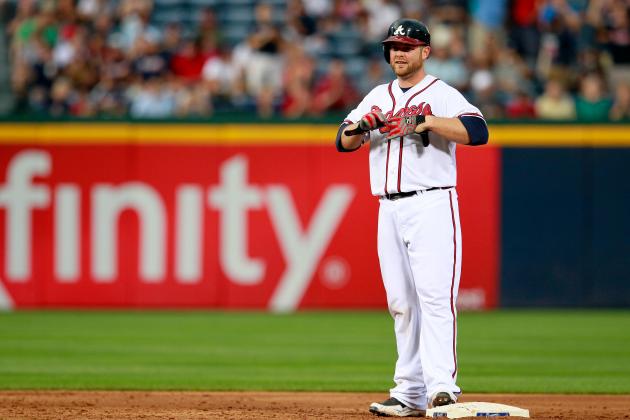 Kevin C. Cox/Getty Images
Brian McCann is having yet another strong season.
Brian McCann has played in 33 of the Braves first 40 games, a pretty solid number for a catcher. His production in the first quarter of the year isn't great but it is right around his career average, so you can't complain.
McCann is a career .285 hitter so his .260 average is a bit low, however he usually starts a bit slow based on his career .268 average for April. While the average is a bit below where his career mark is, his power numbers are up a bit which helps to overlook the average a bit. He has six homers and 24 RBI, which puts him on pace to beat his career averages of 22 homers and 86 RBI.
Basically, McCann is right where you want him to be offensively, turning in another solid year thus far. Through a quarter of the season he is on pace to earn his seventh All-Star selection in seven full seasons in the big leagues.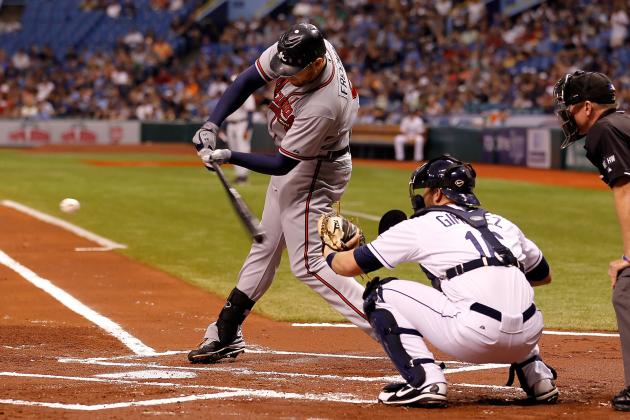 J. Meric/Getty Images
Freddie Freeman has become a middle of the order run producer at the age of 22.
Freddie Freeman has been one of the biggest reasons for the Braves offensive breakout, as the 22-year-old first baseman has quickly become a true middle-of-the-order run producer quicker than expected.
Through the first 40 games, Freeman has appeared in 38 and has hit .275/.335/.503 with seven homers and 32 RBI. Projecting that over a full season has him hitting 28 homers to go with 124 RBI. Not only has he been producing at the plate, but his defense has also improved. He has yet to make an error this season.
Obviously, part of the extra run production is because Freeman has been hitting in the middle of the lineup more often and guys are getting on base in front of him, but he has made strides of his own. Freeman has not only been coming up with clutch hits, but he has upped his walk rate and cut his strikeout rate down a bit too.
Freeman was expected to be good, but I don't think anyone would have predicted him to make this big of a jump in year two.
Other second-year stars like Eric Hosmer, Brett Lawrie, Josh Collmenter, Danny Espinosa, Dustin Ackley and Jordan Walden have been a bit disappointing, but this talented youngster has taken that next big jump forward for the Braves.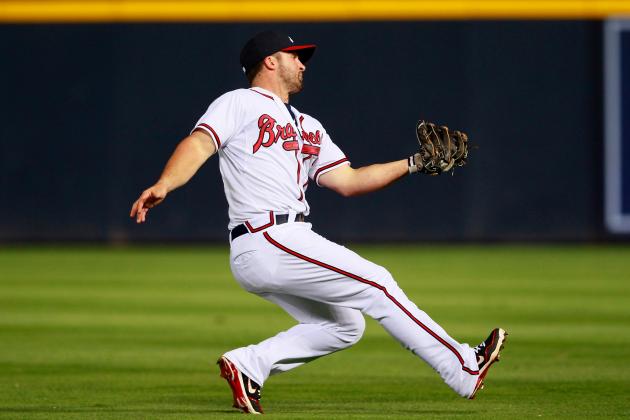 Kevin C. Cox/Getty Images
Dan Uggla's power is a bit down but he is on pace to near 100 RBI.
Dan Uggla was a major disappointment in the first half of the 2011 season, his first season in Atlanta.
He was hitting .185 with 15 homers and 34 RBI through 92 games, and was only able to put up a respectable final line because he hit .296 with 21 homers in his final 69 games. The good news is that Uggla hasn't repeated his bad start this year.
Uggla is hitting .270 with five homers and 24 RBI so far this year. While the homers are a bit low, he is on pace to hit a career-low 20, the run production is still where it should be and he's hitting above his .259 career average. His defense has been a bit up and down, and he already has six errors on the year.
Uggla's lack of power makes him a tough guy to grade, because that is his biggest asset. However, the fact that he is on pace to pick up 96 RBI makes up for the facts that his homers are down and he has been a bit error-prone, which is enough to earn him a "B-" grade.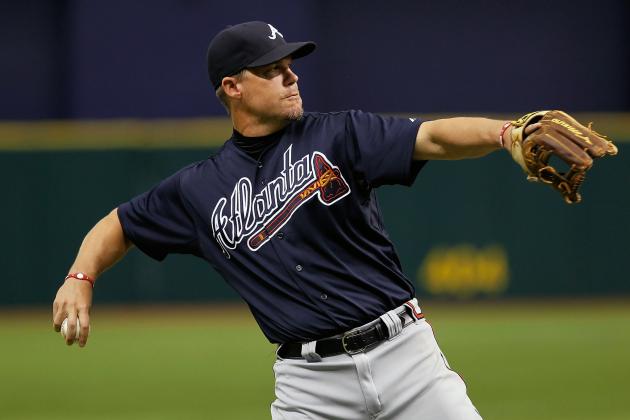 J. Meric/Getty Images
If you translate his current numbers to a 162-game season Chipper would be close to 30 homers and 140 RBI.
Chipper Jones missed the first four games of the season and the Braves offense had major troubles scoring runs. However, once he returned to the lineup on April 10 against the Astros, the Braves have been surprisingly strong at the plate. The 40-year-old is in his last season, but his play and leadership has been a big part of why the Braves are in first place.
Jones has only played in 28 of the first 40 games because of minor dings and the Braves trying to rest him, but that is to be expected at his age. That makes the fact that he has five homers and 24 RBI to go with a triple slash line of .307/.372/.485 even more impressive.
If you translate that over the course of a full 162-game season he would be on pace to hit 29 homers with 138 RBI.
It's hard to ask for more from Chipper. He's been absolutely unbelievable in his final season and looks like he will be retiring with something left in the tank come the end of the year.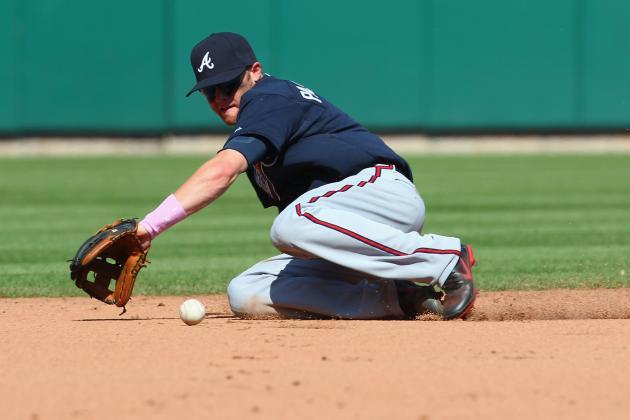 Dilip Vishwanat/Getty Images
Tyler Pastornicky has held his own in the big leagues.
Tyler Pastornicky entered the year in an impossible situation.
The rookie had only 104 Triple-A at bats and was being handed the starting shortstop role headed into the spring. However, he knew that he is only expected to keep the job warm until top prospect Andrelton Simmons is ready.
Then came a strong spring showing from Simmons, which had many many fans and some team executives pushing to see Simmons take over for Opening Day.
Pastornicky must have let that all get into his head at the start of the year as he was only hitting .171 heading into the April 24 game against the Dodgers. Since going 3 for 3 that day Pastornicky has been on a tear, hitting .325 with a .730 OPS over the last four weeks.
Overall, Pastornicky has hit .274 with a homer and 11 RBI in 34 games, usually hitting eighth in the lineup. There are some knocks on him though, as he has only drawn five walks in 117 plate appearances and he has not been a great defender.
Pastornicky earns a "B" grade despite the knocks against him because of the situation.
For being pushed into the starting job he has held his own considering he is only 22-years-old and had limited experience in the upper minors.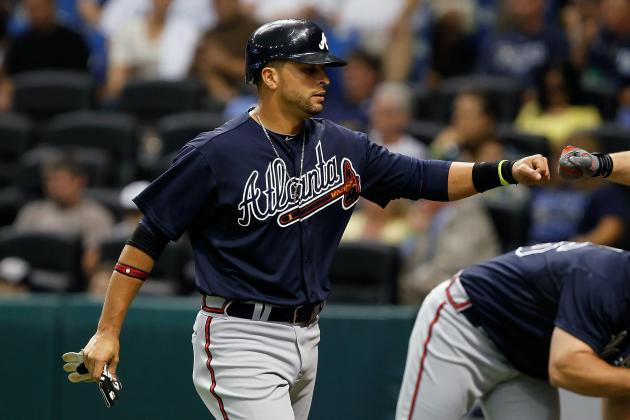 J. Meric/Getty Images
Martin Prado has been hitting very well this year.
Martin Prado had to have come into camp this spring with a chip on his shoulder.
After battling injuries and seeing his numbers take a significant drop from his 2010 totals, he saw his name in plenty of trade rumors since the Braves were trying to move him and Jair Jurrjens.
The Braves made the right choice in keeping Prado, who has been healthy and producing the way we saw in 2010.
Prado has responded well to hitting second in the lineup and through the first quarter of the season, he is hitting .324 with three homers and 21 RBI. He's also slugging an even .500 due to 13 doubles and a pair of triples, and has stolen four bases.
Prado has been a big part of why the Braves have been scoring runs, but his defensive versatility and ability to play third base when Chipper Jones needs to sit has also been a big help.
Prado hasn't quite been the team MVP, but he deserves consideration.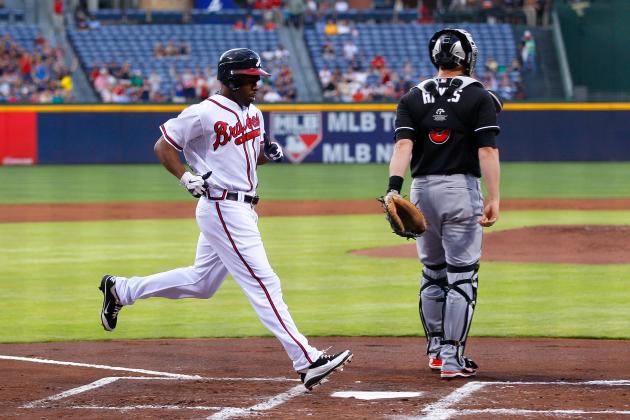 Kevin C. Cox/Getty Images
Michael Bourn has been one of the early MVP's of the 2012 season.
When the Braves dealt for Michael Bourn last July they expected to acquire a top leadoff hitter and Gold Glove Award caliber center fielder. Bourn has been everything the Braves expected and then some, as he has been unstoppable atop the lineup.
Bourn was leading the National League in hits, at bats, and plate appearances after the Braves first 40 games. His triple slash mark is .329/.386/.416 to go with a homer, 11 RBI and 12 steals. His ability to get on base and create has been huge for the Braves. So has his defense, as he is yet to make an error and his defensive WAR leads the National League.
Bourn is having a monster season which should get him a spot on the All-Star team and a potential Gold Glove Award. The only negative thing is this monster season in a contract year and it may put him out of the Braves' price range.
J. Meric/Getty Images
Jason Heyward has been having a solid year.
After a historically great rookie season at just age 20, Jason Heyward took a major step back in 2011.
Issues with injuries and confidence caused the talented youngster to struggle badly for most of the season. In part due to Heyward's struggles last year, the Braves decided to make a change with their hitting coach and bring in Greg Walker from the White Sox.
Heyward and Walker worked hard together in Atlanta all winter, and the early results are promising.
Heyward got off to an unbelievable start, and though he has cooled off since that he has still been producing. Overall, Heyward is hitting .248/.346/.444 with five homers and 20 RBI. Another part of his winter workouts saw him drop 20 pounds, which has added a new level of speed and allowed him to already steal nine bases.
Heyward's .248 average isn't great, but he's getting on base, showing real flashes of power, making plays with his legs, coming up with clutch hits and looking strong in the outfield.
He has rebounded very well from his struggles last year and is showing signs of eventually breaking out to become the star everyone expected.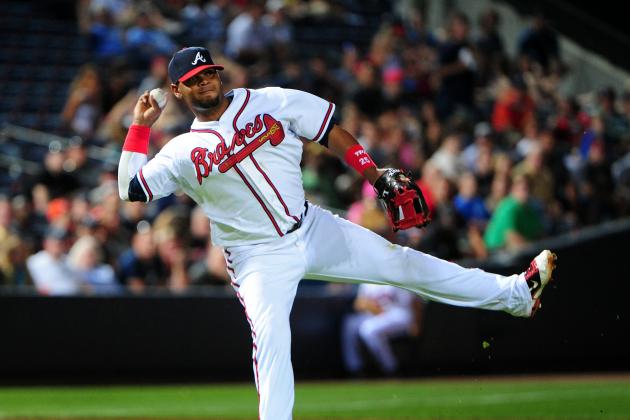 Scott Cunningham/Getty Images
Juan Francisco has actually hit .256 when he gets a start.
Acquired from the Reds just before the season in exchange for JJ Hoover, Juan Francisco has been getting a solid chance at playing time both as a pinch hitter and as a replacement for Chipper Jones.
Francisco was considered a youngster with good power but contact issues, which is exactly what we have seen from him this year.
Francisco has 62 plate appearances over 29 games for the Braves this year. In that time he is hitting .224 with three homers and 10 RBI, however he has struck out 19 times and only drawn three walks this far. The defense has not been impressive either as he already has three errors in just 12 starts at third.
Francisco hasn't been all bad, as he has shown plenty of power as evidence by his .224 isolated power. It's also hard to be too hard on him for the average, as he is a .256 hitter with two homers in his 12 starts and has only hit .133 in 16 pinch-hit at bats.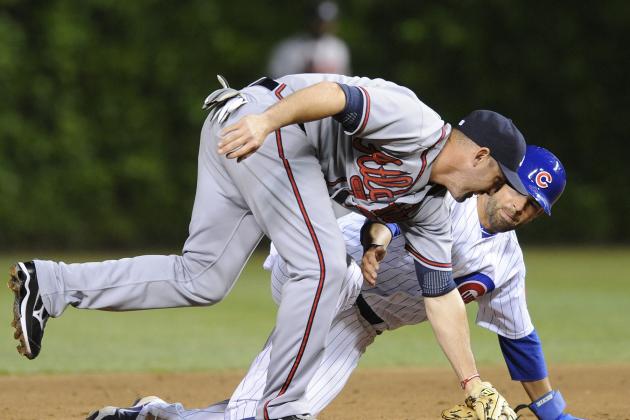 David Banks/Getty Images
Jack Wilson has little left with the bat but can still play short.
Jack Wilson was re-signed by the Braves in the hope that he can be the top backup at shortstop behind the young and inexperienced Tyler Pastornicky. Wilson's play thus far makes it look like he has little left in the tank as he is really struggling.
Wilson has appeared in 24 games and has 49 plate appearances, where he has amassed a triple slash line of just .156/.170/.156. As if that isn't bad enough the .156 slugging percentage indicates that he has not yet had an extra base hit, and he has been strikeout prone with one in every six plate appearances.
Not everything has been terrible though, as he hasn't made an error in his nine starts at short, and has actually looked solid with the glove. The Braves are likely to play him less and less as the year goes on because he is a liability at the plate and Pastornicky has been hitting well.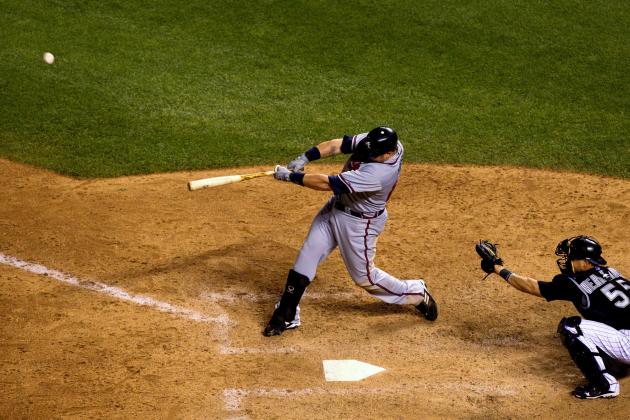 Justin Edmonds/Getty Images
Eric Hinske had a huge game against the Rockies earlier this month.
Eric Hinske has been very productive off the bench in a utility role for the Braves.
His offensive production has been a big plus, as he has helped the Braves to have one of the most productive benches in the game in the first quarter of the season.
Hinske has played in 29 games and made 52 plate appearances for the Braves so far, and has put up a triple slash line of 313/.365/.417. He has added a homer, two doubles and seven RBI as well as coming up with big hits, most notably against the Rockies.
Hinske has also been solid on defense, playing first base in addition to left and right field without making an error. The Braves know that if someone was to get hurt, he could help to fill the void without creating a panic.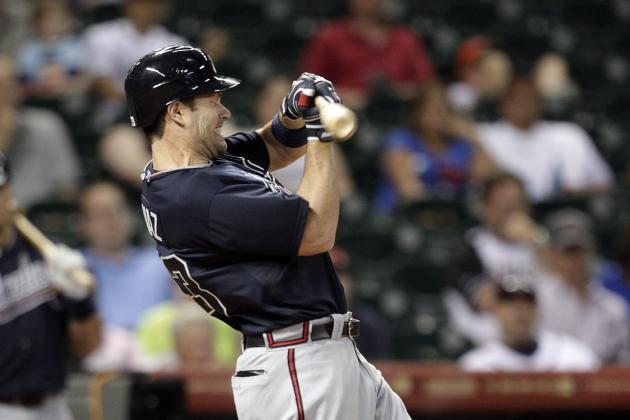 Bob Levey/Getty Images
Matt Diaz has been a weapon off the bench for the Braves.
Matt Diaz is yet another asset off the bench for the Braves.
The veteran outfielder is just a platoon player, but he is an excellent hitter against left-handed pitchers. Having such a weapon on the bench has really helped the Braves offense.
Diaz is having a good year, hitting .289/.378/.474 with two homers and six RBI in 38 at bats overall, but it is really his production against lefties that makes him a key reserve. Diaz has been killing lefties this year, to a triple slash line of .360/.448/.640 with two homers and five RBI in 25 at bats.
It's hard not to give Diaz an "A" grade because his job is really to just hit left-handers, and you can't ask for much more production.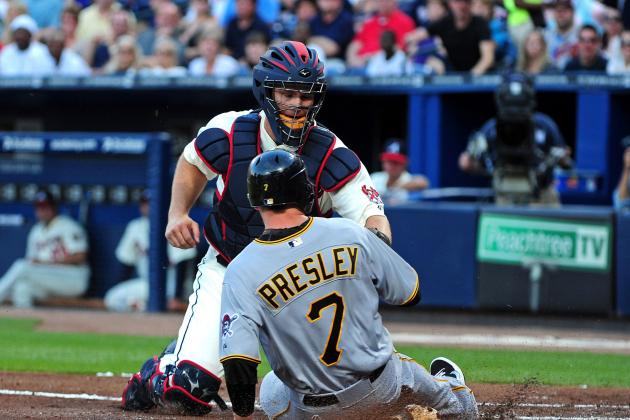 Scott Cunningham/Getty Images
David Ross is the top backup catcher in the game.
David Ross has long been considered to be the best backup catcher in baseball, and hasn't done anything to show otherwise this season. Ross could easily be a starter for a bunch of other teams in the league.
This year is looking like it could be one of the best of his career as Ross is hitting .310/.394/.517 in 11 games. He has only hit one homer, but does have three doubles and has four RBI on the year. He has also thrown out one-third of base runners attempting to steal on him.
Ross is a major asset for the Braves, and another big reason the Braves bench has been so productive.