Is the Cardinals' White Hot Pitching a Mirage or Makings of a Repeat Champion?
May 18, 2012

Ralph Freso/Getty Images
Although the dominance of the St. Louis Cardinals' pitchers has not really shown over the past week, the starting rotation and bullpen have been mainly dominant throughout a large part of this young 2012 season.
So, is it simply a mirage? Has the rotation finally fallen down to earth, and these are in fact just a bunch of average pitchers?
Or, is this a pitching staff that has the potential to lead the Cardinals to a repeat championship?
The apparent ace of the Cardinals staff so far has been Lance Lynn. Lynn is tied for the MLB league in wins with six and ranks third in both ERA and WHIP with a 1.81 and .90 respectively. Lynn is also the biggest question mark going for St. Louis. Is he simply just a young pitcher who is dominating hitters who just do not know him that well yet, or is he truly and ace?
I think it is a combination of both. I think Lynn can be an elite pitcher in the majors, but the odds of him putting up these numbers throughout and entire season are very slim. Look for him to continue to be very good—maybe even great—for St. Louis, but we surely will see some bumps along the way.
What about the rest of the St. Louis starters, though? Are they capable of pushing through an entire season at this pace without Chris Carpenter?
The answer is yes.
The St. Louis rotation was very, very underrated to begin the regular season. Jaime Garcia is an All-Star caliber pitcher who will only continue to get better as time goes on and he becomes more and more comfortable at the big league level. Kyle Lohse has always been a solid pitcher capable of putting up great numbers at times. Jake Westbrook, after changing his delivery during spring training because he felt he was tipping pitches, has also been very dominant for St. Louis.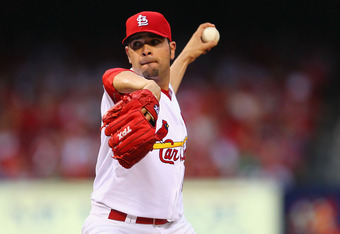 Dilip Vishwanat/Getty Images
Finally, there is Adam Wainwright. Although he has struggled a lot this season, I still feel there is no need to panic. Expectations were very high for Wainwright this season, but while he has not lived up to them, the rest of the rotation has helped make up for what he has not done. Wainwright will be a dominant pitcher once again.
It may take time, but the numbers will be there.
This is a very good St. Louis starting rotation. Every pitcher in the rotation has shown that they have the ability to put up dominant performances, and that is why they have been so good. They may not all be dominant in one week, but two, three or maybe even four starters will have very good starts each week for St. Louis.
Now, let's briefly look at the bullpen.
The Cardinals' bullpen this season has had very good pitchers and very bad pitchers. There really hasn't been any middle ground. The Cardinals made an outstanding move earlier this week when they released left-hander J.C. Romero and called up young right-hander Eduardo Sanchez. Romero was simply not getting hitters out and the move had to be made.
Sanchez has been great so far with the big league club, and I expect his success to continue.
The only other question marks that remain in the Cardinals' bullpen appear to be Victor Marte, Fernando Salas and Kyle McClellan. Marte and Salas, while their statistics do not quite indicate it yet, seem to be getting this under control. Marte was new to the big leagues this year and it took him awhile to adapt, but he has been doing a very good job of late. Salas does not have the same excuse as Marte, but he struggled at the beginning of the season as well. He too, though, has begun to find himself more and more as the season progresses.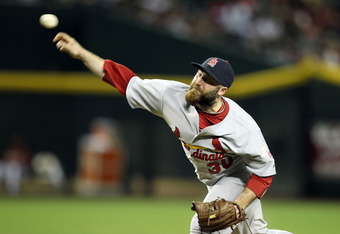 Christian Petersen/Getty Images
McClellan is a different story, though. It appeared that he was getting things under control for awhile, but he after today's game in San Francisco, he has now allowed runs in five of his last six outings. While he has struggled though, I expect McClellan to become more consistent down the stretch.
The Cardinals do not have the dominant bullpen that they did back in 2011 during the postseason, but it is above average to say the least. After releasing Romero, I think they are good in the bullpen, but do not count out the possibility of them adding another arm down there around the trade deadline.
So, let's revisit the original question.
Is the Cardinals' White Hot Pitching a Mirage or Makings of a Repeat Champion?
This is definitely the making of repeat champions. With the offensive support that the St. Louis pitching staff receives, they do not need to be great, just good. The scary thing, though, is that the St. Louis pitchers have been great, and they will continue to be great.
This team definitely has the potential to be repeat champions. Like every team though, health will play a major factor. The thing about St. Louis is that they are very deep. Even if a starter does go down, they always have Chris Carpenter waiting in the wings.
It looks to me like they could very well make it 12 in 12 this year.