Manchester United: Is Sir Alex Unreasonably Influencing International Selection?
May 17, 2012

Michael Regan/Getty Images
It cannot surprise anyone that Sir Alex Ferguson wants a fully fit squad for next season. In past years, he has had players like Hernandez needing a rest after what should have been their summer break.
Having just finished second with a record haul of points, you can't blame him for thinking ahead. But recent events suggest he is taking a hard line on international selection of his players.
There is some evidence that he has influenced or even refused the selection of some of his players. Has he perhaps gone further than that by influencing the players themselves?
Ferdinand, Scholes and Carrick
Rio is "gutted" at not being selected for England, but he has also hinted that his boss hasn't helped. This can't really surprise anyone, because Hodgson and Ferguson know each other well and have a strong mutual respect.
It is inevitable that Roy would have telephoned Ferguson as soon as he was appointed, because he wants to keep onside with any of the Premier League managers who he will need to release players in future.
Paul Scholes was apparently open to a call-up.
Michael Carrick at 30 wasn't opposed to playing until he heard he was only on standby, despite one of his best seasons ever, where he has impressed more than 33-year-old Lampard. This is the same Lampard who had more shots than anyone (nearly 30) in the 2006 World Cup but didn't hit the target once.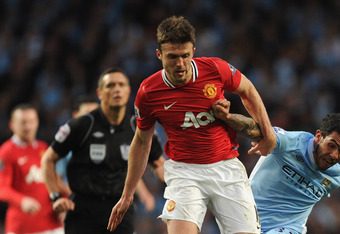 Michael Regan/Getty Images
Is it possible that Sir Alex influenced Roy Hodgson on all three?
There is clear evidence that this was so for Rio, where Sir Alex made a public pronouncement only four days before Hodgson's announcement. We have to believe that he would have said the same privately when Hodgson called him.
Hodgson's squad didn't raise many eyebrows, because it was pretty safe and unexciting. Apart from his undeniable coaching and organisation ability, we cannot surely think England have a chance of winning Euro 2012? Unless we do a Greece of course, with stultifying football.
Given the dearth of top-class England midfielders, surely nobody would have complained if Hodgson had picked Carrick and Scholes over Lampard?
What's wrong with a 4-2-3-1 with Carrick and Scholes; Young, Gerrard and Walcott; Rooney, Carroll or Welbeck?
Or did Fergie also tell Hodgson that his midfield duo that nearly won the title also couldn't play six games in 21 days?
Other Internationals
Ji Sung Park retired from international football in 2011 at the tender age of 29, having been South Korea's captain.
Dimitar Berbatov similarly retired from internationals as Bulgaria's captain in 2010 at the age of 29.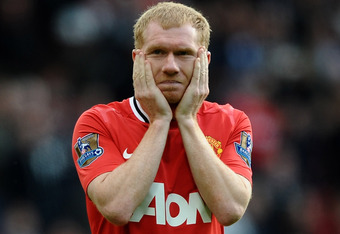 Laurence Griffiths/Getty Images
Nemanja Vidic did the same in October 2011. Are we beginning to see a pattern here?
By the way, Paul Scholes announced his international retirement in 2004 at the age of 29, wanting to concentrate on family life and his club football...
Oh, and Ryan Giggs retired from Welsh international football five years ago....
The Olympics
On May 9, Manchester United announced that Javier Hernandez would not play in this summer's Olympics. This was a surprise to the Mexican coach. We can only guess at Chicharito's disappointment. He will, however, play in Mexico's World Cup qualifiers.
On May 11, Ferguson announced that Jonny Evans wouldn't play in the Olympics due to an ankle operation. Despite this, he surprised everyone by turning out against Sunderland only three days later.
Previously, the United manager had implied that his older players didn't want to play in the Olympics, before saying that Ryan Giggs would be delighted!
The club had exerted their right to refuse the release of their older players. This was academic in the case of Wayne Rooney, because Stuart Pearce had already assured that no player picked for Euro 2012 would also be selected for the Olympics. But Scholes and Carrick have missed Euro 2012.
This may therefore have been a calculated decision by Sir Alex, as only three players over 23 can be fielded and, with speculation that these might be Beckham, Giggs and Bellamy, that gets United off this particular hook.
Clive Brunskill/Getty Images
As for the under 23s, Welbeck and Jones have been selected for the Euros, and Smalling has a chronic groin injury (we assume), so that leaves only Cleverley. It would not be a surprise if Sir Alex releases him for the London games because he badly needs match practice.
No conspiracy here then...
To be clear, no conspiracy is being implied, but out of a total possible of 20 First Team playing staff who are full internationals, so far United are only likely to get Welbeck, Jones, Young, Rooney, Cleverley, Evra, De Gea and Giggs to the Euros or the Olympics.
Sir Alex had previously been concerned that his pre-season would be decimated by international call-ups. Depending on who he now signs (which might be influenced by similar considerations—Kagawa anyone?), the situation looks more optimistic.
One thing is for sure. The rising young stars who have just won the Reserves Premier League trophy are going to get a whole lot more opportunities than any summer in United's recent history.
Oh and why did Wayne Rooney commit that apparently pointless foul, towards the end of the match against Montenegro, that got him red-carded last October?