Pittsburgh Steelers: 10 Players Most Responsible for Success or Failure in 2012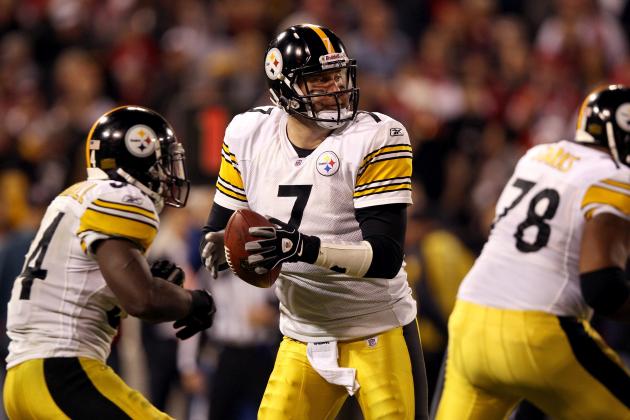 Ezra Shaw/Getty Images

Football may be a team sport, but every team has players who are most responsible for the success or failure of the entire squad. These players are called "trigger men." For the Pittsburgh Steelers, there is a mix of experienced veterans and young additions that will bear that responsibility in 2012.
Here's a look at 10 players who are the most responsible for how the 2012 season plays out for the Pittsburgh Steelers.
Begin Slideshow

»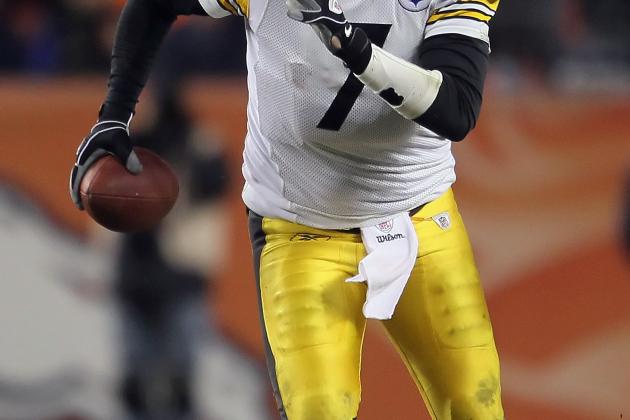 Jeff Gross/Getty Images

We might as well get the team's most important player out of the way early. There's little question that a team cannot win without solid play under center. Even if that play is unspectacular (see Trent Dilfer in 2000), it must be solid for a team to win.
For the Steelers, everything begins with Big Ben. He has a lot on his plate in 2012. He's working a playbook that is drastically different from what he's become accustomed to. He's working with a coordinator who isn't likely to maintain the same buddy-buddy relationship he's used to having. Finally, he's still going to be throwing the ball quite a bit.
If Roethlisberger has a season similar to last year or 2010, the Steelers should be considered among the favorites to represent the conference in Super Bowl XLVII. If he fails for the first time in his career, the Steelers are in deep trouble.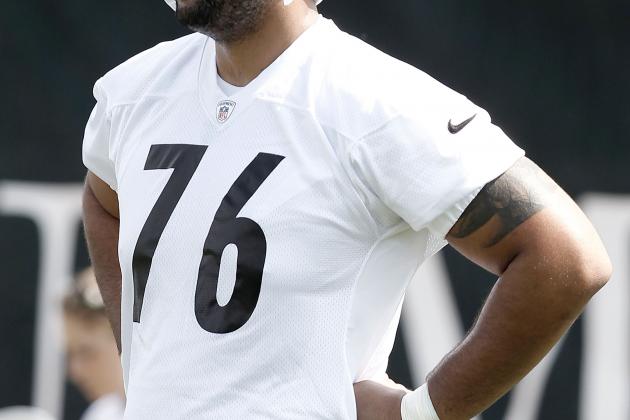 Jared Wickerham/Getty Images

If the Steelers are indeed planning to move Willie Colon inside to guard, then Adams should be the favorite to become the starter at left tackle. That makes him the second most important person on the offense to Roethlisberger, the man he'll be protecting.
We've seen what happens when a team doesn't have a good left tackle. A viewing of the opening sequence of the movie Blind Side will show you. A look at the game tape of the Steelers last season before Max Starks returned is another great example.
When you consider that Adams is all that stands between Roethlisberger and the pass-rushers coming off the blind side, his success is tied to Roethlisberger's directly and, by proxy, to the team's. If Adams fails or doesn't win the job, we go back to Jonathan Scott. That just doesn't work. We already know how bad that can be.
Adams must work hard to prove himself to the doubters, but he must work even harder to make sure he is successful. Otherwise, his new team will quickly be destroyed.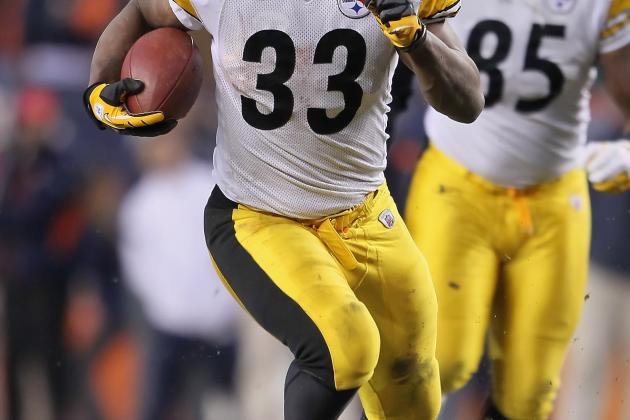 Jeff Gross/Getty Images

Fans and analysts have had a lot to say about former starter Rashard Mendenhall. There's been some sentiment, particularly among the fans, that Redman might be better-suited to this team and this particular offensive system. To me, the real value is that he's proven his ability behind a poor line.
That line should be much more solid this year. That could be great news for Redman, who will be playing for contract dollars and for the right to remain an NFL starter after coming out of a small school and being forced to fight his way onto the team.
Redman's contributions will be important. We saw several times last year what happens when the Steelers become too one-dimensional or when they have their passing attack shut down (see the San Francisco game for a fine example of that). The running game is important.
Todd Haley's offense, if it mirrors what he was using in Kansas City, is also going to depend on the run. While it may feature more passing than running, the running plays are important to set things up and gain the tough yards.
An area where Redman could be very important is at the goal line, where the Steelers will need to use a brutish back like him and their reworked offensive line to push into the end zone on the ground.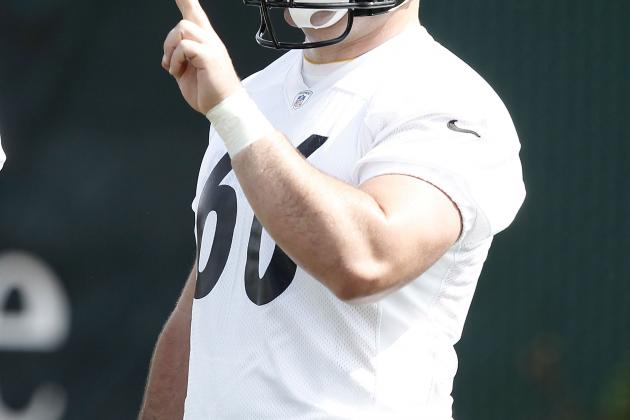 Jared Wickerham/Getty Images

For better or worse, the team's first-round draft choice has been anointed the savior of the offensive line, capable of leaping tall buildings in a single bound and being a super guard. That's wonderful on paper and in words, but it will be on the field and in the trenches that we find out if any of it is actually true.
I think it will be. The Steelers are very smart about how they bring their draft picks into the fray. They wouldn't be planning on starting DeCastro without reason.
Also, DeCastro has played in a pro-style offense before and he will have similar responsibilities in Pittsburgh. That should flatten out the learning curve to some degree.
But why is one lineman out of five important? His contributions will be part of whether or not the sack totals go down and whether the holes in the running game open up. The contention I've made is that the team has lacked a truly elite guard since Alan Faneca walked away. They have one here. Now he has to be the difference maker.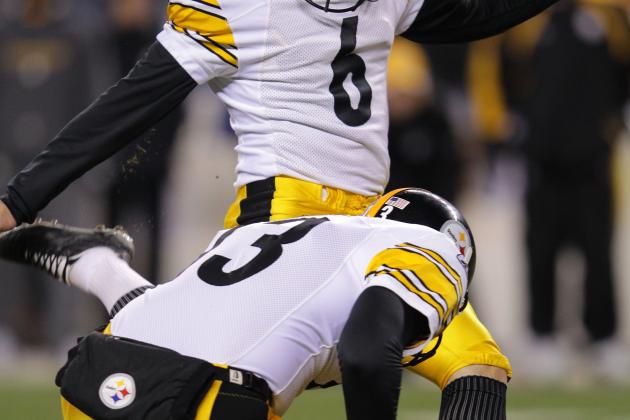 Doug Pensinger/Getty Images

I know what you're thinking. A kicker? Yes, I'm serious. On another team, I wouldn't be as worried about the kicker, but in Pittsburgh, a lot of what the team does to be successful is predicated on how the kicker performs his duties.
I'm not sold on Suisham and I think that the team has been mistaken in not pursuing an alternative, but they must play the hand they've been dealt.
The Steelers finished 21st in the NFL in scoring last season. That number is likely to get better this year, but there's no guarantee the team will suddenly become a red-zone powerhouse. The Steelers consistently can get into field-goal range. That means that Suisham will often be forced to close the deal.
When you consider that the Steelers play so many close games, particularly within their division, the need for a guy who can consistently nail those three-point attempts is all the greater. Throw in that the Steelers play a lot of defense based upon field position and it makes a kicker who can get the ball deep on kickoffs even more essential.
Shaun Suisham is going to be a big reason for this team's success in 2012. He could also be a cause for their failure if he doesn't at least maintain the consistency he's found during his Steelers career.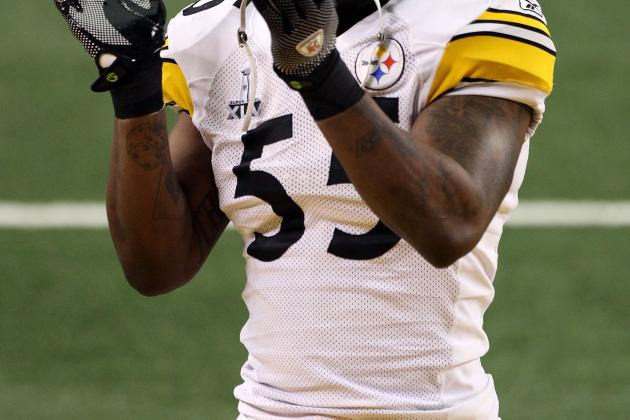 Streeter Lecka/Getty Images

James Farrior is gone. The Steelers must move forward. Sylvester won't be expected to replace the locker room leadership of Farrior. That would be unreasonable this early in his career. He needs to gain the respect of his teammates before his voice is really heard.
But Sylvester has a responsibility. Many expect that he'll win the competition that's been formed for Farrior's old spot next to Lawrence Timmons. If he does that, he'll need to be every bit as good as Farrior was last season and then some.
Farrior slipped a bit last year. That was a big reason the team's run defense slipped at times. Sylvester has the skill set to turn that trend the other way. Plugging that hole will go a long way toward winning games for the Steelers, who face Ray Rice twice a year and have added BenJarvus Green-Ellis and Trent Richardson to the division opponent list.
The contention last year was that the Steelers needed to be younger and faster. They've done that. Now it needs to pan out. That starts with Sylvester.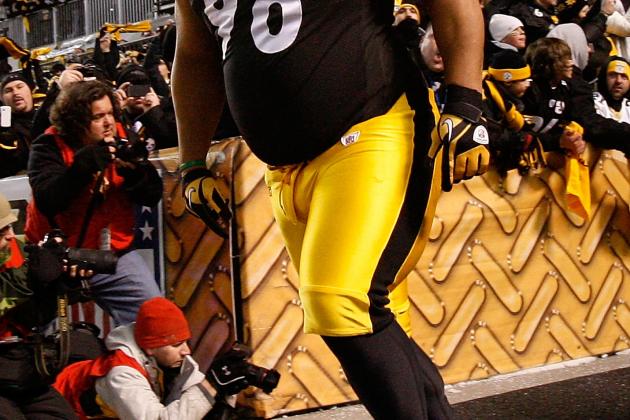 Ronald Martinez/Getty Images

Hampton has a responsibility to this team whether or not he's ready to go on the first weekend. He now has to play the role so many older veterans are asked to play as they wind up their time in the league. He must be a mentor.
If Hampton can play, his ability to come close to his 2010 performance will be vital to how well the Steelers can stop the run and open up holes for their linebackers to rush into an opponent's backfield.If he can return to form, the defense will once again be scary. If not, he may push a rookie into action sooner than necessary.
As a mentor, Hampton must tutor Alameda Ta'amu, the heir apparent to the nose tackle job. How well he instructs and teaches Ta'amu will go a long way towards shaping the player that will likely play some role this year and will definitely play a big role moving forward.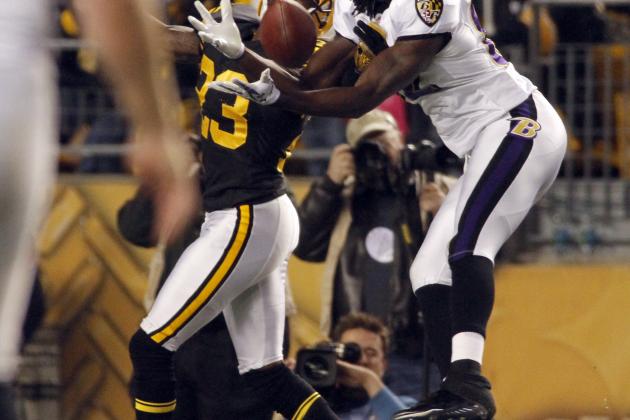 Justin K. Aller/Getty Images

I'm going to go ahead and predict that the Steelers will utilize the veteran succession plan here and advance Lewis to the starting cornerback job opposite Ike Taylor. That is what makes the most sense for this team and what makes the most sense from a talent perspective.
That doesn't mean that everything will be sunshine and rainbows once Lewis is the starter. In fact, winning the job is only the beginning.
The second corner spot has been a sore point for the Pittsburgh defense. William Gay and Bryant McFadden have been largely inadequate. That's a big reason both are gone, although Gay had a nice season and seemed to answer most concerns.
Now Lewis is going to be responsible for covering receivers in a division where two teams boast at least two top receivers. How he does against players like A.J. Green, Mohammed Sanu, Anquan Boldin or Torrey Smith will be key to the team's success.
Lewis has played well as a nickel corner. Now he will likely get a bigger job. If he can again excel, the team is in great shape. If not, 2012 could be a long season.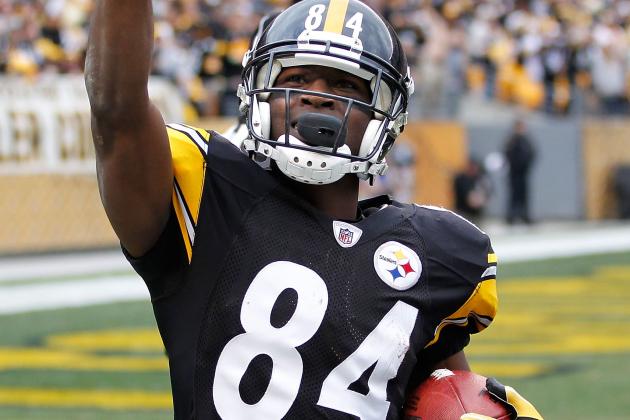 Gregory Shamus/Getty Images

While I've begun to get the impression that Ben Roethlisberger, like other elite quarterbacks in the NFL, can make any receiver with two decent hands successful, having a player as versatile and dangerous as Brown makes everything work correctly.
Brown is the team's best receiver. Mike Wallace might get the headlines, but he's a one-dimensional guy who happens to have a talent that fits the way Pittsburgh's offense runs. Brown can do everything a receiver needs to do from blocking to short passes to the deep ball.
On a team that will probably still pass well over half of the time, a do-it-all receiver is essential. The Steelers have decent depth at the position, but an injury to Brown or a sudden bout of ineffectiveness would ruin the team's plans.
Brown must continue to be the team's best receiver for the offense to prosper. While his contributions aren't nearly as essential as a player like Roethlisberger, the Steelers don't really have anyone else comparable should something happen to him.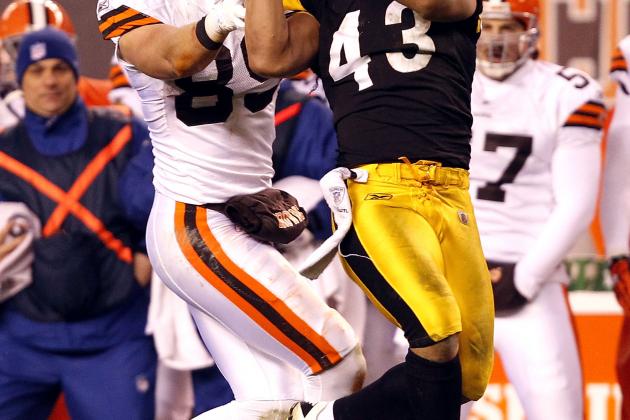 Matt Sullivan/Getty Images

Every year in some fashion, this plays out. As Polamalu goes, so does the defense in Pittsburgh. When he's on the field, just his presence can keep teams in check. When he's on the field and on his game, the Steelers defense is a nightmare for any offense opposing it.
When something is wrong with Polamalu, the Steelers have problems. A couple seasons back he missed almost the entire year (2009). That was devastating to the defensive production numbers and to the team's chances. Last season, he often seemed in disarray.
Dick LeBeau needs to tweak his game strategy a little when it comes to Polamalu. Too often last year, teams were able to bait him into making a mistake or guessing incorrectly. That needs to get fixed. If it can be done, the Steelers defense will continue to rank at or near the top of the league.
If it doesn't get fixed or if Polamalu gets hurt again, the Steelers will be in deep, deep trouble.