Golden State Warriors Players That Will Improve the Most in 2012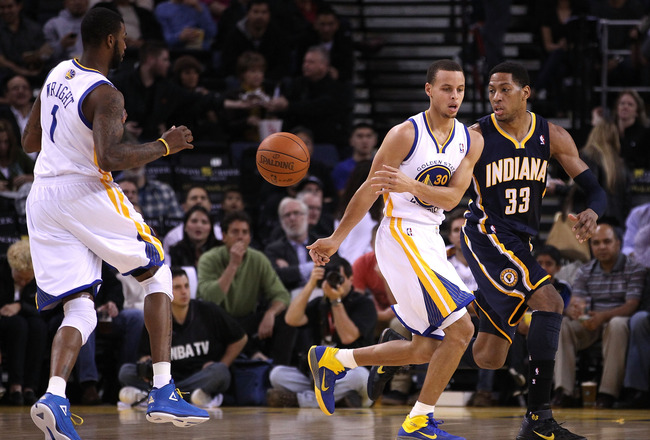 Ezra Shaw/Getty Images
The Golden State Warriors won 23 games last year and with the expectations surrounding this team, every player should be on the improvement list.
The Warriors core is pretty much set so they are counting on certain players to step up and carry this team to the playoffs next year.
Here are the Warriors who will need improvement in order to reach that playoff goal.
1. Dorell Wright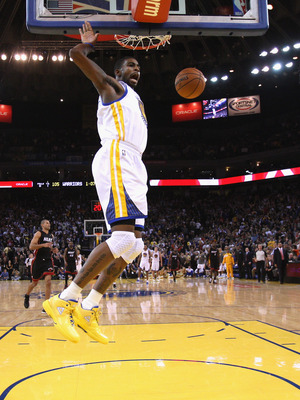 Ezra Shaw/Getty Images
I can summarize why Dorell Wright will have a bounce back year in two words.
Contract year.
We know what Wright is capable of because we saw it in his first season with the Warriors when he led the league in three-pointers made while averaging 16 points a game.
Last season, his season went about as well the last season of The Office did.
What's really strange is that his shooting percentages were almost identical in the last two seasons. 42.3 percent and 42.2 percent from the field and 37.6 percent and 36 percent from three, respectively, and he actually shot a higher percent from the free throw line in his second season.
Why the decline in performance then?
His minutes dropped big time, and he never looked comfortable playing under Mark Jackson. If he proves he can play defense, which he will need to do in next year's system, his minutes and shots will go up and next season will look at lot more like his first one with the Warriors.
Plus he is playing for a new deal, which always helps to motivate.
2. Richard Jefferson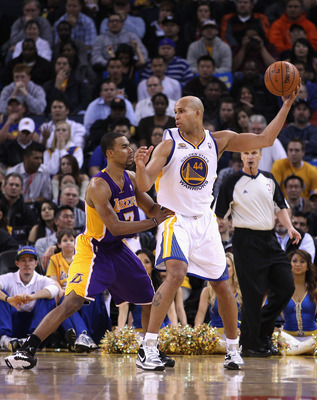 Ezra Shaw/Getty Images
Maybe Jefferson won't improve much on the floor with his best days probably behind him, but he can improve by being the strong veteran presence this team needs.
He has been to the NBA Finals twice, has eight playoff appearances and has played for the San Antonio Spurs. He knows a thing or two about winning.
When the Warriors do start winning, which we all expect them to do, he can teach them how to handle themselves because most of the players on this Warrior team aren't accustomed to playing on winning teams.
For that he will become a valuable asset next season, and who knows, maybe he will play like he did five years ago.
There's always a chance.
3. Charles Jenkins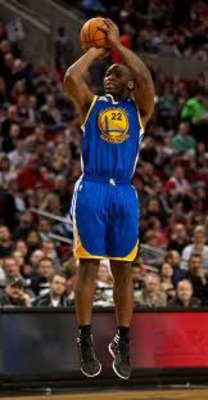 Photo courtesy of Goldenstateofmind.com
If the Warriors choose to have Charles Jenkins as the primary backup next season, he will get exactly what he needs to improve on his numbers—playing time.
With Curry, and pretty much the entire team out the final few weeks of last season, Jenkins showed that he is capable being a solid point guard in this league. All Jenkins needs are the minutes to show what he can do and there is nowhere for his numbers to go but up.
4. Andris Biedrins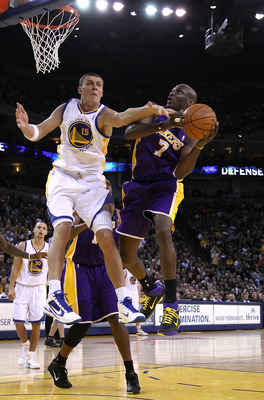 Ezra Shaw/Getty Images
Stranger things have happened right?
Well maybe not, let's move on.
5. Klay Thompson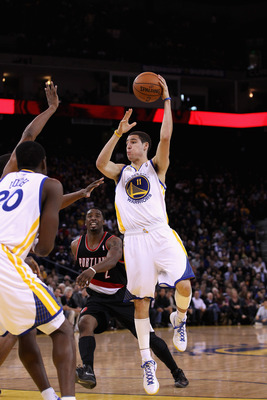 Ezra Shaw/Getty Images
It's nice to have a guy on this list that is going to see improvements on his numbers not just because his previous season was so dismal or he didn't get a real chance to play.
Klay Thompson had a terrific rookie season and will get only better with a full offseason as he gets accustomed to becoming a full-time starter in the NBA.
He will become a better defender as he gets stronger and a better shooter as he learns to be a little pickier on his shots.
That latter shouldn't be a problem next season because with Stephen Curry, Wright, David Lee, and Andrew Bogut, shots are not going to be as easy to come by. With everyone healthy next year, he should become a more efficient player.
Especially alongside Curry, who will make him a better player with his high Basketball IQ and elite passing ability, Thompson's potential will come out. The pair only started one game together and that was only Thompson's fourth game in the NBA so having an offseason together is key.
Expect a big season from Thompson next year.
6. Stephen Curry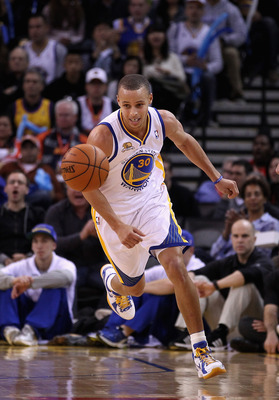 Ezra Shaw/Getty Images
As long as Stephen Curry plays in half of the Warriors games this year, it will be an improvement after what can only be described as a lost season,
Even more than Andrew Bogut, there is no Warrior with more to prove next season.
With Monta Ellis gone, the Warriors are now counting on Curry to be the face of the franchise, and he really just needs to be on the floor to make that happen. Curry is facing the biggest challenge of his career; to be a leader of a team that has the talent to become a force in the Western Conference.
I think he steps up to the challenge and not only plays well, but actually plays the whole season. Because, well, he will have to if the Warriors want to win.
Keep Reading

Golden State Warriors: Like this team?