Will the Atlanta Falcons Finally Have Playoff Success in 2012?
May 17, 2012

Al Bello/Getty Images
In the past four years, the Atlanta Falcons have a 43-21 record in the regular season, but are 0-3 in the postseason. 
Many question whether quarterback Matt Ryan can deliver in the postseason. In three playoff games Ryan has a 71.2 rating.
On the other hand, Ryan has all the intangibles a team could look for — he's always trying to improve his level of play, and is a good leader on and off the field. 
Perhaps the Falcons just catch teams that are "hot" at the right time of the season. In 2008, the Falcons lost to the 9-7 Arizona Cardinals, and then the Cardinals advanced to the Super Bowl for the first time in franchise history.
In 2010, the Falcons were the NFC's No. 1 overall seed, but were torched by Aaron Rodgers and the Super Bowl champion Green Bay Packers. Then, this past year, the Falcons lost to the eventual Super Bowl champion New York Giants, a game in which Atlanta was held scoreless on offense. 
Why can't the Falcons be the team that catches fire during the playoffs? That's the million-dollar question that no one has answers for. 
The NFC figures to be ultra competitive next season, with nine teams essentially battling for five playoff spots. The Saints still have record-setting quarterback Drew Brees, and the Panthers are on the rise with Cam Newton.
In the NFC East, the Giants will look to defend their title, the Cowboys improved their defense significantly, and the Eagles figure to bounce-back from a disappointing season.
In the NFC North, the Packers looked unstoppable much of last year, the Bears improved their receiving corps in the offseason which will help out a returning Jay Cutler, and the Lions have one of the top offenses in the league.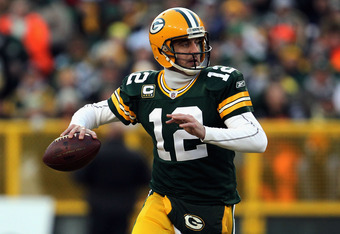 Jonathan Daniel/Getty Images
All that said, the Falcons are going to have to battle just to make the postseason in 2012, much less win a game against one of those teams in the playoffs.   
The Falcons improved their offensive line when they selected Peter Konz and Lamar Holmes in the draft, but whether or not we'll see that on the field in 2012 remains to be seen. 
The Falcons also changed offensive and defensive coordinators, revamping the staff as much as one could without actually firing the head coach. 
Before Ryan and Mike Smith joined the team in 2008, the Falcons had never had winning seasons in back-to-back years. 
Now, the Falcons have four consecutive winning seasons, but have yet to deliver in the playoffs. A trend that is likely to continue next season.