Green Bay Packers 2012: 5 Reasons Brandon Saine Will Break Out This Season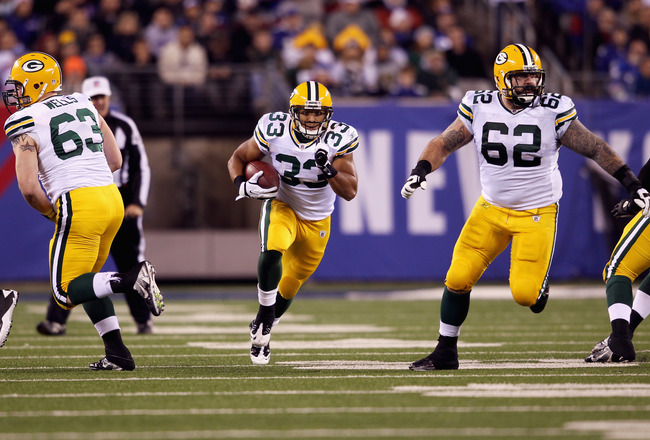 Nick Laham/Getty Images
There is no doubt in anyone's mind that the Green Bay Packers have one of the best, if not the best, offenses in the NFL.
However, one flaw that people like to point out is the lack of a running game.
It isn't that the Packers don't have the talent to produce a running game, it's more that running the ball takes it out of Aaron Rodgers' hand.
That isn't to say that the Packers can't have a strong running attack. Before the 2010 season, Ryan Grant had managed to rush for over 1,200 yards in consecutive years. And while I'm not saying Brandon Saine will do the same, I am saying that he has the potential to bring explosiveness and determination to the Packers' rush offense.
The following are five reasons why.
1. Speed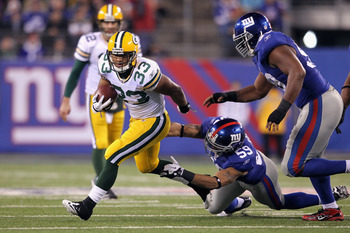 Nick Laham/Getty Images
While both James Starks and Alex Green have solid speed at the running back position, Saine leaves them in the dust. While his official timing in the 40-yard dash was a 4.40, his unofficial time is what stands out to most people: 4.25.

Some of you may wonder, "How does that translate to the football field on game day?"

Well, if his debut against the Detroit Lions last season meant anything, it means he'll have no problem bursting through the hole getting outside with ease.

On only his third NFL play, Saine was sent out into the flat on a 2nd-and-Goal at the Detroit 12-yard line. Despite being spied by the outside linebacker, Saine managed to catch the ball while being level with the LB and was then able to use his speed to accelerate to the outside and down the field for a healthy nine-yard gain.

Later in that same game, Saine received his first NFL carry. While it resulted in a modest four-yard gain, it was how he made the four yards that caught my eye.

On the play, Marshall Newhouse was in at left tackle, blocking Kyle Vanden Bosch. KVB managed to get an arm free before the ball was exchanged between Rodgers and Saine. However, because of Saine's acceleration and speed, he was already attacking the hole before Vanden Bosch even had a shot at him. The only reason Saine wasn't able to pick up more yards on the play was because Scott Wells had let Ndamukong Suh break his block and collapse the hole.

Saine's speed will help him make plays in a lightning quick offense, it's just a matter of getting the opportunity.
2. Strength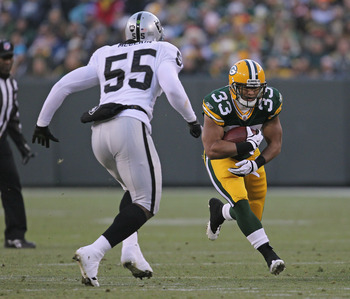 Jonathan Daniel/Getty Images
Despite not being an overly intimidating back in the mold of a Brandon Jacobs, Saine has good size. He measures at 6'1" and weighs roughly 220 pounds. To put that in perspective, he's roughly the same size as James Starks, give or take an inch.

Like Starks, Saine is not afraid to pound the ball through the defensive line.

On the aforementioned play involving Kyle Vanden Bosch, Saine pushed the defensive line back two yards following the first hit by Ndamukong Suh. He kept his legs moving until he was flat on the ground, a necessary attribute if one wants to be a successful runner in the Green Bay Packers' zone-blocking scheme.

However, his strength doesn't only stand out in his running ability.

He is an aggressive blocker, similar to Brandon Jackson. He knows when and how to block the passer. On quick-outs, Saine attacks the defense, preventing any quick hits on Rodgers and helping the Packer offense move the ball. On longer developing plays, Saine examines the defense and looks for any missed assignments before shooting to the flat as a check-down for the quarterback.

This goes without saying: if you're helping Aaron Rodgers, you WILL receive playing time.
3. Hands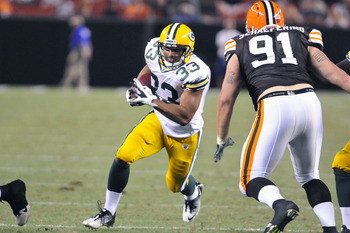 Jason Miller/Getty Images
While Alex Green has decent hands, Saine has already been able to prove it while in a Packer uniform.

While receiving limited playing time last season and only playing in eight games, Saine managed to pull in 10 passes. The 10 receptions may not seem like a lot, but he also showed some ability after the catch. His longest reception was 22 yards, whereas James Starks' longest reception was only 17 yards. One must also know that Starks had 29 receptions during the season in comparison to Saine.

I'm not trashing Starks, but illustrating that Saine is a playmaker and will fit into this Packer offense with ease once he goes through a full NFL offseason.
4. Aggression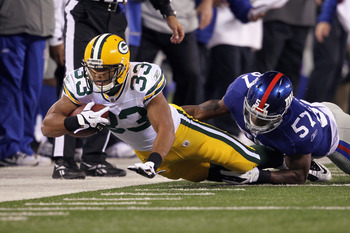 Nick Laham/Getty Images
This is my favorite thing about Saine.

Whether it's what he does with the ball in his hands, or just how he helps a play develop, Saine is always giving 100 percent.

He shows no fear in attacking the hole and willing lines up on special teams coverage, plus he actively looks for someone to hit on blocking assignments.

His lack of fear and doubt in his abilities as a blocker is what could make him more vital to this Packers offense than anything. Green Bay's offense goes through Rodgers and having him upright is a key part of that. Saine's aggression all but assures that A-Rodg will have time to pick apart the defense, something everyone (minus the opponent) enjoys.
5. Health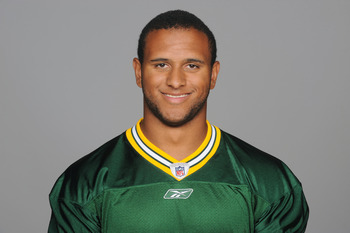 Handout/Getty Images
While Saine's aggression may be my favorite attribute, this may be his most important.

With Starks seemingly always banged up and Alex Green coming off an ACL injury, Saine's ability to stay on the field is integral to his ability to produce. While he sustained a concussion last season, it didn't really affect his playing ability.

In contrast to Starks' injury-prone past and Green's uncertain future, Saine's health is a certifiable plus and will be vital to the Packers' success in 2012.
Keep Reading

Green Bay Packers: Like this team?