Alexi Lalas Exclusive: ESPN Analyst Talks MLS, USMNT, Beckham, EPL & Euro 2012
May 17, 2012

Mike Stobe/Getty Images
Former U.S. international, MLS star and 2006 U.S. Soccer Hall of Fame inductee Alexi Lalas can now be found working as a TV analyst for ESPN and ABC.
Lalas made 96 appearances for the U.S. national team, including all four games at the 1994 World Cup. His 10-year career took in stops at Padova, New England Revolution, New York/New Jersey Metrostars, Kansas City Wizards and L.A. Galaxy—where he would later serve as general manager and play a key role in the club's signing of David Beckham.
Here's what Lalas had to say when I caught up with him on the phone this week.
WILL TIDEY: Hi Alexi, thanks for taking the time to talk to us. Let's start by talking about your life in the media. How easy has the transition been from playing to punditry? How badly do you miss being out there?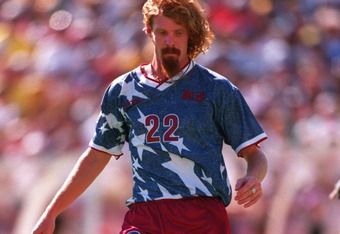 David Cannon/Getty Images
ALEXI LALAS: I think you always miss playing. People are lying if they say they don't. But I'm realistic about it—they got younger and faster, I didn't. My healthy ego was fueled by thoughts of grandeur, but I beat those down.
Having said that, to still be in the game and be able to express my thoughts is very, very fortunate. It's been a wonderful transition. It's a job that involves a lot of work, and it's harder than a lot of people think, too. But it's a great job.
WT: Viewing figures in the U.S. are evidence of football's growing appeal. How do you explain its continued rise in popularity? Is there a ceiling for how big it can get?
AL: There's no ceiling. It can be the major sport in the U.S. and compete with any league the world has to offer. That's within our reach, it's just a matter of time. If you look at the last 10-15 years, we have to pat ourselves on the back for an explosion—both in terms of the talent we're producing and the interest in the sport here.
WT: Clearly, the Premier League has played a big part in football's growth in the U.S. What was your take on Survival Sunday, and the fact U.S. networks covered all 10 games simultaneously?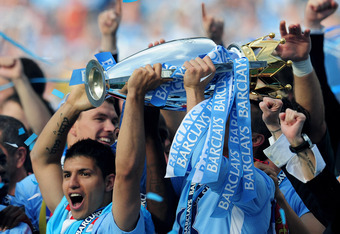 Shaun Botterill/Getty Images
AL: It was awesome. The production was great, and the theater and drama was awesome. Huge credit to ESPN and especially Fox for the way they covered it. These were not just memorable moments for a U.S. audience, they were historic moments in England and all around the world. It was fun to be part of that.
WT: In terms of American talent, what are your thoughts on the season Clint Dempsey has had with Fulham in the Premier League? Is it fair to say he's potentially the best U.S. player the country has produced?
AL: I think this past year he's vaulted into that conversation, but you're always going to have to talk about Landon Donovan. Landon has continued to produce internationally, so it'll be interesting to see how Clint's club form translates to the U.S. national team. 
WT: Do you expect him to join a bigger club?
AL: Life's short and your career is short. But I would love to see him play at a big club. He's consistently played wherever he gone. And he's always found a way. I think it would be great to see him sign for a top-four club in England.
But I won't be averse to seeing him play somewhere like Italy, too. He's a smart player with a great work ethic and self-belief and confidence. That counts for a huge amount.
WT: Dempsey will clearly form a big part of Jurgen Klinsmann's plans as U.S. national coach. What have you made of Klinsmann so far, and his approach?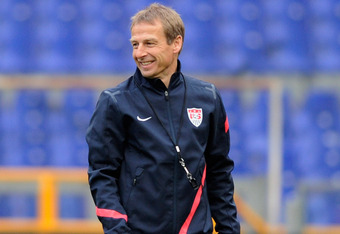 Claudio Villa/Getty Images
AL: I think the jury's out. What he promised in terms of fundamentally changing the way we play, and how we look at playing, will take time. I want to give him the time for things to come to fruition.
Having said that, this summer it begins to be about results. But it's also about how the team plays, because Klinsmann has come in and pledged to change that.
WT: Does this U.S. team have the potential to head to the World Cup in Brazil and reach the latter stages? 
AL: Qualifying should not even be a concern. We should qualify. Once we get there, we should be expected to get out of the group. And then it's about recognizing the opportunities.
We had an opportunity in 2010—to beat Ghana and then play Uruguay. That's a lot different than meeting Germany or Spain. It's when an opportunity like that comes around that Klinsmann has to have his team ready. 
WT: What have been the biggest changes you've noticed in U.S. soccer, both domestically and internationally, since you retired in 2003?
AL: The advent of academy programs has been important. The infrastructure is so much better now. Young players are more sophisticated now, and that's a result of better coaching and provision developing over the last 10 or 20 years. The future looks really bright.
WT: Let's turn to the MLS. Who have been the standout teams and players for you so far this season, and who can you see coming together in the MLS Cup final?
AL: Sporting Kansas City started the season very strong. They've dipped recently, but they're a contender. They have great firepower, and I've been impressed by the way they've adapted to 4-3-3.
Real Salt Lake are the best team in the MLS, and they play with a chip on their shoulder. Meanwhile, NY Red Bulls have continued to accumulate points, even without Thierry Henry.
And then there's your defending champions, L.A. Galaxy, who are struggling. Can they turn the switch and get back to where they were last season? In MLS it's difficult, with the lack of squad depth, to turn things around.
WT: Looking back on the part you played in luring David Beckham to L.A. Galaxy, how do you assess his influence in growing the sport of soccer in the U.S.? Put simply, has he been worth the money?
AL: I don't regret it for a second. It's changed the way we look at MLS in North America and internationally. And it's increased the talent that looks towards MLS as a destination to play.
In the future, we'll look back at how important it was. I'm still proud to have played a small part in the deal—regardless of the challenges and the collateral damage that came of it. 
WT: What are your thoughts heading into Euro 2012? I know ESPN have rights in the U.S., so which teams and players are you most excited about seeing? And who do you fancy to win it?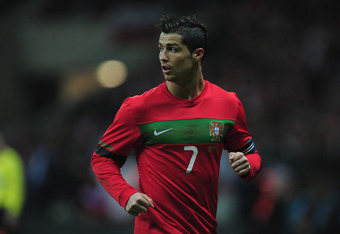 Jamie McDonald/Getty Images
AL: The reason to watch this tournament is this: In a World Cup there are more teams, but in the European Championships there's a much smaller gap between the 16 teams. The talent on display is second to none, in terms of a tournament format.
The usual suspects will be competing for the trophy. Can Spain win? Can they make a case for being the best team in history by winning a third straight major tournament? Or have they run their course?
Or you could look at Germany. They were a little young in the 2010 World Cup but could be ready now. As far as your stars, there are plenty. Portugal's Cristiano Ronaldo will be hoping to replicate his club form with Real Madrid. Or what of Sweden, with Zlatan Ibrahimovic?
WT: OK, so tell me honestly, do you think England have a chance? I'm English, and I'm worried.
AL: I think I'm going to surprise a few people with my take on England this summer. The best thing that could happen to England is the humility that's crept in. They're not as good as they once thought they were, and being aware of that could help them at Euro 2012.
WT: I hear you surprised the winner of the 'Gatorade National Boys Soccer Player of the Year' award, Ema Boateng, this morning? Can you tell us a little bit about the award, what it stands for, and why you chose to be involved with the initiative?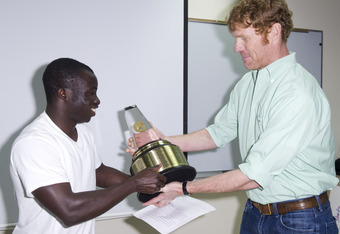 AL: More than 20 years ago, I was the Michigan Gatorade Boys Player of the Year. I'm here (Cate School in Carpinteria, Calif.) not just to let Ema know of his award, but to welcome him to the family.
It was a wonderful moment to surprise him in class. He was in there doing a presentation and I just walked in gave him the beautiful trophy. What's really cool is he gets the rest of the day out of school, just to do press.
WT: Thanks Alexi, we really appreciated your time talking to us at Bleacher Report. Look forward to watching you in pundit mode during Euro 2012 this summer.
AL: Thanks Will. It's going to be really fun.