Meyers Leonard: Highlights, Analysis and Pro Projections
June 11, 2012

Jonathan Daniel/Getty Images
Meyers Leonard is a true seven-footer with good athleticism, but he needed at least another year in college to mature mentally and physically.
The sophomore was the leading rebounder and shot-blocker for a disappointing Illinois team that finished 17-15 and missed the NCAA Tournament. 
Leonard has legitimate length to play center in the NBA, and he is an above-average athlete. But there are a few deficiencies in his game that make him less than NBA ready.
Considering Leonard's personal and family situation, it is easy to understand him leaving school. He lost his father at an early age to an accident, his mother is housebound due to a horseback-riding injury and a bad back. Leonard also has a brother in Afghanistan.
Dana O'Neil of ESPN writes this of Leonard's predicament:
His game is not entirely ready for the NBA, but his body is. His heart would love to remain a college kid, "stay a kid a little longer" as he says, but the responsibilities of his life -- an ailing mother, a brother in Afghanistan -- dictate a more mature path.

He still misses home. His town, population dwindling and worn down by a worn-out economy, needs a hero. He wants his college degree, but his family needs the paycheck.
There is a lot of pressure on this young man, he made himself eligible for the draft on April 2.
Here is a scouting report on Leonard highlighting his strengths and weaknesses.
(Height, weight and stats per statsheet.com)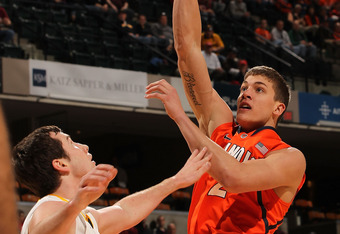 Jonathan Daniel/Getty Images
Profile:
Height: 7'1"
Weight: 245 pounds 
School: Illinois
Date of Birth: February 27, 1992
Best NBA Position: Center
College Stats: (Key Stats Underlined) 13.6 PPG, 31.8 MPG, 58.4 FG%, 9.1 3FG%, 73.2 FT%, 1.3 APG, 8.2 RPG, 1.9 BPG, 0.5 SPG
Skill Grades:
Athleticism - A-
Size - A+
Intangibles - C+
Rebounding - B
Ball Handling - B-
Defense - A
Shooting - A-
Passing - C
Post Game - A-
Basketball IQ - B
Upside - A
Strengths:
There is no doubting Leonard's size and athleticism. At 7'1" with good footwork, he has the base to become a very good post player. He has shown a nice array of spin-moves on occasion, as well as a decent fadeaway jump shot.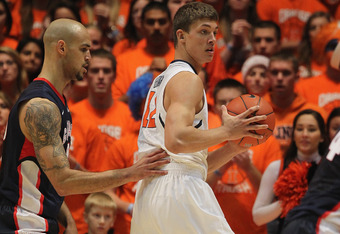 Jonathan Daniel/Getty Images
Leonard also shoots the ball well from 15-feet and in to augment his solid post game.
He also defends well, remaining tall against smaller opponents and contesting shots at the rim regularly. Leonard's upside because of his size, athleticism, and age is pretty high. But he is definitely a project.
Here is an example of Leonard at his best:
Weaknesses:
The team that drafts Leonard must be aware that he may need a year or two before he can contribute regularly. He has appeared easily rattled by physical play, and got into foul trouble early at the college level.
These are things he's likely to see a lot of early in his NBA career. 
He's a good rebounder, but for his size I think he could be a little stronger on the glass, especially on the offensive end. He could stand to add muscle, as he is moved too easily while blocking out.
Leonard's ball-handling and passing can be suspect as well. When he is bumped in the post and forced to pick up his dribble, he tends to attempt off-balance passes.
This tendency leads to turnovers and frustration, and at times the frustration bothers him throughout the game. 
Leonard is definitely a player that I think is worthy of a late first-round pick, but he won't make an immediate impact in the NBA.
NBA Player Comparison: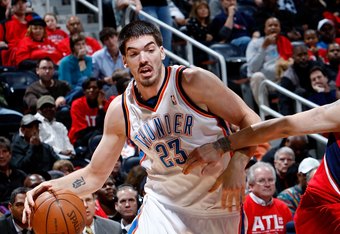 Kevin C. Cox/Getty Images
Byron Mullens With Better Defense
I've always been a fan of Byron Mullens. He's big and he has some offensive skills that he hasn't fully tapped into as of yet. He's only 23 years old, so the book is certainly not closed on who he will become.
In his three-year NBA career, Mullens has averaged 7.1 points, four rebounds and less than a block per game. But this past season was the first year he received solid minutes. He did capitalize on the opportunity by averaging nine points and five rebounds for the woeful Charlotte Bobcats.
He is 7'1", and he now weighs 275 pounds. The size is similar, as I expect Leonard will add weight and ultimately be near the 275-pound area. You can also expect Leonard to receive limited minutes early on, though his defense could get him on the floor a little earlier than Mullens. 
Draft Projection:
Late First Round
Follow Brian Mazique and Franchiseplay.net for reactions, analysis and news from the world of sports and sports Video Games