World Football Strange but True: Arsenal's Mertesacker, Gervinho in Pajama Night
May 17, 2012

A serious question for our loyal Set Piece readers this morning:
If you were a marketing type at Arsenal and you were charged with promoting a night for youngsters to camp outside the Emirates Stadium, how would you go about doing that?
Well, if your answer was, "dress up Per Mertesacker and Gervinho in tacky pajamas, photograph them in cringe-worthy poses and repeatedly use the word 'Per-jamas' in the press release," you were absolutely right.
From Arsenal.com:
Don't forget your Per-jamas!

On Saturday, 400 lucky young Arsenal fans will be gearing up for a night to remember as they camp out overnight on the Emirates Stadium pitch. 

To assist in the preparations, defender Per Mertesacker and team-mate Gervinho gamely donned their pyjamas and dressing gowns to test drive the sleeping conditions on offer for the ultimate sleepover.

This unique and fun-packed event, attended by Junior Gunners aged between 7 and 12 years old, includes the chance to play on the pitch overseen by qualified coaches, eat post-match dinner up on the Club Level hospitality tier and watch the Champions League final before lights out and the big sleepover begins.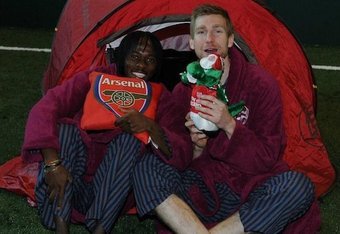 OK, all of that sounds like something a 12-year-old would want to do. And it all sounds great until the part where they invite kids to a sleepover and they show grown men wearing pajamas and bathrobes while grinning ear-to-ear.
Creepy doesn't even begin to describe it.
Check out the photos (more here).
Well done, Arsenal. I'm officially creeped out.