Carlos Beltran: Former Cardinals Arch Enemy Becomes Their Greatest Asset
May 17, 2012

Mike Ehrmann/Getty Images
Wherever he has been in his career, Carlos Beltran has been a thorn in the side of the St. Louis Cardinals and one of the most-hated players among Cards fans in recent memory.
It all started in Kansas City back in 1998 when the Royals selected Beltran in the second round of the draft. While the Royals are in the American League and have never really come close to being a rival like Chicago, the cross-state opponents are featured in the fun rivalry series every year.
After knocking in more than 100 RBIs four times in Kansas City, Beltran was traded to the Houston Astros, where he faced off against the Cards in the very memorable 2004 NLCS.
Behind Beltran's hitting of home runs at the cyclic rate, the Astros rode their new acquisition all the way to the World Series before losing to the Chicago White Sox. It was a series where all Cardinals fans were pulling hard for the Southsiders—mortal enemies of the Cubs, victors over the Astros.
Beltran's last and only trip to the World Series was sandwiched between the Redbirds' loss to the Red Sox and victory over the Detroit Tigers.
After signing a monster contract with the New York Mets, which finally gave New York's "other team" some much-needed credibility and that extra push they needed to go back to the World Series—or so they thought.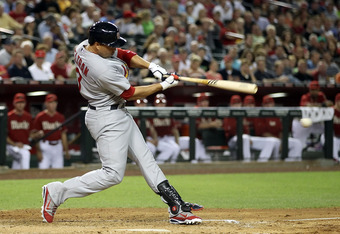 Christian Petersen/Getty Images
The Cardinals once again met Beltran in only his second playoff appearance ever, even to this date. While he didn't showcase nearly the amount of brilliance as he did in the 2004 playoffs, Beltran was still deadly in the middle of the Mets' lineup.
While Beltran posted career highs in home runs and RBIs, it wasn't be enough to beat the Cardinals. In the last play of the series, Beltran was struck out by then-reliever Adam Wainwright. The image is still burned into the minds of Cards fans everywhere and still one of the best moments in recent Cards history.
After being traded to the then-defending world champion San Francisco Giants, Beltran continues his journey for that first elusive ring.
After only two years of postseason experience, Beltran is making it clear he can and will do anything and everything to make sure he can finally call himself a champion.