Oakland Athletics: Manny Ramirez and 6 Reasons to Watch the Team Right Now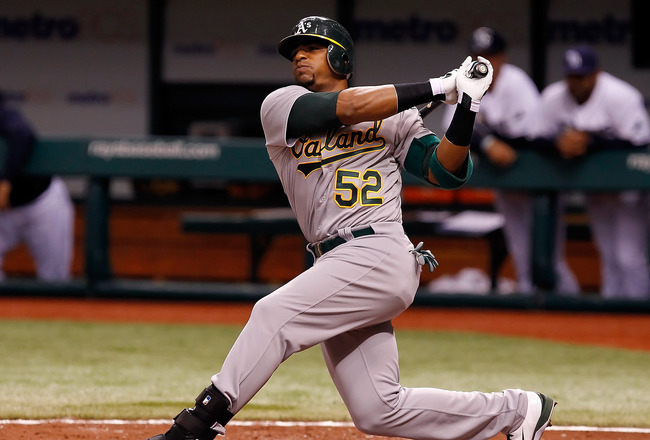 J. Meric/Getty Images
The A's are far exceeding expectations early in 2012. In what many deemed to be a rebuilding year for Billy Beane's squad, the A's have managed, so far, to remain in contention.
Big names like Manny Ramirez and Yoenis Cespedes have garnered most of the headlines in Oakland through the A's 2012 campaign, however, there are plenty of other points of intrigue on this roster. While the A's continue to struggle in the box office as the team's future in Oakland remains in limbo, here are a few things fans should pay attention to as the season wears on.
Billy Beane's Saga Continues in Real Time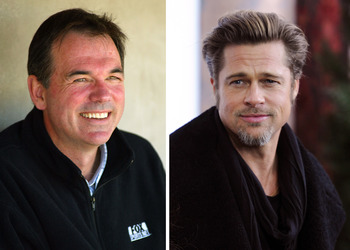 Brad Pitt doesn't play Billy Beane in real life, but live action soap opera continues in Oakland.
Christian Petersen/Getty Images
The end of the 2011 blockbuster Moneyball leaves the audience on a bit of a cliffhanger as to what's next for fabled general manager Billy Beane.
There isn't any word of a sequel in the works, but fans of the movie—and baseball—are more than welcome to watch the real, live team featured in the Academy Award-nominated film every day at the Coliseum in Oakland.
Can Beane win the last game of the season? Will the A's continue to flounder and get trumped by larger markets? It's a never-ending saga that's sure to captivate the hearts and minds of many.
Manny's Big Comeback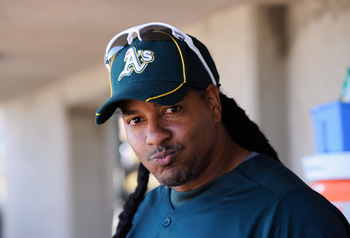 Has Manny's game shrunk with his ego?
Kevork Djansezian/Getty Images
Manny Ramirez's 50-game suspension is almost up, with the shamed legend due to be eligible again on May 30. His return should be one of the most intriguing stories in baseball come time.
Beane has said that the A's plan to bring Manny back as soon as possible following the expiration of his suspension.
Currently, the A's rank near the bottom in every offensive category, most notably 27th in runs scored. They desperately need any help they can get at the plate, and while Jonny Gomes and Seth Smith have fared adequately in a platoon role at DH, injecting Ramirez into the heart of the line up could be the buoy that Oakland needs.
Still, there are many questions facing Ramirez's return. Manny has supposedly corrected his character issues, but the bigger question is whether or not he is still capable of producing at the plate after spending a year away from the sport. Manny hasn't had 500 at-bats in a season since 2009, and at age 40 (his birthday just happens to be the same day his suspension is up), it could prove to be a challenging transition back to the big leagues.
Regardless, most A's fans have been looking forward to seeing Manny in the lineup all season, and the rest of the nation will likely have their attention drawn to Manny's performance in his comeback attempt as well.
Young Studs Waiting to Break Out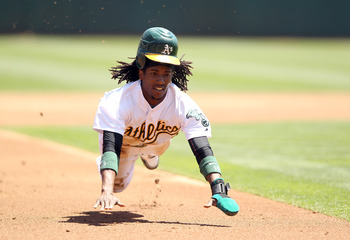 One of the most exciting young players in baseball, Jemile Weeks has the potential to be an All-Star regular.
Ezra Shaw/Getty Images
The average age on the A's 40-man roster is just 27.4 years, making them the sixth-youngest team in baseball. Laden with budding studs, Oakland is full of untapped talent just waiting to unleash at any moment.
Jarrod Parker has been nasty in his four starts this season since getting called up from Triple-A, posting a 2.10 ERA.
Let us not forget about second base standout Jemile Weeks. Though the 25-year-old has struggled heavily at the plate this season, Weeks remains one of the most able-bodied, explosive second basemen in the league, and is a constant lurker on the web-gem radar.
The A's also have a few guys in the Minors likely to get a call-up to the show in the near future. Starting pitcher Brad Peacock is a candidate to see Major League action this season, especially with the struggles of current fifth starter Tyson Ross. First base prospect Chris Carter appears to be ready for another shot at the big leagues and could be the power bat the A's desperately need to boost their lineup.
Sports Scholar's Haven
Seth Smith is a great example of how the A's are still playing Moneyball.
Thearon W. Henderson/Getty Images
Where baseball meets intrigue, this is Bill James' system fully at work, and it is a joy for sports scholars across the nation to see in action. While the casual baseball fan might be oblivious to the strategic diamond chess match before their eyes, baseball scholars and sports geeks are treated to sabermetric porn on an everyday basis.
It might captivate a much smaller audience, but those who have studied even the basics of Bill James' abstract (or enjoyed Moneyball in book or film format) should have a hard time taking their eyes off A's baseball.
Welcome to the States, Yoenis!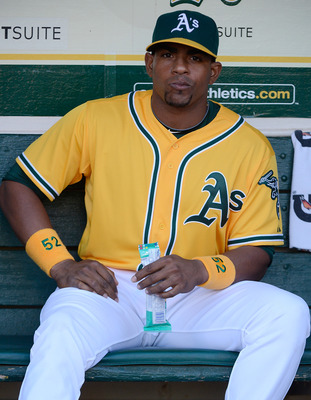 The 25-year-old Cespedes is looking very comfortable in Oakland
Thearon W. Henderson/Getty Images
The Cuban defector has definitely stolen the show in Oakland early this season, bursting out of the gates of his rookie campaign with five home runs and 21 RBI in 106 at-bats. He gives Oakland one of the most deadly middle-of-the-lineup power hitters in the league, and complements his play at the plate with a cannon in centerfield.
Though a nagging hand injury sent Cespedes on his first career trip to the DL last week, it's a very minor injury and the 25-year-old should be the same explosive young talent when he returns to the lineup.
Getting Reddickulous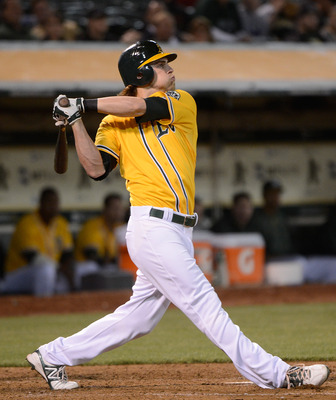 The former Red Sox outfielder has quickly emerged as a fan favorite in Oakland.
Thearon W. Henderson/Getty Images
The big money deal for Yoenis Cespedes has completely overshadowed the production of up-and-coming star Josh Reddick this season. The right fielder was the centerpiece of the deal that sent closer Andrew Bailey to Boston and appears to be another brilliant Beane-ball move as Reddick enjoys a breakout 2012 season.
The 25-year-old has already hit a career-high nine home runs through just 36 games this season, and leads the team in almost all major batting categories, including average (.279), RBI (21), hits (41) and home runs. Reddick is clearly the team's best bat in the lineup at this point in the season and should get some serious All-Star consideration come July.
Potential Playoff Sleepers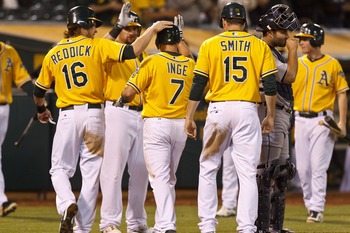 Not to speak too soon, but the A's aren't looking too shabby this season.
Jason O. Watson/Getty Images
The Oakland Athletics have not been talked about much through the first quarter of the season. But in what was originally deemed a rebuilding year by many analysts, the A's have actually churned out a pretty decent squad in 2012.
No one thought this team could post a winning record, yet the A's have at least managed to hover around .500 for most of the season.
The second-place Athletics have proven themselves capable of winning now, and are a legitimate Wild Card candidate, especially with Major League Baseball expanding the playoffs to 10 teams this season.
Oakland will need to start scoring more if they intend on snapping up a playoff spot, but appear to be on the right track towards returning as contenders in the near future.
Nothing creates interest in sports more than winning, and that's exactly what's starting to happen in Oakland.
Keep Reading

Oakland Athletics: Like this team?