San Francisco Giants: 5 Major Problems and How to Fix Them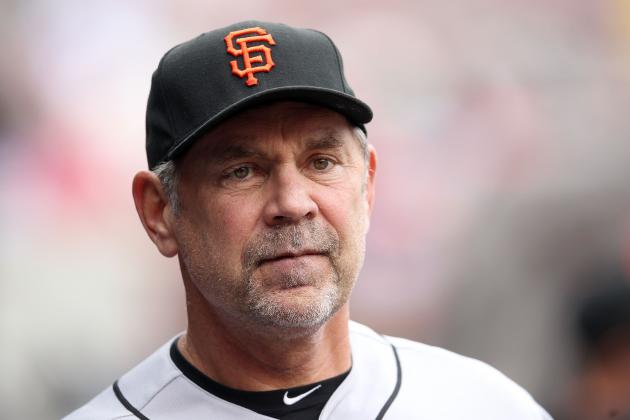 Andy Lyons/Getty Images
Manager Bruce Bochy has had tough times since 2010
The 2012 version of the San Francisco Giants has shown some major flaws and is fighting to remain near the .500 level. Manager Bruce Bochy, who did such a wonderful job guiding the Giants to the 2010 World Series title, has his work cut out this year.
Looking back to 2010, the Giants stayed close to the division-leading Padres, then got hot in September to overtake San Diego and win the NL West. Bochy and the Giants can only hope to stay close enough to the Dodgers that a hot streak will make a difference.
The Giants have several concerns, and time will tell if they can overcome those issues. Let's take a look at five key areas where the Giants need improvement and what they can possibly do to overcome their obstacles.
Begin Slideshow

»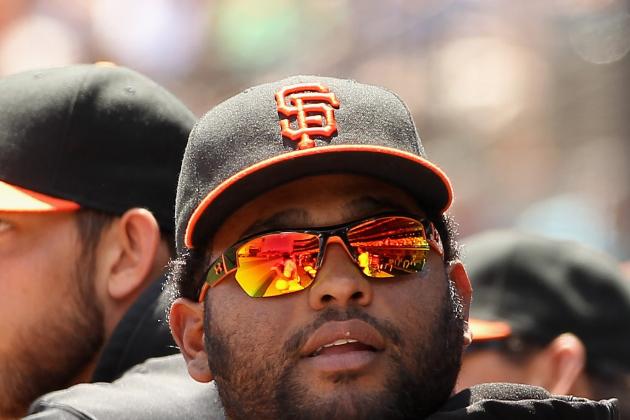 Ezra Shaw/Getty Images
The Giants really miss Pablo Sandoval's bat and enthusiasm
The 2011 San Francisco Giants were derailed by injuries, and once again injuries have reared their ugly head for this year's team.
Already out for the season is closer Brian Wilson, after undergoing elbow surgery. Wilson's injury has forced the entire bullpen to step up and move one step ahead of their normal roles.
Third baseman Pablo Sandoval has broken the Hamate bone in his left hand after breaking the same bone in his right hand last year. The Giants are hoping for the Panda's return in early June.
At the time of his injury, Sandoval was the Giants' most consistent and productive hitter, batting .316 with five home runs and 18 RBI. Sandoval's infectious smile and enthusiasm are also sorely missed by the Giants.
Second baseman Freddy Sanchez is still trying to rehab from offseason shoulder surgery. He still has trouble making the throw across his body and has had several setbacks.
Most recently—while trying to play third base, where he would not have to throw across his body—Sanchez came up with a sore back and had to take more time off.
Sanchez is a career .297 hitter and has excellent bat control. He is a professional hitter and sorely missed. Sanchez, prior to his injury woes, was also a fine defensive player. At this point in his attempted rehab, it appears Sanchez's days of being an everyday player may be over.
The Giants have tried Emmanuel Burris, Ryan Theriot, Charlie Culberson and Joaquin Arias at second base this year. None of these players have stepped forward to seize the job, although Arias has been the best of the bunch.
Relief pitcher Jeremy Affeldt injured his knee at home when lifting up his kid. He recently returned after a stint on the DL. Amazingly, Affeldt had another accident at home last year when he sliced his hand in August and had to miss the remainder of the season. The Giants need Affeldt to bolster their bullpen.
Aubrey Huff, who was a team leader in 2010, was recently on the DL, due to an anxiety disorder. He is back now, but hasn't made a big impact.
Melky Cabrera was held out of Wednesday's game with an injured toe. The Giants can ill afford to have him miss any significant time.
In addition to the injuries, the Giants lost Guillermo Mota due to his second PED offense. Mota will miss 100 games, and it's questionable if he will ever wear a Giants uniform again.
Although Mota was not pitching that well, he was a veteran leader out of the pen and his departure means a young pitcher, who is not yet ready, must step in to fill the void.
Although there is nothing the Giants can do about their current string of injuries, the best they can hope for is for in the immediate future is for Sandoval to return, stay healthy and productive for the remainder of the season.
They also must hope that the rest of their key players stay healthy.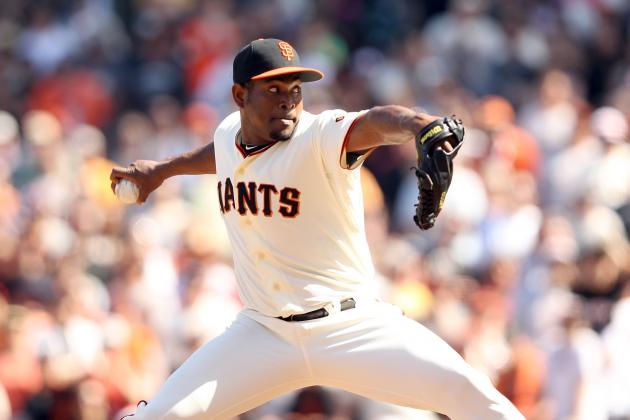 Ezra Shaw/Getty Images
Santiago Casilla has taken over the closer's role
The back end of the San Francisco Giants' bullpen has been decent. Not great, mind you, but decent. Santiago Casilla has stepped into the closer role, and although he has an 0-2 record, he has converted eight saves.
Setup men Sergio Romo and Javier Lopez have had some tough outings, but also some quality ones. They are both searching for greater consistency, which is needed because the Giants play so many close games.
Jeremy Affeldt is back after a mild knee injury and he also needs to gain more consistency.
Clay Hensley is 1-3, with an ERA of 2.57 and WHIP of 1.429. He has pitched well at times, but also struggled in other outings.
The remainder of the bullpen is unproven and their inexperience has hurt the Giants. The Giants have tried Steve Edlefsen, Travis Blackley and Dan Otero, and all have had too many shaky outings.
The trade of Ramon Ramirez for Angel Pagan and the losses of Brian Wilson and Guillermo Mota mean that three of last year's stalwarts are gone. The Giants are still searching for a pitcher or two to come in and do a consistent job.
Look for the Giants to make a deal for a veteran arm before the trade deadline. GM Brian Sabean did this in 2010, bringing in Ramirez, Lopez and Chris Ray to bolster the Giants' pen. Sabean will be on the lookout for a pitcher who can come in and get people out.
The other pitcher to watch for is Heath Hembree. He has thrown the ball very well in Triple-A Fresno. In 13.1 innings, he has allowed only seven hits, while striking out 10. His six walks are too many, and a bad outing jumped his ERA to 4.05. Hembree's WHIP of 0.97 shows he can be a dominant pitcher.
The Giants would like Hembree to get more seasoning. I don't look for him to be called up until at least June, and only if some of the other Giants relievers continue to struggle. Hembree also needs to improve his off-speed pitches and overall command, but he is the Giants' closer of the future.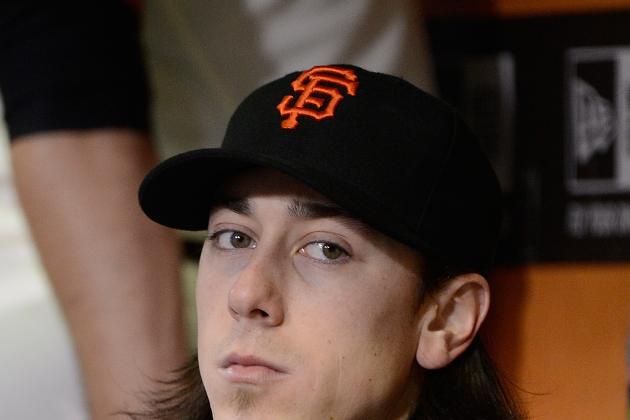 Thearon W. Henderson/Getty Images
Tim Lincecum has struggled all season
Tim Lincecum has struggled with his velocity and command all season. With the diminutive right-hander it comes down to mechanics, and Lincecum's have been off all year.
His velocity is a major concern as in many starts, he was throwing his fastball in the 89 to 90 mph range. In only one outing did Lincecum throw 93 to 94 mph.
The reduced velocity means Lincecum's command must be a lot better for him to be successful. Thus far in 2012, Lincecum's command has not been stellar, especially with his fastball.
Lincecum's struggles are magnified when you look at his 5.77 ERA and 1.55 WHIP. Out of the five starting pitchers on the Giants staff, Lincecum has been the most vulnerable.
Lincecum has looked a little better lately, and his mechanics seem to be coming around. At this point, there really is nothing the Giants or pitching coach Dave Righetti can do except continue to support their star pitcher.
I look for Lincecum to right the ship soon and get back on track. He is simply too good a pitcher to continue to struggle as much as he has thus far.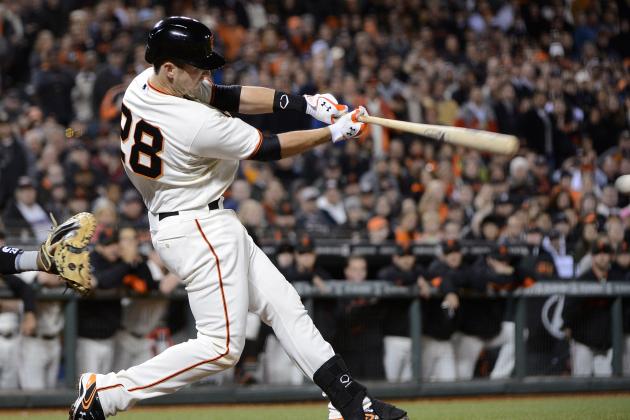 Thearon W. Henderson/Getty Images
It's time for Buster Posey to take control of this team
In 2010, when the Giants won their first world championship in San Francisco, they had plenty of veteran leaders on the field. It's tough for a pitcher who does not play every day to provide that leadership, so it needs to come from a position players.
Players like Aubrey Huff, Pat Burrell, Freddy Sanchez, Juan Uribe and Edgar Renteria provided the veteran leadership that helped lead their team. None of those players is making an impact for the Giants in 2012.
Huff is the only one of those players who is currently in the Major Leagues with the Giants. Huff's recent emotional troubles and poor performance since 2011 have rendered him a bench player. It's hard to lead when you're not getting regular playing time.
The two players on the Giants' current roster who can provide that leadership are Pablo Sandoval and Buster Posey. Since Sandoval is on the DL for another few weeks, he's out.
That leaves Posey as the best candidate to assume the leadership role. He is an ideal type of player, except that he is still very young and not an outspoken type of guy. Nevertheless, it's important for his team that Posey step up and provide the leadership this team is lacking.
With so many young and unproven players on the current roster, the Giants desperately need someone on the field to guide them. Posey is that player, and the sooner he steps out of his comfort zone and takes control of his team, the better.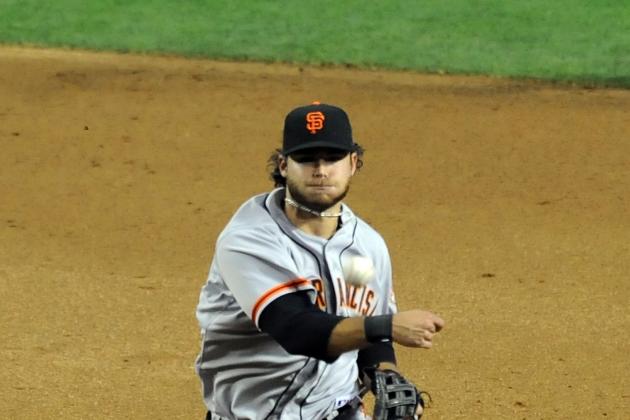 Norm Hall/Getty Images
Brandon Crawford has made eight already this season
One of the common problems when you play too many young players is mistakes. The Giants lead the league in errors, and the majority of them are being made by their young players.
The Giants currently have several players on the roster who are either in their first year in the majors or are still trying to make their mark. These players include Brandon Crawford, Emmanuel Burriss, Brandon Belt, Brett Pill, Joaquin Arias, Hector Sanchez and most recently Conor Gillaspie and Charlie Culberson.
All of those people who were clamoring for the Giants to play the youngsters, you now have your wish. The youngsters have been making several errors on the field defensively and on the bases. These mistakes are both mental and physical.
This is not to say that the veterans have been flawless, because they most certainly have not. The big difference is that when younger, unproven players make mistakes, they tend to lose confidence, become tentative and make even more mistakes.
The Giants' woes on defense have put a huge burden on their pitching staff. The Giants' strong pitching staff is being asked to cover for too many defensive lapses. Sometimes, they just can't do it and the losses keep piling up.
I do believe the Giants will start playing better defense. The return of Pablo Sandoval will help at third base, and I expect Crawford to settle down at shortstop.
The key is better concentration and relaxing out on the field. The Giants—especially the youngsters—must do that.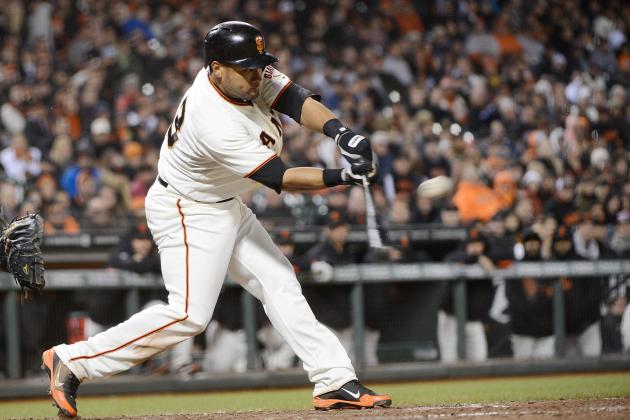 Thearon W. Henderson/Getty Images
Melky Cabrera has been a key player for the Giants
The San Francisco Giants' offense is better than it was in 2011. However, it still is no juggernaut. The Giants still have to scrap and execute to score runs. The improved speed is also a benefit.
Unfortunately, this roster still lacks power, and when a player like Brett Pill is inserted into the lineup, it hurts the Giants defensively. Power is something the Giants will be looking for by the trade deadline, but acquiring a power bat won't be cheap.
Giants GM Brian Sabean traded away one of his top prospects, Zach Wheeler, for Carlos Beltran in 2011. That move did not work out, and Sabean is not likely to mortgage the future for another rent-a-player like Beltran.
The offense is better, but still flawed. It should improve with the return of Pablo Sandoval, but the fact remains these other areas I noted are critical to the Giants' success right now.
The Giants must improve and shore up the areas I mentioned to stay in the hunt. The Giants should be able to do it, and they need to start now.