10 Reasons the Los Angeles Angels Can Still Make the Playoffs
May 17, 2012

Hannah Foslien/Getty Images
Despite the team's awful start, there is still hope in Angel Country that the team can turn things around in time to be a serious threat to earn a playoff spot. 
I believe they will do just that and to that end, here are 10 reasons why I believe they will still end up making the playoffs in 2012.
1.  Ernesto Frieri
He has yet to allow a run in five appearances while striking out 10 in 4 2/3 innings of work.   More importantly, the Angels are 5-0 in those games.  Coincidence?  I think not!
Frieri's arrival was just what the bullpen needed and with manager Mike Scioscia mixing and matching his late-inning relievers instead of mindlessly handing the ball over to a "closer" at the start of the ninth inning, the bullpen as a whole is performing better than it has in three years. 
This bodes well for a team whose recent bullpen struggles have been well-documented, and his continued stellar play is one of the reasons the Angels can still make the playoffs. 
I'm not going around saying Pujols is still going to finish with his typical offensive numbers like some of the eternal optimists out there.  But, I mean, he is bound to start hitting sometime, right?
Even if he puts up Mark Trumbo numbers the rest of the year, that's still a huge infusion of offense from the No. 3 spot in the lineup and something I have to believe the Angels would gladly take at this point.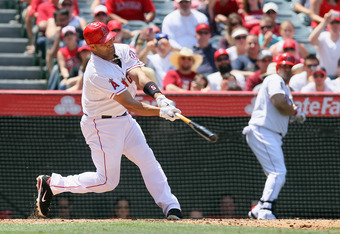 Jeff Gross/Getty Images
If and when he starts to do that, the team will let out a collective sigh and play like a 242-million-pound weight has been lifted off their shoulders.  When that happens, look for the shutouts to be replaced with crooked numbers and the win total to steadily climb.
3. Lesser Competition
Let's face it. It's a down year for traditional contenders like the Yankees and Red Sox.  Boston will almost certainly miss the playoffs this season and New York could very well join them if they don't improve their pitching.  A playoff without the likes of Boston or New York in it hasn't happened since the first season of the wild card in 1995.
Fellow big market teams like Detroit and Chicago are also not performing up to expectations and early-season success stories (Baltimore, Cleveland) tend to fade over time, so even though the Angels find themselves trailing seven teams for the two available spots, they are only five games out. 
4. Wake Up!
As much as I hated to see it happen, the recent firing of Mickey Hatcher could prove to be a much needed wake-up call to a team that has seemingly been asleep at the wheel all year.
I personally don't blame Hatcher for any of the team's offensive woes, particularly with Pujols' prolonged funk, nor am I fan of scapegoats, but sometimes a shake-up is required to remind everybody that jobs are on the line here.
If that's the case here, then the firing can be considered justified and if the team for whatever reason starts hitting like it was in spring training, then it could make the Angels a tough out for the remainder of the season.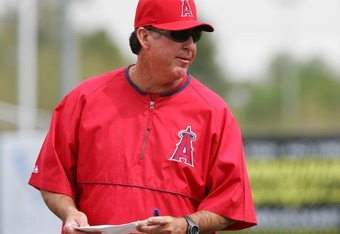 Lisa Blumenfeld/Getty Images
5.  Trout Season
Rookie Mike Trout is batting .316 on the season since being called up, and a sizzling .359 in his last 10 games.  He has been flying around on the basepaths and in the outfield, and his hustle appears to be infectious.
There's no question the Angels have been playing better since he joined the team, and it looks like the seasoning he got last year vs. major league pitching is ready to pay off this year.
If Trout puts up Rookie-of-the-Year-type numbers the rest of the season, it would be a big reason why the Angels can and will make the playoffs.
6.  Extra! Extra!
As in an extra wild card up for grabs this season.  If last year showed us anything, it's that it is a long season and things can remain undecided right up until the last out is made in the last game.
To that end, an underachieving team like the Angels, who may have been tempted in the past to start mentally making offseason plans, will continue to scratch and claw its way through the tough stretch they are in as long, as they continue to believe they still have a realistic chance to make the
postseason. 
And once they string a few wins together, look out.  After they conclude their series with the White Sox, they have a 10-game stretch against the Padres, Athletics and Mariners.  That's a great opportunity to get on track offensively. 
Don't be surprised if they break out a hit party one of those games and score like 15 runs.  They might also go 9-1 during this span heading into their three-game set with the Yankees.  If they do something like that, it could be a positive sign of things to come.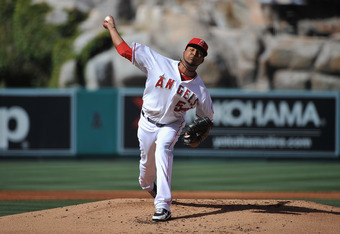 Jonathan Moore/Getty Images
7.  Support the Cause
I'm surprised the team didn't start some kind of "Run for Ervin" campaign, where folks could sign up for a 5 or 10 K run to show their support for pitcher Ervin Santana, since it was obvious the offense was not doing anything for him.
Zero runs in five starts?  Really?  Is that not some kind of record?  Even when Anthony Young was on
his way to losing 27 consecutive decisions, I think the Mets managed to score at least one run in 25 of those games.
No wonder Santana was smiling ear-to-ear the other day when the Angels put up a two-spot in the bottom of the third against the A's.  Who's to say whether that had anything to do with his early-season struggles but ask any pitcher and they'll likely tell you it's much more preferable to pitch with a lead than from behind.
In either case, Santana turned in a gem of a performance that night and if he continues to pitch like that, and the team continues to score runs for him, it could help the Angels get into the playoffs despite their horrible start.
8. The Two Dans
Angel starter Dan Haren's first eight starts have been underwhelming and certainly not befitting someone who carries "Ace-like" stuff to the mound.  Three of those starts were particularly troubling.  There was the Kansas City Debacle (5 ER in 5.1 innings), the Minnesota Massacre (5 ER in 3.2 innings), and the Oaktown Beatdown (4 ER in 6 innings).
In between those less than stellar performances he did manage to make three consecutive starts (two of which came against first-place clubs) where he looked like the Dan Haren the team expected.  So which Dan Haren is the real one in 2012?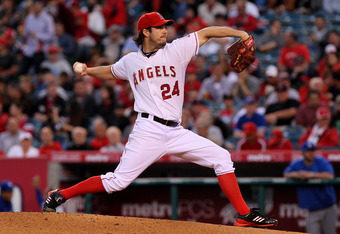 Stephen Dunn/Getty Images
These next eight starts will say a lot about what we can expect from him going forward.  If he can
pitch like he did when he shut down the Indians and the Orioles, the Angels will be back on track and ready to continue their slow, deliberate climb out of the cellar and into playoff contention.
9. Hitting is Contagious
Pujols gets most of the attention (rightfully so), but the fact remains several Angels are struggling at the plate.  Erick Aybar is hitting .187.  Peter Bourjos .193.  Chris Ianetta was hitting .197 before he got injured.  And Alberto Callaspo, who led the team in hitting last year with a .288 average, was at .238.
If those guys, or the ones chosen to replace them, can make even modest improvements to those numbers, then the Angels could experience a domino effect where numbers go up across the board. 
That would certainly translate to more wins and get the team right back in the thick of things, where they expected to be all along.
10. Arte's Call
At this point, there is absolutely no reason for Angels owner Arte Moreno to sink even one more penny into this team this season.
There's an old adage in poker that says you don't throw good money in after bad and that seems to be the appropriate state of mind at this point.  This season is like a hand of No Limit Texas Hold 'Em.  $155 million has already been committed and it's like the team just got a horrible flop. 
In cases like that, if it's not meant to be then you write that hand off and prepare to play the next hand next season with hopefully better cards.
However, if you get to see the turn for free and things improve dramatically, and you head into the river with a legitimate chance to win and it's only going to cost you $10 million more to see the final card,
then at that point you are pot committed and you put in the extra $10 million.
Translation:  If the Angels are leading or right there among the leaders for the two wild card slots,
then Moreno can give the green light to go rent a pending free agent for the remainder of the season if they can find a willing trade partner.
If the offense is clicking, then maybe they can convince the disappointing Phillies to trade Cole Hamels to them for the stretch run.  Or maybe they can pry away Zack Greinke from Milwaukee.  What???  It could happen!  And if it does, then the Angels would be well-positioned to earn their ticket to the postseason party.