Pittsburgh Steelers: Domino Effects of Moving Willie Colon to Guard
May 17, 2012

It has come out, according to ESPN.com, that the Pittsburgh Steelers are moving veteran Willie Colon from RT to LG this season, and all I can say is, "finally!"
I, and many Steelers' fans, have been saying for a long time that moving Colon to guard would strengthen the offensive line, and now we will finally get to see if we knew what we were talking about.
The projected offensive line before this news came out was Marcus Gilbert LT, Ramon Foster LG, Maurkice Pouncey C, David DeCastro RG and Willie Colon RT.
With Willie Colon moving to guard, the interior of the Steelers line is now set with Colon, Pouncey and DeCastro.
The tackle positions, however, have now become an open competition, in my opinion, between Marcus Gilbert and Mike Adams.
When the Steelers drafted Mike Adams in the second round of the 2012 NFL draft, I did not think he would play that much in his rookie season barring injury.
Now in camp, I see the team having both Gilbert and Adams compete for the LT spot, and whoever loses will be the RT.
The only bad thing about moving Colon to guard is that it takes away depth at the tackle position where the Steelers were already relatively thin.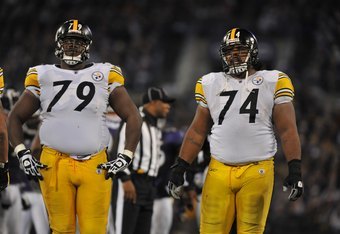 Larry French/Getty Images
Besides Gilbert and Adams, the Steelers only have four tackles in camp in Chris Scott, Kelvin Beachum, Jonathan Scott and Trevis Turner, with two more linemen in Trai Essex and Ramon Foster who could play the position if needed.
It has long been assumed that Jonathan Scott would be cut because of his poor play and big contract, which would leave Essex as probably the primary backup tackle.
Ramon Foster was assumed to be the starting guard opposite David DeCastro, but now he becomes a backup at guard and tackle.
Trevis Turner was on the Steelers practice squad last season and I thought he had a real shot to make the roster even before the Colon move was made.
Kelvin Beachum was the Steelers' seventh-round pick in the 2012 draft, and although he is raw, with the current lack of depth at tackle he has the opportunity to show up in camp and make the roster with a good showing.
Chris Scott was thought to have a future at the RG spot. However, his play was terrible in the 2011 preseason and he was cut in favor of Max Starks during the regular season.
Speaking of Max Starks, I still do not rule out the possibility of the Steelers re-signing him either at the end of camp or during the season when he is fully healthy.
I think the team will be completely fine with having Trai Essex as their primary backup for the season as long as Gilbert and Adams both perform and stay healthy.
If either of them get injured or struggle in the preseason, I see the team bringing Starks back in as insurance at both left and right tackle.
I really like Max Starks. However, I am hoping that the Steelers do not need to re-sign him and that both Marcus Gilbert and Mike Adams stay healthy and prove they are the future at the tackle positions.
Although moving Willie Colon to LG has certainly made the Steelers offensive line better, it has also made the competition at both starting and backup tackles a lot more interesting to watch in camp.