Bryce Harper Triples as Gio Gonzalez, Adam LaRoche Help Nats Reclaim 1st Place
May 16, 2012

Patrick McDermott/Getty Images
The Washington Nationals were a half a game back behind the Atlanta Braves entering action Wednesday. At the end of the night, the Nats would find themselves atop the division as they have been most of the season.
The Nats took care of the Pittsburgh Pirates behind Adam Laroche's three hits and four RBI, Bryce Harper's first career triple and Gio Gonzalez's arm.
Washington led 3-2 in the sixth inning when LaRoche connected for a solo blast to give the Nationals a 3-1 lead. Xavier Nady followed LaRoche's home run with a solo shot of his own to make it 4-1.
The Pirates pulled to within one on a Josh Harrison two-run home run in the seventh inning. 
When it looked like things might get away from the Nats, LaRoche stepped up again with a bases clearing double in the bottom of the seventh.
While LaRoche powered the Nationals' offense, Gonzalez silenced the Pirates' bats.
Gonzalez pitched seven strong innings, allowing three runs on four hits while striking out 10 and walking two. He is proving that he can help lead the Nats to the playoffs this season, as he has improved to 5-1.
Henry Rodriguez, who has been shaky to say the least, was solid in the ninth inning. He struck out a batter and did not allow a baserunner. It was his ninth save of the season.
Harper did not hit a home run, but he did hit a triple in the first inning and scored on a Ryan Zimmerman ground ball. Harper added a walk and another run in the game.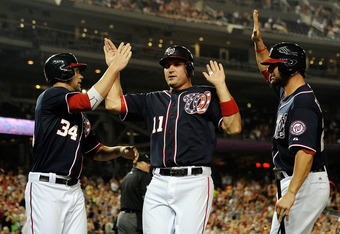 Patrick McDermott/Getty Images
With the Atlanta Braves losing, it allowed the Nationals to take over first place yet again in the NL East. 
The Nationals are not going to go away anytime soon, and this was an important bounce-back win early in the season.
Washington improves to 14-5 in D.C. this season; only the LA Dodgers, 16-4, have a better home record in the NL.