NHL Playoffs: Kings Continue Unlikely Run to the Championship
May 19, 2012

Harry How/Getty Images
I keep hearing that the Stanley Cup playoffs is the most volatile postseason in all of sports, that there are always upsets, that anything can happen. 
But not like this.
The Kings are an astonishing 11-1 in their first 12 playoff games this season, breezing to a 4-1 series victory over Vancouver, a sweep of St. Louis and now a 3-0 lead over division rival Phoenix. That 12th win, whether it comes on Sunday, or sometime next week, will propel the Kings into the Stanley Cup Finals for the first time since 1992 (which, incidentally, is the only time they have ever been).
It's almost like it's too easy. A regular season team with more inconsistency than the New Orleans Saints' payroll is suddenly playing like a perennial powerhouse.
They have scored 37 goals in 12 games, notching a goal per game average just over three, blowing their regular season mark of 2.29 out of the water.
The only two teams in the playoffs with higher goal per game numbers are the Penguins and Flyers, only because they played in a head-to-head series where defensemen weren't allowed to carry sticks.
You may notice that neither of them are still around.
As for defense, an area in which the Kings excelled during the regular season (2.07 goals allowed per game), they have also shown complete dominance.
That number has shrunk to a mind-boggling 1.42 goals allowed per game, only 17 scores in 12 contests. Superstar goaltender Jonathan Quick has only allowed 3 goals in a game once, to Vancouver the game Daniel Sedin returned from a concussion. Also the Kings' only loss of the postseason. Quick has held the opposition to one or zero goals six time thus far.
Jeff Gross/Getty Images
So to summarize, the Kings are leading the playoffs in both offense and defense. 
It is rather overwhelming when you try to wrap your head around it. There isn't really a steadfast reason for their postseason explosion. You can cite "The Hot Goalie Theory," which says that a goalie peaking at the right time is the only thing that matters in the playoffs. But Jonathan Quick isn't the one scoring goals.
Anze Kopitar, my favorite King since day one, is a wizard with the puck and has the ability to find any corner of the net he pleases. Dustin Brown has been everywhere, highly influential for his uncanny ability to draw penalties from opposing players. Drew Doughty and Rob Scuderi have played smart, hard-nosed defense. 
But it's not just the first line starters, every single King that gets on the ice is outworking the opposition. Rookie Dwight King has put in 5 goals this postseason, 4 in the last 3 games. Jeff Carter, who was brought in mid-season to invigorate the lackluster offense, notched a hat trick in game two against the Coyotes. Even Pizza Hut spokesman Dustin Penner has been sighted outracing defenders to loose pucks. 
The only explanation I can come up with is a massive upswing in confidence. It borders on irrational confidence, really.
The Kings are not the most talented team in the world. They really don't even have a big-name player on offense.
There is no reason for them to be this confident. There is no reason for me to be this confident.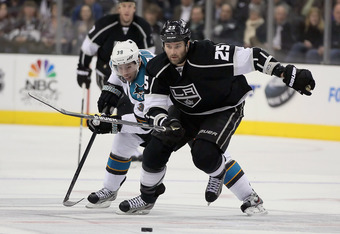 Jeff Gross/Getty Images
No game seems out of hand. No opponent seems unbeatable. Not anymore. I sit down to watch, and I am sure the Kings are going to win.There is never a time when I consider the alternative.
Not when they give up the first goal. Not when they trail into the third period. Not even when Quick allows a shot to dribble right through his legs. These are just minor speed bumps on the road. A road that extends far into the distance and disappears below the horizon. 
Just like Penner, the Kings are hungry. Really, really hungry.
They have been devouring unsuspecting opponents and supposedly All-Star goalies. It started as a 25-1 longshot, we were just happy to be there. Happy we didn't choke away our hold on the No. 8 seed. But now they're a 7-5 favorite coming around the final turn, leading the field by 10 lengths. 
I don't know if someone will catch them, the Rangers or Devils might. But I do know, at this point, everyone else is chasing.