Liverpool Transfer News: Kenny Dalglish Firing Should Keep Dirk Kuyt Happy
May 16, 2012

Clive Brunskill/Getty Images
The firing of Kenny Dalglish has shaken the Liverpool fan base, but it might have been the only way to keep Dirk Kuyt happy.
It's no secret that the striker had grown incredibly frustrated with the approach the coaching staff took this season, and his stats tell the story. Two goals in 26 Premier League appearances is unacceptable for this striker's standards, and before today's news Kuyt sounded like a man that wanted his coach fired (via ESPN):
Under this manager I don't have the feeling any more that he will put me in the side every week.

Last season I was scoring goals all over the place. But this season the manager bought three players who all played in my position. In the rotation system he used, I never found my rhythm again and never felt my old self.
His agent made an even stronger statement to Votelbal International regarding Dalglish right before he was let go:
We have already spoken to several interested parties, but no decisions have been taken yet. If Dalglish leaves, Dirk would be going nowhere.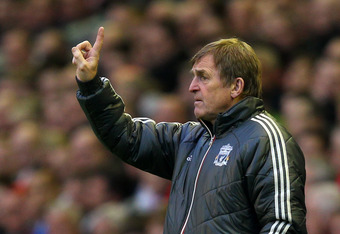 Alex Livesey/Getty Images
Looks like he's staying put.
Kuyt scored a goal in the Carling Cup final, demonstrating that at 31 he still has something left in the tank. He is a consistent and productive performer on the right-hand side of the field when given the chance.
As such a major part of the Dutch international setup, why wasn't he deemed good enough by the standards of Dalglish to get more time on the struggling Liverpool roster?
Could that have been one of the reasons why Dalglish is now the former manager?
Who knows? One thing is for sure—today's news had to have Kuyt dancing in the streets.