Detroit Tigers Could Take Cue from Angels and Call Up Leon "Bull" Durham
May 16, 2012

Rick Stewart/Getty Images
Last week, featured columnist Matt Bowen wrote a piece urging the dismissal of Tigers hitting coach Lloyd McClendon. While I initially disagreed, I've had some time to simmer on this debate, and perhaps the answer isn't is clear as I once suggested.
I wrote an article three days ago ridiculing armchair managers calling for McClendon's dismissal. I disagree with fans on this mostly because while they have good intentions, they place far too much weight on the shoulders of a hitting coach. But last night something happened that got me thinking.
Late Tuesday night the Angels announced the firing of longtime hitting coach Mickey Hatcher, who'd been with the team since 1999. He was there when the Angels outperformed all teams in batting average (.285) in 1999, and managed to set franchise records in hits (1604), runs (883), and RBI (841).
Angels General Manager Jerry Dipoto commented on the firing:
"Sometimes in the sports world a point is reached where perhaps a new voice is needed in order to attain the desired goals and objectives. Unfortunately we feel this is one of those times. Offensively we have underachieved and everyone shares in the responsibility of what has transpired thus far."
Dipoto's tone here is remarkably remorseful. One might even sense an air of regret. The problem is, Dipoto is right: there comes a time when "perhaps a new voice" could really stir the pot. Maybe it doesn't have much at all to do with what Hatcher's incapability.
I have always been on the side of the argument that pitching and hitting coaches play less of a role than the public thinks, and that has steered my commentary over the last several years. However, the firing of Hatcher brought some striking comparisons to mind.
Hatcher is being replaced by Jim Eppard, who's been with the Angel's Triple-A affiliate in Salt Lake City for ten years. He has worked with Mark Trumbo, Peter Bourjos and Mike Trout at the Triple-A level.
He is a new voice, that's the main thing, but it shouldn't be taken lightly that he's already spent time with some of the Angels young sluggers. Their progress is fresh on his mind.
Consider this coach-player relationship when thinking of the Detroit Tigers: McClendon has manned his post under Jim Leyland since 2007. His numbers as a player were not impressive; in over eight years in the Majors, McClendon's slash line was: .244/.325/.381.
Like Hatcher with the Angels, McClendon oversaw great success with his team. In five years as hitting coach for the Tigers, the team managed to finish in the top five in batting average four times.
In 2007, he guided the team to their 14th best batting average in team history (.287). The truth remains, however, that McClendon was never much of a hitter himself.
This is where my reluctance to release McClendon hits a roadblock. An hour south in Triple-A Toledo sits Leon "Bull" Durham, the Mud Hens hitting coach. His slash line over ten seasons in the majors: .277/.356/.475. During his decade as a Major Leaguer, he hit 147 home runs.
It's not fair to assume that because someone was a good hitter, they are a good coach, but it's worth taking into account. It's times like this when the little things stand out. The Tigers are 18-18, which is poor considering the expectations leading into the season.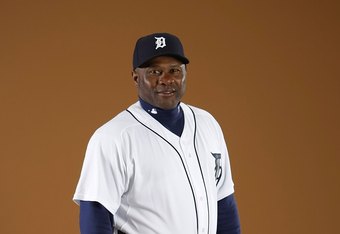 Gregory Shamus/Getty Images
Just as Jim Eppard had worked with the Angels' young bats, Leon Durham has worked with Tigers youngsters like Brennan Boesch, Andy Dirks and Danny Worth, all players trying to contribute to a hefty lineup.
In the end, Hatcher can't be blamed for the under-performance of Albert Pujols, just as McClendon shouldn't take the heat for the slow starts of Prince Fielder and Miguel Cabrera. Perhaps the Angels' brass decided that Hatcher's coaching ability wasn't the problem, but as GM Dipoto simply put it, "a new voice was needed."
There's no silver-bullet answer to this question, but I'll be the first to admit that maybe the armchair managers were right (even if they didn't know why) that perhaps the Tigers could freshen things up by calling Leon "Bull" Durham up to fill McClendon's shoes.