Notre Dame Football: How the Impending BCS Playoff Format Affects the Irish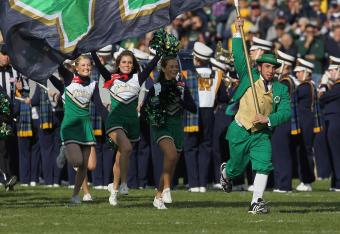 Jonathan Daniel/Getty Images
A four-team playoff is looming over the BCS for 2014, but will that change matter to the storied football program at Notre Dame?
It very well could.
As of now, there are really two main paths that a BCS playoff could go down.
The first way involves the top four teams in the nation going against each other. With this proposal, the Fighting Irish wouldn't need to make any changes.
The proposal would give teams in smaller, less "elite" conferences a chance to win a national title if they rank high enough in the polls.
While Notre Dame has had a tough time making its way up the BCS rankings in recent years, the team could manage a top four finish in any given year (granted, the Fighting Irish would likely have to run the table).
The second proposal, and the one that would do Notre Dame's current way of life the most harm, is to take four conference champions and pit them against each other. There are different versions of this proposal. Some would even keep certain BCS bowls as a semifinal playoff game.
But Teddy Greenstein of the Chicago Tribune writes how even this second model could be fair, or at least, fair to a degree for smaller conferences and Independent teams (teams like Notre Dame) wouldn't be forced into a conference affiliation.
Greenstein stated that officials of the Big Ten (particularly Commissioner Jim Delany and the Big Ten athletic directors) want a "hybrid" model where "...the three highest-rated conference champions and a wild card from any league. Or non-league, for you Notre Dame fans" would enter into a four-team playoff.
However, Greenstein pointed out that Delany made earlier comments to the AP which were construed as wanting only conference champions to play in the playoff. Notice how the word "misconstrued" wasn't used above and with Alabama winning "...the national championship last season without playing in the SEC title game, Crimson Tide fans howled."
While the first option would leave the door open for more than one small conference or Independent team to join the four-team BCS playoff, at least the "hybrid" proposal gives a small conference school or Independent a chance to win a BCS championship. And it also allows two teams from the same conference, like Alabama and LSU, to enter into the playoffs as well (slightly placating SEC fans).
The details of exactly how the four-team playoff will ensue are still being hammered out, but if the top four ranked teams play, or if the aforementioned "hybrid" model is adopted, then Notre Dame fans will have little to worry about.
Whichever model is chosen—one of the models above or even one that slightly differs—there will always be subjectivity in college football—and one or more teams are going to feel slighted each year.
But if the largest conferences get together in a backroom deal that makes it nearly impossible for smaller and independent schools to have a chance at the playoffs (don't put it past BCS officials and conference heads to do so either), then the public outcry needs to be so loud it should topple the BCS foundation to rubble.
One conference that is supporting the first model where the top four teams are picked may be the most important to have on board—the SEC. While most conference heads, athletic directors and coaches of big conference teams want their conferences to have an assured shot at a top four spot after winning a conference championship, the SEC sees things a little differently.
Stefan Stevenson of the Star Telegraph writes about how Les Miles and Nick Saban want the old school way of picking teams to remain. They want the polls to decide. Considering how high SEC teams have ranked in the polls in past years, Stevenson notes that "...two, maybe three SEC teams could be listed in the top four."
If only conference champions were picked, Notre Dame and SEC teams that didn't take the conference championship wouldn't even be considered.
Fans, and particularly Notre Dame fans, should be hoping for the first model that takes the four highest ranked teams. That way, regardless of conference affiliation, the best four teams would get to play for a championship.
So, the devil is in the details, and college football followers around the nation will be anxiously awaiting the plans for a BCS playoff in 2014.
This article is
What is the duplicate article?
Why is this article offensive?
Where is this article plagiarized from?
Why is this article poorly edited?

Notre Dame Football: Like this team?