Drawing Up a Blueprint for Each NFC North Team to Neutralize Clay Matthews
May 17, 2012

For a guy still just starting out, Clay Matthews has had a pretty big impact. The first two years of his career have made him a force to be reckoned with, a linebacker nightmare who looks like he was designed just to annihilate offenses.
Matthews is a guy who opposing teams will need to account for and design ways to take him out of a play. They need to discover how to neutralize the Terminator with the flowing blond hair.
Although, based on last year, they may already have the blueprint.
Matthews was still a force to be reckoned with in his third year, but with nobody else on the front seven able to create much of a pass-rush, it was easy for offenses to double team him and limit his sack opportunities.
After two years of double-digit sacks, Matthews was held to just six. As the rest of the pass-rush failed, teams spied on him and double teamed him. They didn't need to worry about the other players around him—they just worried about Matthews.
On the plus side, Matthews had a career high in forced fumbles (three), interceptions (three) and pass defended (nine), so he did damage anyway.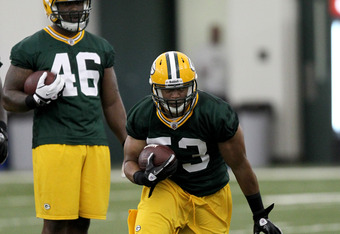 Mike McGinnis/Getty Images
The Packers have a plan, though—add rookies Jerel Worthy and Nick Perry into the mix and hope that they and the rest of the defense step it up enough to take some pressure off Matthews. Also, Perry looks to be lining up on the left side, which moves Matthews permanently to the right where he will attack the left side of the offensive line.
Which means the rest of the NFC North has to plan to find different ways to stop the former USC linebacker all over again.
What works for one may not work for all. You'll see similarities, but each team needs to play to its own strengths.
Three of Matthews' six sacks were against the Vikings so you know he had their number last year.
While the Vikings line was better than it appeared in 2010, they still did the smart thing and added USC tackle Matt Kalil in the 2012 NFL Draft. Kalil allows Charlie Johnson to kick to left guard and makes the blind side much safer for quarterback Christian Ponder.
Still, it's an uphill climb for any rookie to counter a veteran with the moves Matthews has. It's unlikely that the team will want to waste tight ends John Carlson or Kyle Rudolph as blockers but occasionally. They might use rookie Rhett Ellison as a blocking tight end, but it could tip their hand.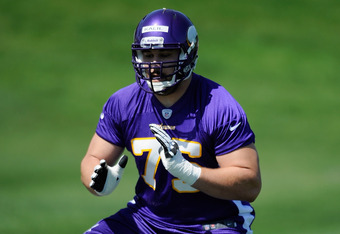 Hannah Foslien/Getty Images
What would work best is to support Kalil on occasion with a fullback—be it Ellison, Jerome Felton or Ryan D'Imperio. If Matthews is giving Kalil a hard time, freeing up one of the fullbacks to help him out would be a good way to mitigate Matthews.
Having Johnson help Kalil out in a double team is an option as well, but it may also be difficult if the Packers can get the rest of their pass-rush going. Johnson might not be available.
A little support will go a long way for Kalil.
Another way for the Vikings to reduce Matthews' impact is for them to run some short routes through Matthews' zone, likely with either of the tight ends or Percy Harvin, who is so dangerous after the catch.
Matthews will have to drop into coverage on some of those plays if the Vikings execute properly, pulling him off Ponder and giving the young quarterback the time he needs to make his reads.
The Vikings will always have their hands full with Matthews, but these blueprints are a way to contain Matthews and reduce his impact.
The Bears did a pretty good job with Matthews in 2011, though in their second meeting, he did have five tackles, an interception and forced a fumble. They kept him off the quarterback in both games, but he did still have an impact in that second meeting.
Chicago feels it has an offensive line they can win with, all evidence to the contrary. They get tackle Gabe Carimi back, and if all works out, he could replace the woeful J'Marcus Webb at left tackle and make a pretty good pairing with Chris Williams at left guard.
That's the side you have to worry most about. I have two plans here—one for Carimi, one for Webb.
To be honest, if the line isn't up to par—and personally, I believe it isn't—they will have their work cut out for them against a guy like Matthews.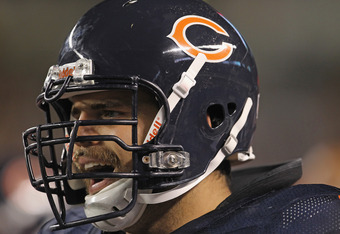 Jonathan Daniel/Getty Images
Carimi is a solid left tackle, though he is still developing. He's much better than Webb, though, and would need less help. Alternating between double teaming Matthews with Williams and bringing the tight end over to help out (Kellen Davis or Evan Rodriguez) will slow Matthews down, giving Cutler the time he needs to get rid of the ball or move the other direction.
Of course, if Nick Perry is as good as the Packers hope, that won't solve everything, but it gets Cutler moving and out of Matthews' reach.
If you have to choose between Matthews and Perry, it's an easy choice.
If Webb is the left tackle, it's a whole other ball of wax. I'd suggest using the fullback more often and either having him (Tyler Clutts who isn't exactly over-used or incredibly good) or hold in the tight end to support Webb. They'll also have to use Forte and Bush as blockers on occasion as well.
Listen, Webb (ranked the worst tackle in football by the kids at Pro Football Focus) allowed 14 sacks and 13 penalties in 16 games. That's not just awful; that's horrific.
He's going to need help to stop Matthews, and lots of it. Double teams with Williams, chips from the backs, tight end help—with Webb at left tackle, the blueprint is throw everything behind Webb and keep Cutler moving.
In addition to that, a shorter passing game plan for that day might help out. As with Minnesota, a few quick strikes across the middle and in Matthews' zone will keep him thinking and prevent him from getting an all-important first step on Webb every snap.
Like I said—their work cut out for them.
As with the Vikings, there is a good chance that a rookie will be squaring off with Matthews twice this coming year, and that's always a concern. Assuming Riley Reiff has a good camp, it will be up to he and Rob Simms to slow Matthews down and keep quarterback Matt Stafford upright. 
The Lions only saw Matthews once last season, as he sat out during the Week 17 shootout. During the first game, they kept him off Stafford, but he managed an interception and three tackles.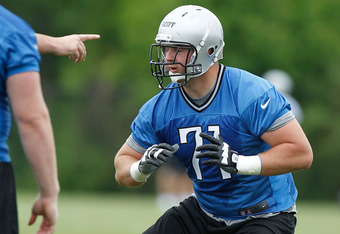 Gregory Shamus/Getty Images
The primary plan for the Lions will be to have Reiff get first crack at him, with a little guard or tight end help on occasion. Utilizing Keiland Williams to chip Matthews when he blitzes or bulls his way past Reiff will be critical as well—if need be, Mikel LeShoure can do this as well, though if it comes to that, Jahvid Best will see very little of the field, as he's nobody I want tangling with Matthews.
The Lions will need to delay the rush (and Matthews) long enough to get Calvin Johnson and the other receivers some breathing room to stretch the field a bit.
Again, focusing on Matthews runs the risk of leaving the right side of the line exposed to pass-rushers. If the 2011 Packers show up, that's not the end of the world.
If the 2012 packers have a pass-rush, it is chancier, but you still risk it because barring a freak event, Perry is not going to be nearly the danger Matthews is.
It's about mitigating risk, and it's more important to shut Matthews down than Perry.
Until Perry—or Worthy or Pickett or Hargrove or anyone else—proves that they are as big or a bigger threat than Matthews.
Check out the new B/R NFC North Facebook page - like us and keep up with everything NFC North on Bleacher Report!