NBA Playoffs 2012: Complete Guide to Lakers vs. Thunder Game 2
May 16, 2012

Brett Deering/Getty Images
The Los Angeles Lakers took one on the chin in Game 1 of their second round playoff series against the Oklahoma City Thunder.
In the case of Mike Brown and the Lakers, a 119-90 beat down will make them reflect on things that need correcting in the following game, and there's a lot that needs fixing for Kobe Bryant and company to even up the series.
With that being said, here's a quick look at what both teams need to do in order to come out on top.
Where and When: 9:30 p.m. ET at Chesapeake Energy Arena, Oklahoma City
Network: TNT
Point Spread: Oklahoma City (-8)
Series: 1-0 Oklahoma City as Kevin Durant and Russell Westbrook combined for 52 points and 13 assists
Key for a Lakers Win: Ramon Sessions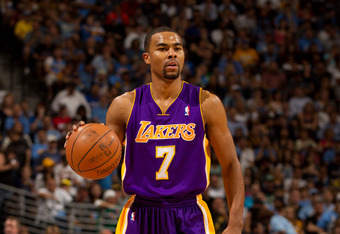 Justin Edmonds/Getty Images
Sessions has to give the Lakers much more than the two points, three assists and 1-of-7 shooting performance he did in Game 1.
Offensively, the point guard must get the Lakers into their sets more efficiently and become a playmaker. He needs to keep the Thunder honest with his scoring and get the right players the ball where they need it. That includes Andrew Bynum, Pau Gasol and Bryant.
However, the biggest way Sessions can help the Lakers even up the series is on the defensive end of the floor.
Sessions has struggled defending athletic point guards and Westbrook ate him up in Game 1 with 27 points, nine assists and seven rebounds.
Westbrook and company killed the Lakers with the pick-and-roll, and if the Lakers have any chance of winning Game 2, Sessions must do a better job pressuring Westbrook.
Key for a Thunder Win: Serge Ibaka and Kendrick Perkins
Brett Deering/Getty Images
I expect Durant, Westbrook and James Harden to get theirs, but it's key for the likes of Serge Ibaka and Kendrick Perkins to continue to do the job on Lakers center Andrew Bynum.
Bynum was solid in Game 1 with 20 points (7-of-12 shooting) and 14 rebounds, and while Oklahoma City would like to see less production from Bynum, they can live with that as long as no on else in a Lakers uniform is killing them.
I would expect the Ibaka and Perkins combo to be more physical with Bynum in Game 2, similar to the way Denver's JaVale McGee played Bynum in the first round.
If they can successfully frustrate Bynum, he will likely make himself a non-factor.
One thing the Thunder can't afford is for Bynum to have one of those 20-20 games he is capable of.
Prediction: Thunder 101, Lakers 96
I expect a much better effort from the Lakers and feel Kobe will be a much bigger factor, but in the end the Thunder are hungry and too talented for the Lakers to stop consistently.
I like the Thunder offense against the Lakers defense, and I don't really give the edge to the Lakers when they have the ball either.
The combination of playing on the road and their defensive inabilities will end up sending the Lakers back to Staples Center down 2-0.